Colin Dalgleish
Co-Founding Director of PerryGolf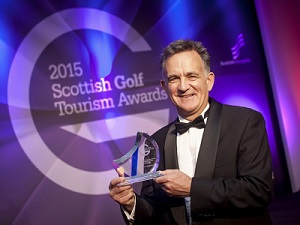 Colin Dalgleish currently serves as Managing Director of PerryGolf based in Scotland. He also has responsibility for seeking out and identifying unique and innovative golf travel opportunities to be enjoyed by its loyal and discerning client base.
Colin began playing golf at 9 years of age and was a three time Scottish High School champion before going on to become Scottish Amateur Champion at age 20. He took up a golf scholarship at Ohio State University where he played alongside PGA Tour players John Cook and Joey Sindelar and was a member of their 1979 NCAA winning squad. He returned to Scotland where he graduated with a BA in Accounting from Stirling University prior to founding PerryGolf with his brother in 1984. His brother Gordon, who resides in Wilmington NC, serves as Company President of PerryGolf.
Having played in the 1981 Walker Cup match at Cypress Point against a USA team which contained Hal Sutton & Corey Pavin, and subsequently captained the Scottish Team for four years, Colin was then appointed Captain of the Great Britain & Ireland Walker Cup Team for both the 2007 match at Royal County Down and the 2009 match at Merion. He is proud to now be a member of both these fine clubs, in addition to a few others. He captained an 18 year old Rory McIlroy in the 2007 match against a USA side which featured current PGA Tour stars Rickie Fowler, Dustin Johnson, Billy Horschel and Webb Simpson.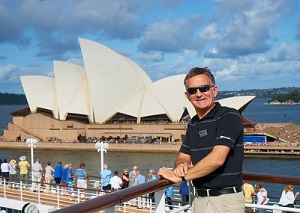 Colin's travels have taken him to almost every corner of the globe with golf of course playing a large part in this. He has played many of the world's finest courses, and also some of its most remote and hard to reach venues. He particularly enjoys his travels with PerryGolf groups on our various golf voyages and our hosted tours to far flung lands. He has also served on the Amateur Status and Equipment Standards Committees of the R&A. During his time in golf tourism he has served on the board of Golf Tourism Scotland, and in 2009 received the Lifetime Achievement Award from that body.

While his competitive golf days may be behind him and his handicap increasing, like all golfers he holds out optimism for an improving game. Beyond golf, he enjoys cycling, hillwalking and skiing. He has been a lifetime resident of Helensburgh, Scotland.






800.344.5257 | 910.795.1048

Expert@PerryGolf.com
Email Sign Up
© PerryGolf. One of the most respected providers of custom golf tours and golf cruises to the world's most memorable destinations for men, women and couples.
800.344.5257
|
Expert@PerryGolf.com Please wait while we update your information