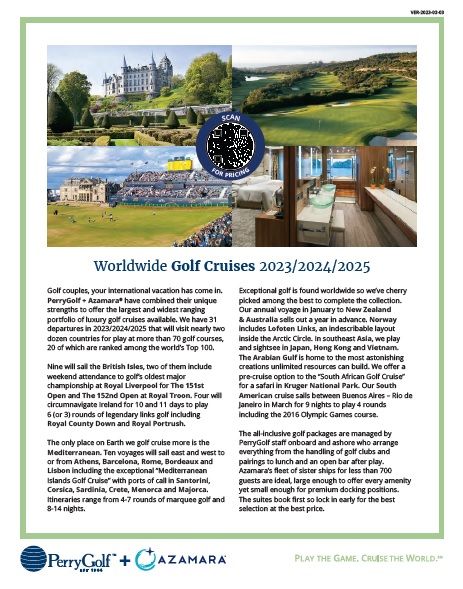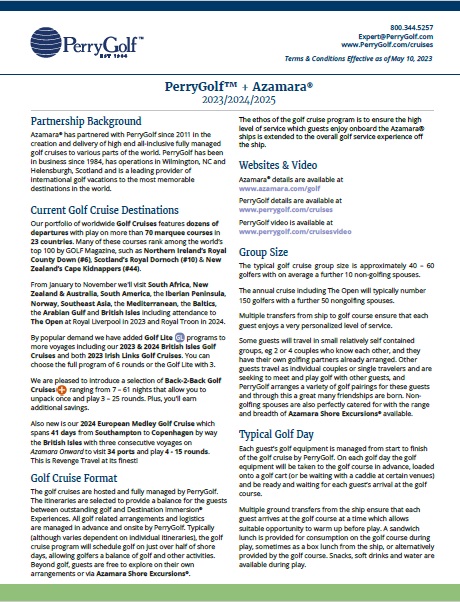 2023/2024/2025 Worldwide Golf Cruises
Our 2023/2024/2025 portfolio of worldwide Golf Cruises features around 20 departures each year with play on more than 70 marquee courses in 23 countries. From January to November we'll visit South Africa, New Zealand & Australia, South America, the Iberian Peninsula, Norway, Southeast Asia, the Baltic Sea, the British Isles including attendance to The Open at Royal Troon in 2024, the Mediterranean and the Arabian Gulf.

Golf Cruise FAQ Flyer
Our portfolio of worldwide Golf Cruises stands alone for golf couples who enjoy combining their love of the game with their passion for international travel. Voyages with equal parts marquee golf and iconic sightseeing are available throughout the year visiting the world leading destinations ranging from the British Isles with attendance to The Open to the Mediterranean, the Baltic Sea, Norway, South American and South Africa. This flyer details the experience you can expect.

Order Form
Our current literature is available immediately to download as a PDF. Simply provide your name and email address below.

Back to top of page






800.344.5257 | 910.795.1048

Expert@PerryGolf.com
Email Sign Up
© PerryGolf. One of the most respected providers of custom golf tours and golf cruises to the world's most memorable destinations for men, women and couples.
800.344.5257
|
Expert@PerryGolf.com Please wait while we update your information