Play the Game. See the World.
℠

PerryGolf is one of the leading providers of international golf tours and cruises to dozens of the world's most memorable destinations. We arrange every aspect of completely personalized Custom Tours to Scotland, Ireland, England, Wales, Spain, Portugal, France, Italy, South Africa, New Zealand and Australia for groups of men, women and couples that combine play at marquee clubs with sightseeing, wine touring, safaris and famous resorts. We also offer an annual collection of fixed-departure and fully managed Escorted Tours for parties of 24-30 that our clients enjoy especially for the opportunity to meet new like-minded friends.
PerryGolf Cruises sail throughout the year beginning with the Caribbean and New Zealand/Australia in January and February followed by the British Isles including attendance to The Open plus the Mediterranean and Baltic Sea during the spring and summer. At the end of the year, we can be found in the Arabian Gulf along with South America. We exclusively partner for Cruises with Azamara® and their four ocean liners Quest, Pursuit, Journey and Onward for less than 700 guests.
For those who enjoy combining their love of golf with their passion for travel, PerryGolf is uniquely qualified to arrange the best of both.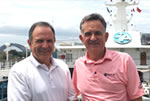 All the best;

Gordon & Colin Dalgleish
Founding Directors of PerryGolf






800.344.5257 | 910.795.1048

Expert@PerryGolf.com
Email Sign Up
© PerryGolf. One of the most respected providers of custom golf tours and golf cruises to the world's most memorable destinations for men, women and couples.
800.344.5257
|
Expert@PerryGolf.com Please wait while we update your information