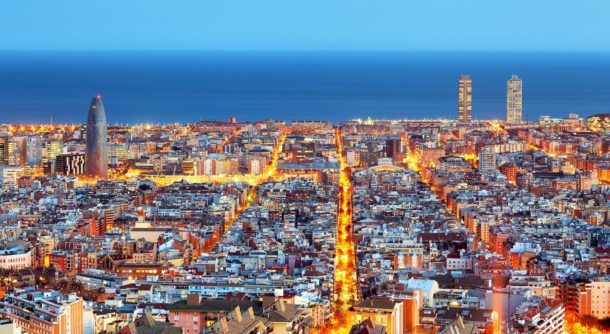 Spend a week cruising the Iberian Peninsula on the lovely 690-seat Azamara Journey, stopping to visit enchanting cities such as Barcelona and Valencia or, to play golf at Valderrama, home of the 1997 Ryder Cup. Enjoy the delicious wine and warm breezes of the Algarve in Portugal, dine in the haunts of legends and savor each moment while basking in abundant sunshine and mild temperatures.
PerryGolf can help you fulfill this dream with two options to the Iberian Peninsula in 2019, one in May and one in September.
Book This Cruise by Feb. 28, 2019 for FREE Wi-Fi plus Your Better Half Saves 50%!
Barcelona, home to more than 1.5 million people, is a great walking city and a cultural powerhouse on the Spanish coast. Explore neighborhoods such as Barri Gòtic and the Raval on foot. There are also multiple modes of transportation, including eight metro lines, an urban rail network and two tram lines.
Breathe in the local culture, exploring museums and cathedrals. Taste a plate of esqueixada, a simple salad of hand-shredded salt cod, tomatoes, onions, olive oil, vinegar, and salt. Those who love coffee would be wise to memorize these three words – cortado (short), copa (regular cup) and jara (large).
Also, note that dinner is served late (10 p.m. on average) and gin tonic is the correct way to order the city's preferred highball.
If it's paella you crave, Valencia is the ideal destination. The rice-based dish originated here in the mid-19th century.  Enjoy at La Pepica, requesting a table on the terrace at the famous establishment where Ernest Hemingway and the bullfighters he admired ate, drank and carried on into the night.
Inside the City of Arts & Sciences, you'll find the largest aquarium in Europe, an opera house, a science museum and a planetarium that offers live shows at night.
Expect temperatures ranging between the mid 50s and mid 70s in May and the mid 60s and low 80s in September.
Flamenco, Fiestas & Tapas are the order of the day in Seville. The Alcázar is another must-see destination. Originally founded as a fort in 913, it's undergone many enhancements and improvements in the years since. Explore the stunning fortress complex, a UNESCO World Heritage Site, with its awe-inspiring palaces, patios, gardens, fountains, chapels, and halls.

https://www.perrygolf.com/golfcruising/iberian-peninsula-golf-cruise-2019-may3.php
The Algarve region, in extreme southern Portugal along the coast, was once a collection of tiny, modest fishing villages but was transformed in the 1960s into a beautiful menagerie of hotels, villas and restaurants along the rocky coastline.
Delightful wines are produced in the Algarve; the main white varieties are Arinto, Malvasia Manteúdo and Syria, while the oustanding reds are Castelão and Negra Mole.
Interested in taking a dip in the Alboran Sea? It's brisk, you'll want to know. The water checks in around 63 degrees in May and 70 degrees in September. Better news lies in the average of nine hours of sunshine daily.
Gibraltar is a territory of the United Kingdom, strategically important due to its location on the northern side of the strait which separates Europe from African where the Atlantic Ocean meets the Mediterranean Sea. Spain tried numerous times to claim or recover the territory but was unsuccessful, ceding it to Britain in 1713 in the treaty of Utrecht.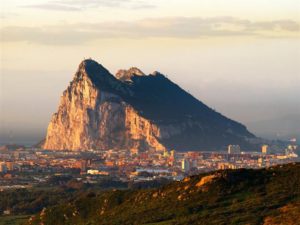 Frankie Laine sang about the The Rock of Gibraltar, a 1400-foot high monolithic limestone promontory. Surrounded by the Mediterranean, "The Rock" enjoys a rich history – it was considered one of two Pillars of Hercules. Most of the upper Rock, starting just above the town, is a nature reserve with spectacular views accessible by cable car. Gibraltar measures less than six square kilometres and is inhabited by around 30,000 people made up of Gibraltarians, British, Moroccans, Indians and Spanish. There is a colony of the famous, camera-hogging Barbary apes who run free in a semi-wild state.
https://www.perrygolf.com/golfcruising/lisbon-valencia-barcelona-2019-golf-cruise-sep5.php
Of course, a PerryGolf cruise also includes wonderful golf. This is a underrated region for enjoyable layouts. Royal Seville Golf Club, designed by the Masters champion Jose Maria Olazabal, opened in 1991 and played host to the 2004 World Cup (won by Luke Donald and Paul Casey of England). Alvaro Quiros, the long-hitting Spaniard, and Ireland's Peter Lawrie won the Spanish Open the two times it was played on the flat, straightforward layout that challenges players with its small greens.
Valderrama is the region's gem, however, equally enjoyable tests of golf are available throughout this cruise. Son Gual, in the heart of Mallorca, opened in 2007 to excellent reviews. Designed in the links style, the course has earned a reputation for being maintained in impeccable condition. Real Club de Golf El Prat located to the north of Barcelona at Terassa. It was the first golf course in continental Europe to be designed by Greg Norman to give it a unique character that places an emphasis both on aesthetic appeal and playability.