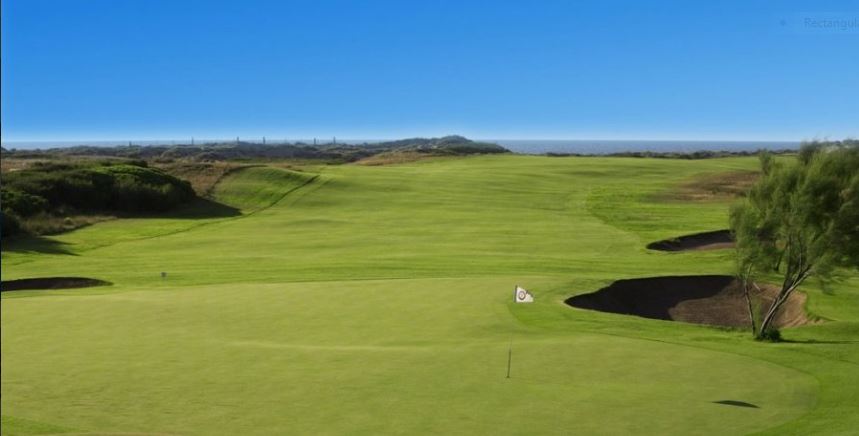 For all of Spain's charm and widespread appeal, perhaps golf has received a short shrift from casual observers in discussions covering the nation's allure. Like a hidden diamond in a showcase of gems, the golf courses are eclectic, entertaining and enjoyable, offering a variety of styles from an outstanding collection of architects.
Later this month, PerryGolf's cruise to the Iberian Peninsula departs Barcelona as guests board the elegant 690-seat Azamara Journey on a nine-night voyage that includes six rounds of golf. The Iberian Peninsula Golf Cruise (May 29 – June 7) is one of many options offered by PerryGolf aimed toward travelers seeking to explore the golf available in this intriguing region. The incredible beauty, culture and gastronomy in Spain are a given, and the world class golf shall no longer be overlooked. 
https://www.perrygolf.com/golfcruising/iberian-peninsula-golf-cruise-2019-may3.php
From Ballesteros to Olazabal, Jimenez to Garcia and today's blossoming star, Jon Rahm, the Spaniards have, for decades, made a significant imprint on professional golf. Without compare, this nation with 46.5 million residents produces fiery champions and colorful characters. Each year it's also becoming apparent to an international array of guests that the golf courses scattered about the nation are excellent.
The climate, of course, is ideal.
While there are nearly 350 courses sprinkled through Spain, many of the best are concentrated along the Southern coast from Isla Cristina in the west along the Portugal border through Costa del Sol and east to Costa Blanca. Splashed with sun and later sipping sangria, embrace the beauty of the coastline and azure water of the Alboran Sea in pursuit of pars and postcard memories.
Make sure you make a tee time at one of these five Spanish delights.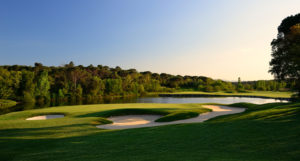 Located 45 minutes north of the iconic city of Barcelona, the Stadium course at PGA Catalunya is Spain's answer to the original Stadium course at TPC Sawgrass – known best for its diabolical 17th hole that terrorizes pros each spring during the the PLAYERS.
European PGA Tour veterans Angel Gallardo and Neil Coles collaborated and designed a layout measuring nearly 7,400 yards from the tips but also catered it to golfers across the handicap spectrum by building five sets of tees (the yardage is 5,500 from the forward tees). Large firs and ample water hazards border wide fairways and undulating greens. Expect the trademark semi-island greens surrounded by railroad ties.
PGA Catalyunya golf professional Enric Lopez shares these tips to taming the hearty Stadium course, which can be intimidating from the teeing ground and has been ranked No. 1 in Spain.
Tiger Woods made his Ryder Cup debut on this venerable Robert Trent Jones Sr. design in 1997 and the matches produced a unfavorable result for the young professional and his American teammates. Feeding off the passion and purpose of captain Seve Ballesteros and buoyed by phenomenal performance in the foursomes and fourball matches, the Europeans claimed the Cup, 14.5 to 13.5.
The course remains a fixture on the European PGA Tour schedule, serving as host for the Andalucia Valderrama Masters on Oct. 18-21. Sergio Garcia is the defending champion for the event certain to attract yet another strong international field.
The members purchased the club, which includes the par-3 course and clubhouse, last fall for $28 million Euros and there are plans to add another 18-hole championship layout.
With holes reminiscent of a Scottish links and others winding through a Mediterranean forest, variety and beauty are the hallmarks of this short yet challenging design. Located just south of Valencia, overlooking the Balearic Sea, this gem from architect Javier Arana measures nearly 7,000 yards from the championship tees and is guaranteed to test a golfer's acumen in every area of the game.
Bernhard Langer tamed El Saler in the final round of the 1984 Spanish Open, firing a course-record 10-under 62 to seal the victory. He went on to win the European Tour Order of Merit that year. Langer again won the event on El Saler five years later. Robert Karlsson (2001) and Raphael Jacquelin (2013) also have fond memories of Spanish Open titles at El Saler.
Arana designed 10 courses in his career, starting in 1946 until his passing in 1975. He considered El Saler the masterpiece due to the unspoiled land and intricate green complexes. Learn more about Arana in this excellent profile from 2009.
Not fond of earthmoving, probably due to the associated cost, Arana held that 80 per cent of the course was nature and that man should only be responsible for 20 per cent of the final design … Good routing and usage of available land was one of his main strengths: in flatter seaside property, he excelled at minimizing green-to-tee walks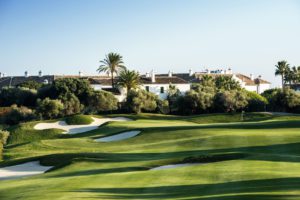 With a healthy 7,500 yards from the championship tees and more than 100 bunkers, this three-time host of the Volvo World Match Play Championship (2009, 2011, 2012) underwent a significant upgrade and renovation in the summer of 2017. The greens were the centerpiece of this project and the reviews since have been positive for this Cabell B. Robinson design.
Robinson, an American, received a bachelor's degree from Princeton in the late 1960s and attended graduate school in design at Harvard. He went to work for legendary Robert Trent Jones Sr. in 1971 and led his European department until 1987 when he started his own firm. Robinson has courses throughout Europe but none are held in higher regard than Finca Cortesin, slightly inland from the Mediterranean, routed through a valley. There are many unforgettable holes, thanks to the lack of residential development on the property.
When a man as esteemed in his field as Robert Trent Jones Sr., claiming 500 courses designed or renovated, proclaims a course as ranking among his five favorites then it's wise to heed the words – and better yet, procure a tee time, with alacrity.
The course was RTJ's first in Europe, opening in 1964. It surely opened the doors for him to spread his genius across the continent. Any smart developers or landowners who were anxious to contribute to Europe's rapid golf course growth at the time hoped to lure Trent Jones to design their layout.
Click here to watch a flyover video of the course.
Better still, the course enjoyed a significant renovation, completed in July 2016 and engineered by the team of Rulewich & Fleury that included the installation of 419 Bermudagrass fairways.
Ballesteros won the Spanish Professional Championship at Sotogrande in 1987, holing a greenside bunker shot on the 16th hole in the final round. The members probably still talk about that one in the 19th Hole.