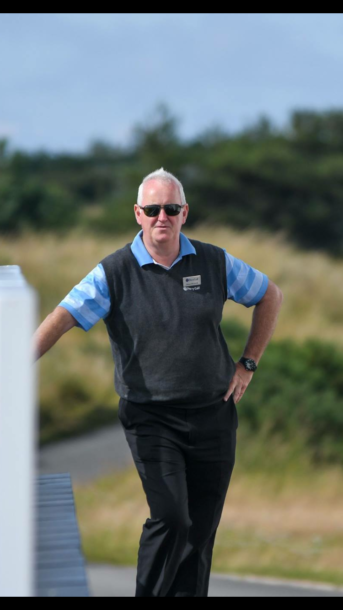 PerryGolf's Concierge Drivers play an essential part in any Customized or Escorted Tour. They fill many roles during your trip abroad – from recommending restaurants to sharing nuggets of local history and culture while also making certain every part of the Tour from the airport to the hotel to the first tee runs smoothly on schedule. This post is the second in an ongoing series, during which we'll profile the devoted, diligent Concierge Drivers who help PerryGolf guests: Play the Game. See the World.
(Learn more about PerryGolf Concierge Driver Neil Cruickshank)
Angus McIntosh didn't anticipate embarking on a second career as a PerryGolf Concierge Driver and Cruise host. Now, a decade into these roles, he finds it difficult to imagine life without the guests met and tours led.
A native of Islay, Scotland, McIntosh spent 30 years as a Police Inspector in Glasgow and the town of Oban, on the country's west coast. Upon retirement at age 48, he filled his days in the usual manner, spending time with his family and playing rounds of golf at The Bishopbriggs Golf Club – which he joined at age 10, and where today he resides 400 yards away from the clubhouse. One day after a round, he became aware of PerryGolf during a conversation. He made contact with the company and shortly thereafter began helping on cruises and meeting guests at the airport.
"I really wasn't looking for a job," McIntosh said in a recent phone interview from Scotland, where he's enjoyed the warm, dry summer. "I like the freedom to deliver each tour as what I see as my way of doing it. There's a template in place and a generic way of doing it but the company realizes that each person is an individual and has their own way of doing it. I like to give the people a bit of general information about the places that we're going to."
McIntosh honed his skills dealing with people during his long, successful career on the police force. Obviously the tenor of a PerryGolf trip is much different than what's required on the beat, but his experience making decisions and organizing large groups of people can come in handy as he shepherds guests on their journey in a safe, timely manner. 
"The whole thing is about a worry-free holiday for the guests," he said. "We're there to push them in the right direction. As drivers, we provide a pretty unique experience, a concierge service on the road, similar to a concierge in the hotel."
At the trip's outset, McIntosh tries to understand the desires of a group. Perhaps it consists of four couples and they are interested in fine dining and sightseeing. Or maybe, it's a group of eight men focused solely on the golf and unconcerned with historical landmarks or upscale restaurants. Some guests simply want to become immersed in the local community and culture during their holiday. Regardless, possessing intimate knowledge of his native land enables McIntosh to ensure their needs are met. 
On a recent assignment, McIntosh led PerryGolf's Best of Scotland Escorted Tour. He speaks fondly of the concentration of championship courses available in golf's homeland and requiring minimal travel or transfer of accommodations. Where else, McIntosh asks, can a golfer have a game at epic links such as St. Andrews, Troon, Turnberry, Carnoustie and Prestwick in a five-day span and spend only four or five hours in transit, traveling comfortably, of course, in a PerryGolf VIP Coach.
Rightfully proud of his homeland, McIntosh loves St. Andrews, however, his favorite area is the Scottish Highlands, an area ripe with beauty and rich with mystical bucket list destinations around Inverness, such as Nairn, Cruden Bay and Royal Dornoch – which tops the list of none other than Tom Watson, five times champion of The Open.
"From a driver's point of view it's very picturesque and there are a couple of beautiful detours you can take if the golfers are interested," he said. "Getting about up there is also pretty easy."
McIntosh and PerryGolf co-founder Colin Dalgleish depart Aug. 8th on the Baltic Sea Golf Cruise. McIntosh helped host guests on PerryGolf's first voyage to this beautiful corner of the world two years ago and looks forward to returning because of the hospitality received at Gorki GC in St. Petersburg, Russia and throughout the region. He's proud to play a role in helping these cruises run smoothly, from shuttling clubs to the course where they await the golfers on their arrival from the ship to ensuring each golfer returns to Azamara Journey within a comfortable time frame after the round, so each can embrace the area's sights and scenes alongside their partner or other guests.
Land or sea, tour or cruise, Scotland or Scandinavia, building relationships with PerryGolf guests remains the common thread. Like many Concierge Drivers, he remains in regular contact with guests who have become friends through regular correspondence or return trips to the U.K.
"You get to know them quite well on a personal basis and you get to be quite friendly with them," he said. "You want them to go back and tell everybody so they send people back to our country to experience what they have as well."
Listening to McIntosh, 58, it's obvious he's found the ideal occupation for this stage in life.
"If I left PerryGolf I'd probably retire properly," he said with a laugh. "I get along well with the staff. Once you're out on the road you're left to your own. It's not like they're calling every two or three minutes to check on you. For me it's been a great experience. It's nothing I thought I would ever do. I'm in no great hurry to throw in the towel just now."