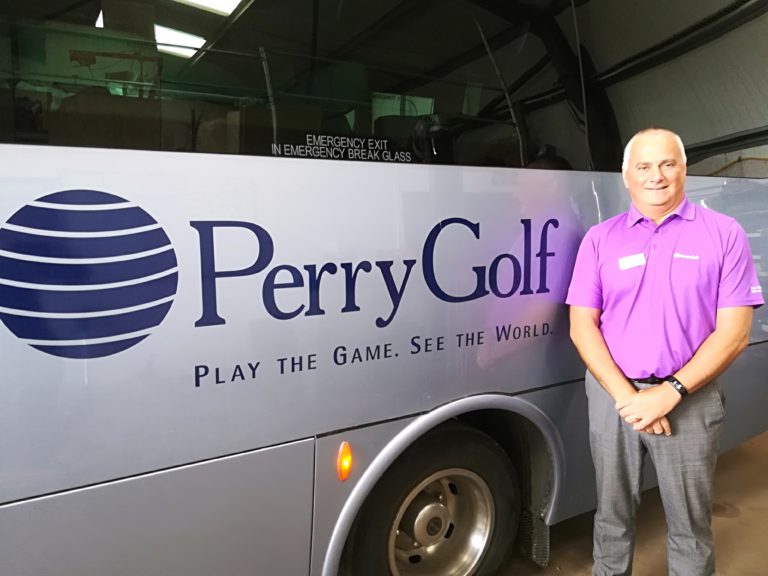 PerryGolf's Concierge Drivers play an essential part in any Customized or Escorted Tour. They fill many roles during your trip abroad – from recommending restaurants to sharing nuggets of local history and culture while also making certain every part of the Tour from the airport to the hotel to the first tee runs smoothly on schedule. This post is the first in an ongoing series, during which we'll profile the devoted, diligent Concierge Drivers who help PerryGolf guests, Play the Game. See the World.    
One of Neil Cruickshank's first encounters with golf occurred in 1977 at Turnberry.
Armed with a degree in hotel management, Cruickshank landed a job at the famous hotel adjacent to the course in Scotland where American legends Tom Watson and Jack Nicklaus staged their epic Duel in the Sun in The 106th Open.
The evening after the final round, Nicklaus, accompanied by wife Barbara, entered the hotel's main dining room. They received a standing ovation and hearty round of applause from the other diners and guests, Cruickshank recalls. Minutes later, Watson entered to a polite, yet somewhat muted response. Perhaps the young American had yet to fully win the hearts of Scotland; their special mutual relationship accelerated that day, however, as Watson's second consecutive 65 nipped Nicklaus and earned his second Claret Jug. He finished his career with five, tying the modern record, and, at age 59, missed a sixth by inches at Turnberry in 2009.
The storied Ailsa Course at Trump Turnberry, as it's known today, remains one of Cruickshank's favorite places to take his PerryGolf clients. He's spent the last two years as a Concierge Driver, after enjoying a long, successful career in the hotel and service industry. A golfer for 50-odd years, he's never played the game particularly well but that hasn't curbed his enthusiasm for rounds on legendary links like Royal Dornoch or Turnberry, which he feels is even better following architect Martin Ebert's massive renovation in 2016.
Regardless the destination, Cruickshank, 59, enjoys his role as Tour host because of the friendships and relationships built during the week-to-10-days spent together.
"It's two-fold," Cruickshank said in a phone interview. "We're making the trips a trip of a lifetime for a guy, seeing their enjoyment and excitement of the trip. We deal with all the detail. That's all it takes and seeing all that is exciting. Meeting the new people and going back to old style hotel keeping where you are really taking care of your customers."
Cruickshank possesses enormous pride in all portions of his native Scotland, from the rich culture to the natural beauty and certainly the golf which is beyond compare. He's also a particularly fervent supporter of the national rugby union team and plans to travel to Japan to support them in the World Cup in 2019.
Then again, traveling is old hat for Cruickshank. Clad in a kilt, he was a volunteer greeter during the 2016 Ryder Cup at Hazeltine and ranks that as perhaps the ultimate sporting experience. The journey to Minnesota also enabled him to reconnect with former PerryGolf clients who reside in the States and have become friends through the years. It's not unusual for Cruickshank to receive a photo text message when one is playing a top 100 layout on a particularly pleasant day, trying to make him a touch jealous – all in good fun, of course.
These relationships are the backbone of the experience for Cruickshank.
"It's strange how quickly it does develop," he said. "When you meet them at the airport they are so excited, like children at Christmastime or in a candy store. They are a joy to be with and that becomes infectious."
"You get caught up with their excitement, just think about the next round of golf and talk about their previous round of golf, get to know them really quickly. There's no barriers, away from their home environment, it's quite amazing how much you learn about them and their family. You're with them for big chunks of the day, really do build a bond with them."
6 Nights, 6 Rounds in the Scottish Highlands and St. Andrews
Cruickshank relies on decades of experience in the service industry to determine the ideal agenda for each set of guests. Some might desire the fine dining options available across Scotland while others simply seek sustenance to survive until the next round of golf. Whatever their preference, his role as concierge driver demands that the clubs and luggage are always safe and secure while golfers arrive at the course well in advance of their starting time.
"Everything is labeled and I always check how many bags they have," he said. "Many of our hotels have a golf storage. Each morning we get the clubs out and off we go. I check with the golf courses to make sure everything is in place. If caddies have been requested … we pride ourselves at PerryGolf on being one step ahead."
The seasonal schedule (April – October due to daylight restrictions in the spring and fall) serves Cruickshank well at this point in his life. Married with three children, two of whom live in Glasgow and one who lives at home, serving as Concierge Driver on roads and in towns he knows so intimately enable him to provide a comfortable experience for all clients.
Memories lasting a lifetime are made on these trips to golf's most hallowed grounds. Links that have tested the greatest golfers through the generations accompanied by dozens of hidden gems make every trip unforgettable and golfers anxious to return. Years like this one, which have been dry and seasonably warm, only amplify the expectations. With drivers like Cruickshank behind the wheel, clients feel confident they'll be steered around Scotland in the best of hands.