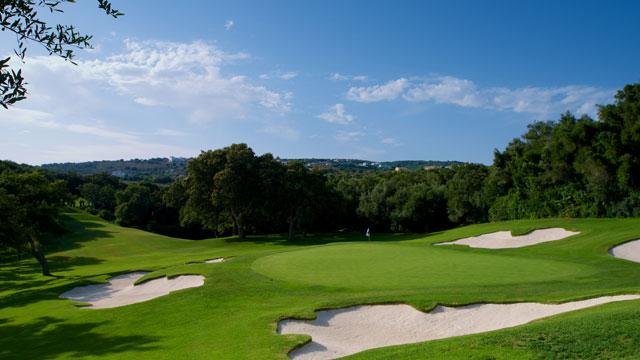 Plans for renovations at Club de Golf Valderrama in Cadiz, Spain brings over 3 million € to be invested in a four year plan to raise the standards of the golf course to an even higher level.





Valderrama was the venue for the 1997 Ryder Cup, two World Golf Championships, and 16 time host of the Volvo Masters.Valderrama's prestige as one of the best golf courses in the world dates back to 1988, most notably for its immaculate greens and fairways, although the investment aims to raise the bars of these features as well.
The first renovation to the course was six months ago, when the most innovative pumping system on the market was installed that has produced first class results, with more color consistency in the greens and fairways, as well as better drainage throughout the course.  The new system actually cuts costs on water and energy.
All of the bunkers have been renovated as well, with new drainage, liners, and sand.  General Manager of Valderrama Javier Reviriego said, "Bunkers have always been an issue at Valderrama. We have rebuilt the bunkers following the strictest and highest specifications and I am proud to say they are now matching the quality of our greens and fairways."
Other areas for renovation over the next three years include cart paths, landscaping, a new pitching and chipping green, as well as close attention to keeping the greens and collars Poa-Annua free.  The final phase of the renovations will be the change in irrigation systems from hydraulic to electric, which will in turn optimize water usage and uniformity among the greens and fairways.
Reviriego went on to say, "I'm confident the overall standard of the course has dramatically improved with this investment."
Valderrama's recent World 45 ranking and #1 in Europe by "Golf Architecture Magazine", along with this large investment for phenomenal renovations certainly puts it on the radar for perhaps a major golf tournament, maybe the PGA Championship?
Have you seen the itinerary for PerryGolf's 2014 Iberian Cruise? Valderrama is a one of the great venues you'll play. Check it out.
Book by October 21st and receive a free double cabin upgrade! More information here.

About the Author: Harrison Gould is the Social Media Marketing Manager of PerryGolf, the leading provider of international golf vacations. You can find him on Google+