PerryGolf is thrilled to add three exciting new golf cruises to its calendar in 2020. We'll spend the next couple of weeks giving a glimpse of each unique, enchanting destination, starting today with a preview of our maiden cruise to South Africa, a 10-night 4-round trip offered January 21 – January 31, 2020 on the exquisite Azamara Quest. Look for more details – including pricing – on the PerryGolf website in the coming weeks.
Azamara Quest, a 690-guest luxury vessel, is intimate, yet never crowded, delivering fine dining, the full-service award-winning Sanctum Spa, live entertainment and impeccable poolside service with ample room to lounge and enjoy the view.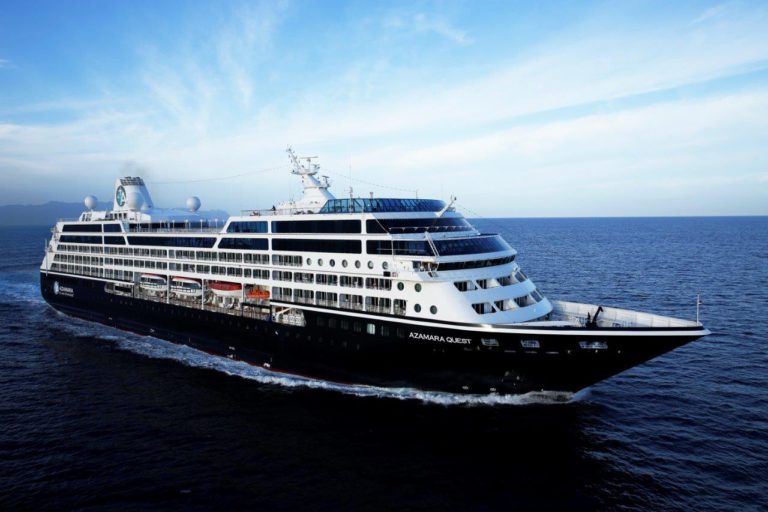 The South African Cruise embarks in Cape Town and returns there after visiting the fascinating ports of Port Elizabeth, Richards Bay, Durban and East London.
PerryGolf offers multiple options for travelers aiming to add South Africa to their portfolio. A visit there and it will become obvious why this diverse nation is one of the top five destinations for golfers in the world.
The Best of South Africa Escorted Tour 2019 is a 14-night, 5 round journey that is fully hosted by PerryGolf personnel throughout from February 23 – March 9, 2019. This Escorted Tour covers all the bases – golf, wine, cities and Big Game.  Our 2018 South Africa Escorted Tour in November is sold out and on a wait list. We also offer Customized Tours to South Africa with travel dates of your choosing. For example, The Best of South Africa includes 14 nights (four on Safari) plus 8 rounds of golf. Of course, our customized tours can be tailored to satisfy your preferences.
With a population of roughly 3.8 million, Cape Town is the second-largest city in South Africa, trailing only Johannesburg. From wine to hiking, beaches to boutiques, Cape Town has evolved into a diverse, cosmopolitan city that appeals to visitors from across the globe. Azamara Shore Excursions can lead you to the top of Table Mountain in a cable car with a revolving floor or schedule a leisurely bike ride through the city's streets, allowing you to see, hear and inhale all of the sights, sounds and scents of Cape Town. PerryGolf president Gordon Dalgleish visited this region in 2014 with his family and shared his thoughts and appreciation for the bustling, beautiful city and surrounding area.
Many travelers became familiar with Durban in 2010 when the city was host for the soccer World Cup. Suffice it to say the city is no longer South African's hidden gem. Home to the Zulu people and Africa's largest Indian population, the city is rich in culture and architecture, and the majestic Golden Mile of beaches lies east of the city center. A trip to the African Markets begins with a scenic drive down Victoria Embankment and features stops at areas devoted to the spices, herbs and beads that reveal the essence of Durban. Azamara Shore Excursions also include a beer tasting and high tea while those inclined toward cardiovascular activity can rent a bicycle and pedal at their own pace down the coast, gazing at the myriad lagoons and coves.
Port Elizabeth is a wonderful coastal town on Algoa Bay in South Africa's Eastern Cape Province. Take a stroll down the Storms River Suspension Bridge (left) inside Tsitsikamma (aka Garden Route) National Park and perhaps catch a glance of the whales and seabirds of the region. As you wind down this coastline you'll understand its billing as one of the most beautiful stretches in the world.
Those interested in spying big game, such as lions and rhino, can make the short ride inland to Addo Elephant National Park, where there are self-drive and safari hosts available.
Of course, golf is an essential part of the journey. South Africa has produced classy champions for generations, beginning with Bobby Locke, who won The Open on four occasions and is widely considered one of the game's greatest putters. In 1946, Sam Snead traveled to South Africa to play Locke in 16 exhibition matches. Locke won 12 and halved two with Snead winning two. Our trip includes a round of golf at Humewood Golf Club, a challenging links that Locke considered the finest in South Africa during his era.
First and foremost on any list of South African golfing greats is the Black Knight himself, Gary Player, the nine-time major champion and one of only five men to win the professional Grand Slam. Ernie Els, Retief Goosen, Charl Schwartzel and Louis Oosthuizen have followed the path he blazed, claiming major titles in the last two decades.
Durban Country Club, established in 1922, possesses a strong reputation and has served as a frequent host of the South African Open. It's the only course in Africa to be included in Golf Magazine's Top 100 Courses in the World.
Pearl Valley, located on the luxurious Val de Vie Estate, has developed a terrific reputation as the best conditioned course in South Africa and ranks as one of the top 10 courses overall. Course designer Jack Nicklaus and the legendary home hero Player inaugurated the layout in 2003 and it served as host for the South Africa Open on three occasions. The 230-yard par-3 third hole is unforgettable and unforgiving as a hazard cuts into the right side of the green and a cavernous bunkers swallows errant shots to the left.
Our South African Golf Cruise is another program that showcases the diverse portfolio of golf and travel experiences that we offer. Not only does PerryGolf offer more options for couples by land and sea than any other operator, but PerryGolf Cruising alone in 2018/2019/2020 with Azamara Club Cruises features 25 of the World Top 100 courses as recognized by Golf and Golf Digest Magazines.