Drinks and dinner the first night were a success – the group gelled nicely and the conversation was vibrant with constant laughter. Pairings had been thoughtfully made in advance, based on personal requests and years of experience. Our round on the Montagu Course at Fancourt the following day was terrific. The weather was ideal. The course was in great shape.
Dinner on the second night was at Henry White's, in the formal dining room at the Manor House. In order not to stress the kitchen, we staggered the seating over 90 minutes, which worked out very well. An impromptu party broke out in the bar after dinner and the first full day on tour was now in the history books.
Henry White's
Day 2 of golf, consisted of a 40-minute coach ride to Pinnacle Point….South Africa's answer to the Old Head in Ireland. We enjoyed a spectacular day with a steady breeze and glorious scenery.
Upon returning to the Manor House and short downtime, we congregated for a casual dinner at La Cantina, the Italian restaurant at Fancourt. As the tour progressed, the convivial, welcoming atmosphere accelerated. In our marketing materials we speak of "like-minded" travelers, and this group is the very essence of that description.
La Cantina
Our third round of golf was at Africa's top-rated course and venue for the 2003 President's Cup, The Links at Fancourt. It was exceptional. It is a difficult but wonderfully manicured course and the clubhouse experience is similarly impressive.
After golf, the group enjoyed a BBQ in the clubhouse overlooking #18 green….it was an appropriate way to conclude our visit to Fancourt.
Post-round BBQ at Fancourt – The Links
After a relaxing morning and with a tinge of sadness, our group departed Fancourt the following morning. Golf clubs and luggage were surfaced to our next venue. A simple, 40-minute flight to Cape Town and we were at the gorgeous Lanzerac property by early afternoon. More to follow…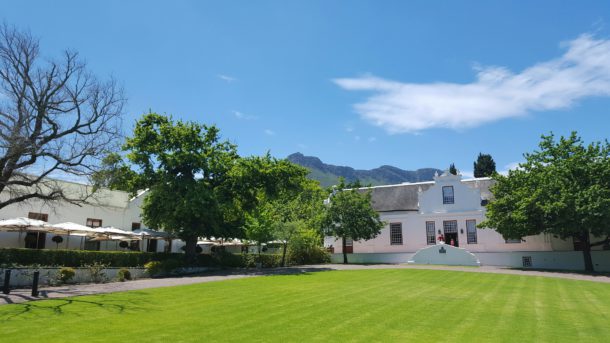 About the Author: Gordon Dalgleish is the Co-Founding Director of PerryGolf, the leading provider of international golf vacations. View on LinkedIn.