To view report click here.
Day 81  Play Camargo                                                           Drive Cincinnati/Columbus
Pat Kelly (1988) arranged Day 81's play at the very private, low-key Carmago Club (rated 43, designed by Raynor 1921)(first played June 1990 and last played June 1994/total 5 rounds). At 8:30 am I was on the first tee with assistant pro Gary Thullen and member Jerry Dirvin (also member of Pine Valley and Pablo Creek). The weather was gorgeous on this peaceful course — 75 degrees ( eventually rising to 90), blue sky, no clouds, no wind. Even though this was Ladies Day we cruised around with caddies in 3 hours and 15 minutes.
At lunch head professional Dick Plummer (1990) stopped by for a short chat. (We had previously said hello on the par-3 fifth tee, after which he watched me butcher the hole.) Then, in the "small-world category" I spotted a group of eight golfers just sitting down to lunch that included John Keller (1990) and John Mabie (1991) from Chicago. I asked John Mabie about his new son-in-law, former confirmed bachelor and long-hitting Ernie MacVicar (1985).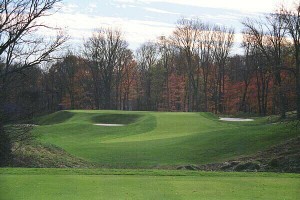 That afternoon in two and one half hours I covered the 123 miles from Cincinnati to just north of Columbus and the Red Roof Inn in Worthington. This was my base of operation for the next three days. I spent part of the late afternoon having the oil changed in my Cadillac and then having it washed.
Day 82  Play Scioto
At 9 am I was on the first tee at Scioto (rated 48, designed by Ross 1912 and remodeled by Wilson)(first played June 1980 and again June 1990/total 2 rounds) with a caddie and members Joe Ray, III; his father (1990); and John Jacob (1994). John passed on the very sad news that my good friend Bob Wallace (1994) had lost his beloved wife Mary while my trip was in progress.
The sky was mostly sunny, with no wind and a temperature of 80 degrees. It eventually rose to the high 80's with high humidity. Even though Scioto is a busy private club we played in four hours with no waiting and no one pressing from behind. On the tenth fairway professional photographer John Grieshop appeared with his camera equipment. He was there on assignment from Sports Illustrated to take pictures of us on the back nine and then do a posed shot with me soaking my feet at the rear of my just washed car (see attached article).
It was weird to feel early in the afternoon that I had nothing planned. There was no long distance drive to do because Columbus has four Top 100 courses. There  I had the comfort of being in one place for an extended period of time. Melbourne, Australia was the only other city where this was possible. An awful Mexican dinner was barely endured at nearby Casa Fiesta.
Day 83              Play Muirfield Village                                                         Play The Golf Club
At 7 am I was out in Dublin at Muirfield Village Golf Club (rated 32, designed by Nicklaus 1974)(first played August 1978 and again June 1990/total 2 rounds), where I was greeted by host Ivor Young (1993). He is a boyhood friend of Jack Nicklaus and because he is in the real estate business, found the property for Muirfield Village. During the round Ivor reported the discussion between Jack and Pete Dye when they were making initial reviews of several potential sites. This is the type of material that should help make my book unique.
Before play I hit a few balls on the huge circular practice facility with excellent turf. By 7:30 am Ivor and I were joined on the first tee by assistant professional Sean Edmonds, who had been an assistant pro at Baltusrol. We had caddies and it was 75 degrees, partly cloudy, and breezy. Quickly it turned very hot (90 degrees) and humid with no wind. To the left of the ninth fairway Ivor pointed out Jack's eight-bedroom home with separate guest house.
After the round I hopped into the car for a 15-mile drive to New Albany and The Golf Club (rated 34, designed by Dye 1967)(first played July 1976 and again June 1990/total 2 rounds). Arrangements had been made by Jack Dingle, who unfortunately was fishing in Montana during my stay. He kindly arranged for John Gall to be my host at this very private, low-key club with no starting times. (On this day the unpaved parking lot was full, about 20 cars, and the course was crowded, about ten foursomes.) John brought along a lawyer friend Pat Dugan, who turned out to be an excellent player.
At 1:45 am we were on the first tee with caddies. The weather forecast called for afternoon thundershowers, but during most of the front nine there was no problem. On the tenth hole the sun disappeared, and dark skies suddenly appeared. A few holes later we saw some wicked lightning far in the distance, and then the club bell began chiming. This meant we had to vacate the course immediately,  so at the seventeenth tee we headed quickly for the clubhouse.
Fortunately, this spell of lightning and rain passed quickly, and we were able to return to the course after only a 15-minute wait. We were eager to finish as soon as possible because another storm was to arrive shortly. Later we learned that these storms were close to constituting a tornado and did produce hail along with such gale-force winds that trees were pulled out of the ground and 20,000 Columbus residents lost electric power overnight.
After finishing at 6:05 pm and having refreshments, I sped back to the motel and then to a nearby restaurant, where I met Grant Wahl, staff writer for Sports Illustrated" With his tape recorder humming we talked for two hours about my trip. The idea for an article had originated at Pine Valley the previous August, where I casually mentioned the trip to former "SI" executives Mark Mulvoy and Don Barr. I did not think of it again until writer-reporter Rick Lipsey called at the beginning of 1997 and wanted to do an article before the trip started. I told him nothing could  be published until the trip was over.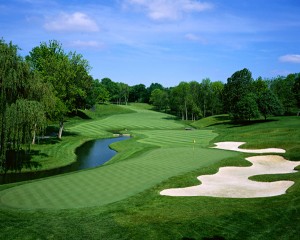 Although the article was available to the public in the "SI" Golf Plus edition just after the trip ended, the magazine was type-set and printed during the last few days of the trip. So "SI" took a chance that I would finish successfully. I also thought I was taking a chance because of the notorious "SI" jinx. However, I was reassured that the jinx involved only the people on the "SI" cover. Some of these people immediately had something bad happen to them.
Day 84  Play Double Eagle                                                   Drive Columbus/Toledo
At 7:45 am I said goodbye to the Red Roof Inn and drove 10 miles north through Ohio farm country to Galena, with Grant following. At the Double Eagle Club (rated 74, designed by Weiskopf and Morrish 1991)(played August 1994) we were met by host Dan Minor (1994). Joe Ray arrived, and we had breakfast at 8:15 am in the spacious dining room.
After a short warmup on the exquisitely maintained practice facility the foursome was Joe, assistant pro Gary Christensen, Double Eagle member Dick Savage (also a member of Sand Hills), and the author. Dan had to play in a tournament at The Golf Club. Dick lives in Kansas City and is a friend of Chief's head coach Marty Schottenheimer. We talked about getting together at Olde Florida here in Naples during Marty's offseason.
At 9 am the course was empty. Double Eagle is a very private club with about 100 members, and many of those are from out of town. We had caddies and the weather was 85 degrees, with high humidity, sun burning down, no clouds, and no wind. Fortunately at Camargo Jerry Dirvin advised me that Double Eagle did not permit shorts, so I came prepared. (On the World 100 list the other two-long pants clubs are Baltusrol and Winged Foot). We had a friendly match, and yours truly knocked in a meaningful 20 footer on the eighteenth hole that caused Joe Ray's jaw to hit his knees.
Grant walked the front nine and talked to each player individually. He made a big mistake in  talking to Joe because of the latter's sneaky sense of humor. In the "SI" article I am credited with owning an island in Canada. This is an absolute joke that made my family laugh. My wife's grandparents were part of a group that founded the Solid Comfort Fishing Club on the Canadian French River. Every year my wife and daughters vacation on the island. I went up for three days in 1968 and said I would come back once every ten years. Because the camp has a short summer season that conflicts with my golf schedule I have yet to return.
We had a relaxing lunch in the clubhouse, and I was then on the road north for 132 miles to the western part of Toledo. At the Courtyard by Marriott I decided to forgo dinner because of the ample supply of delicious food served at Double Eagle.
Day 85  Play Inverness                                             Drive Toledo/Detroit (Troy), MI
My Baltusrol friend John Walbridge, who was originally from Toledo, found the appropriate person to arrange Day 85's program. John Hills obtained an 8 am tee time at the Inverness Club (rated 52, designed by Ross 1919 and remodeled by G. and T. Fazio)(played 1984). Joining us were John Walbridge's brother-in-law Tom Bather and John Hill's father Arthur, one of the best modern-day golf-course architects.
Carrying my bag was Andrea, who turned out to be the best-looking and sweetest caddie I have ever had. She was entering her freshman year at Miami of Ohio and was all business on the course. The weather at the start was 65 degrees, with bright sun, no clouds, and no wind. It  eventually climbed to a comfortable 85 degrees with low humidity. Even though there was a steady stream of foursomes teeing off, we moved at a steady pace.
Art Hills was soft-spoken, and it was a thrill for me to be exposed to some of his observations about the architectural evolution of Inverness. His son John, an excellent player, competed at the college level against Pat Dugan, with whom I was paired at The Golf Club. After the round I was introduced to the club historian Dr. J. Robert Yoder.
In the early afternoon I drove 120 miles north past Detroit to Troy, Michigan, and the Troy Marriott. At 6 pm Peter McDonald (1978) picked me up, and we had dinner with Bruce Brown at Oakland Hills. Bruce is a past president of the club and it was gracious of him to take the time to host us. Because Peter was not yet a member of Oakland Hills part of my introduction to the club came through Ed Howard (1978) of the Scarsdale Golf Club, who brought fellow Scarsdale member Bob Beauregard into the picture. Bob is a long-time member of Oakland Hills.
In June Peter had been paired with Tiger Woods in the pro am at the Buick Classic in Westchester, NY. Peter was ecstatic about Tiger as a person and said he was a real gentleman in his behavior toward all his pro am partners that day. As only Peter can, he asked Tiger if he had ever won a pro am. Tiger had to think about it briefly and then said no. So naturally Peter urged Tiger to go all out to help the pro am team win the Buick Classic competition.
Day 86            Play Oakland Hills (South)      Drive Detroit/Frankfort        Play Crystal Downs
At 8 am I was on the first tee of the South Course at Oakland Hills Country Club (rated 23, designed by Ross 1917 and remodeled by R. T. Jones)(played July 1982) with Bruce Brown, head professional Pat Croswell, and club champion Don Brooks. I was particularly appreciative of Pat's appearance on his "day off," especially after the busy four-day member-guest that had just been completed the day before. In addition to being the club champ, Don won the Michigan mid-amateur at the age of 52. He will be a major force on the senior amateur circuit in three years. The course was officially closed, so board approval was needed for me to play that day. Needless to say, we had the course to ourselves, which was fortunate because both courses here receive heavy play.
On the first tee with caddies it was 80 degrees, humid, cloudy, with no wind. On the tenth tee very dark clouds appeared. Then on the sixteenth hole a steady rain commenced, and on the eighteenth tee the skies really opened up. I had to finish the hole while the rest of the group sprinted for the clubhouse. Completely drenched, I putted out on 18 amid thunder, lightning, and hail. Then came a mad dash to the shelter of the clubhouse.
By 12:30 pm I had had a warm shower, was in dry clothes, and was headed northwest through continuing heavy showers. Along the 260-mile drive the skies began to clear, and I was hopeful of squeezing the next round in. The original plan had been an unhurried drive to Frankfort, playing of Crystal Downs the next morning, and then another leisurely drive to Chicago. It was not until June that my host Roy Vomastic (1995) was told about a Ladies Day shotgun start scheduled on the morning of my proposed round. So the choice was to play late in the afternoon or the following afternoon with the long drive to Chicago following. Making the decision easier was the fact that Crystal is at the very western edge of the eastern time zone and therefore darkness comes late in the evening.
Roy could not make the late-afternoon starting time, so he enlisted son Ed Vomastic, who brought along his friend Peter Sneed. Also present was member Richard Colker (1985), who had been with Kidder, Peabody in London and with whom I played my first round at Royal St. George's and Sunningdale (New). The weather at 5:15 pm was mostly cloudy, 70 degrees with a 10-mph wind; we had the course to ourselves. On the third hole the sun came out, and the temperature rose to 80 degrees. For the rest of the round we enjoyed the course silhouetted in early evening shadows. The ambience reminded me of the evening round at Turnberry 26 days before. We finished at 9:15 pm with a glowing sun setting over nearby Lake Michigan.
After registering at the Harbor Lights Motel in Frankfort I had a crummy American bar meal at a local tavern.
Day 87              Drive Frankfort/Chicago, IL
At 8 am I started south for a five-hour, 331-mile drive to the Wyndham Hotel in Istaca, IL (west of Chicago, watch set back one hour). With no golf for the remaining part of the day I was able to make some phone calls covering activity for the next two days and also to rest. The food there was slightly below average.
Day 88  Play Medinah (#3)               Drive to Wheaton                             Play Chicago Golf
Drive to O'Hare Airport      Fly Chicago/Minneapolis, MN
The original thought was to play Chicago Golf and Medinah over a two-day period. My two ever faithful Chicago contacts, Steve Satkamp (1977) and Bill Shean (1982), learned that Ladies Day was taking place at both courses on the second day of my proposed Chicago stay. Therefore I opted for a doubleheader on the first day and left the second day open to cover any contingencies.
At 6:30 am I was at the already busy valet parking booth of the Medinah Country Club (#3 Course rated 46, designed by Bendelow 1928 and remodeled by Collis and then Packard)(first played June 1976 and again September 1989/total 2 rounds). I was met by Steve and club member John Winter. We were joined by head pro Mike Harrigan on the first tee with caddies. The weather was 70 degrees, with very dark skies, no wind,  and a threat of rain. As the first group out we had the course to ourselves and the skies eventually lightened up. Mike was an excellent player (qualifies regularly for the Western Open) and was knowledgeable about the architectural evolution of the course.
After the round John, Steve, and I had lunch under a tent because Medinah was in the middle of a massive $15 million clubhouse renovation. Then I drove southwest to Wheaton and the Chicago Golf Club (rated 41, designed by Macdonald 1895 and remodeled by Raynor)(played July 1982). There I met the club president Cleve Carney. Bill Shean was in Northern Ireland at Royal Portrush playing in the British Senior Open.
At the beginning of the year I was talking to Bill about the one piece of the puzzle that was not in place. How was I going to get my car from Chicago to my New Jersey condo within 24 hours? He suggested that maybe a caddie at Chicago Golf might want to go east to see some friends and would be willing to drive my car back if we then gave him an airline ticket returning to Chicago. When I left the U.S. toward the end of May no one had yet been signed up. When I returned to the U.S. in early July my first call was to Bill, and, sure enough, the problem had been taken care of. Head professional Tim Surlas had obtained the services of caddie Justin Scalzo, who attends Villanova in Philadelphia and wanted to go back east at the end of July to see some of his buddies.
So at 1 pm I was on the first tee with Cleve with Justin as our caddie. It was 70 degrees, cloudy, with no wind. Amazingly, there were a couple of foursomes around the first tee. Chicago Golf has few members and a low level of activity on the course at most times. We were able to maneuver through "the crowd" and then had clear sailing for the rest of the afternoon. Cleve was very helpful with the design features and evolution of the course.
At 5:15 pm Justin and I drove to the O'Hare airport, where I turned over the keys to him for a 926- mile drive to Springfield. I went to the United counter to change my ticket because I was a day early. Then I went into the O'Hare Hilton Andiamo for a mediocre dinner. At 8:30 pm I flew United 334 miles to Minneapolis and took a taxi to the Radisson Hotel South in Bloomington.
Day 89  Play Interlachen                                                       Fly Minneapolis/Detroit/Newark
At 6:45 am I took a taxi to Interlachen Country Club (rated 98, designed by Watson 1910 and remodeled by Ross and then R.T. Jones)(played August 1986). It was fortunate that we started early because the taxi driver became terribly lost; luckily I caught it because I had my trusty map. Host Lud Gartner (1986) was there to greet me at 7:30 am. The clubhouse is in the midst of a $6 1/2 million major reconstruction. (Does this theme sound familiar?)
At this point I was one day ahead of schedule because the buffer day reserved for the northern part of the trip had not been used. And it was a good thing that I was there that day because heavy rain and thunderstorms were predicted for the afternoon and the next day. After a dry early summer Minneapolis had received 17 inches of rain over the past 30-days including 7 inches during the past week. In checking with Lud earlier in the week there was a serious question whether the course would be open for play (nearby Edina Country Club was closed that day).
Naturally that day was Ladies Day, but it was not a shotgun so we were able to start on the tenth tee. Because of prior commitments Lud was not able to play, and retired Interlachen head professional Bill Kidd and I went off at 8 am as a twosome with a caddie. Head professional Jock Olson joined us for the second nine holes. The temperature was in the 70's with high humidity and no wind. The sky was dark, and some rain did fall during the round. Bill Kidd and his father were the head pros there from 1920 through 1993. Jock introduced himself as the "new kid" at the club. Bill and Jock told me everything I needed to know about the design evolution of the course.
Out on the course I was introduced to greens superintendent John Katerheinrich. He had his hands full with pumps running 24 hours per day. The course was very wet but playable. However, the water hazards were at least twice as large as normal, and there were even some big new water hazards.
Another taxi took me to the airport, where I was lucky to find a competent and courteous Northwest ticket agent. Because I was a day early I had no confirmed reservation. The nonstop to Newark was full, but he was able to route me through Detroit. So after 1,015 miles (watch turned ahead one hour for the last time-zone change of the trip) I was at the Newark airport for a taxi ride to Springfield. The first thing I did was check the garage. Sure enough, Justin had done his job; the car was there and in excellent condition.
Day 90  Open
Not surprisingly, laundry was the first order of business, and the dryer produced wrinkle-free golf shirts. Unfortunately, the cable company still had not got its act together, so I was without TV until after the trip ended. The phone worked in all modes, and I was able to contact my hosts for the final days of play and do some reshuffling. In the early evening I picked up Dan Turner at the Newark airport so that he could participate in the final assault.
TO BE CONTINUED
About the Author: Gordon Dalgleish is the Co-Founding Director of PerryGolf, the leading provider of international golf vacations. You can find him on Google+