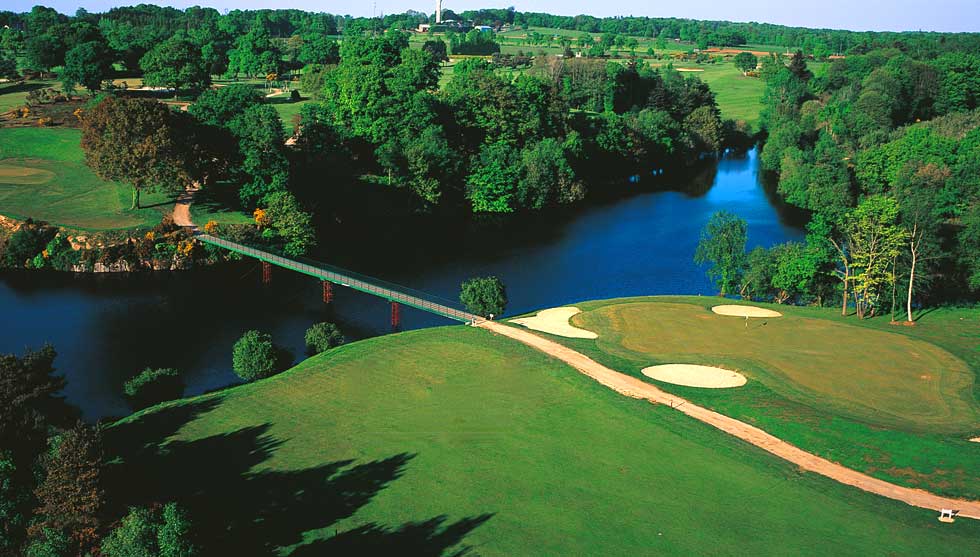 If you're looking for a relaxed, good-value French golfing break far away from the madding crowds, Today's Golfer Survey says…
Read more "What's The Best Golf Resort In France? Today's Golfer Says"
Click here for trip summary & overview
Day 61  Play Sunningdale (Old)        Play Wentworth (West)            Drive Virginia Water/Rye
Day 61 was one of the longest days of the trip. Having had less than a full sleep, I left Ascot Place just after 7 am and drove 10 minutes to the Sunningdale Golf Club (Old Course rated 39, designed by Park 1901 and remodeled by Colt)(played September 1985). This is one of the few courses where my initial member contact did not respond and Plan B was activated. Club secretary Stewart Zuill arranged for an 8 am starting time. However, the starter appeared at 7:55 am and posted a sign on the message board "Old Course Closed – Competition." The man then quickly disappeared, so I went into the pro shop to ask about this surprise development. I was told that the first tee was open and I should hit off immediately.
With trolley in hand I teed off in 60 degrees, no wind, and gloom with rain threatening. I moved along at a reasonable pace by myself with the course open in front. On the fifth fairway a motorized cart appeared with someone from the pro shop. I was told a mistake had been made with my starting time, that a shotgun start was commencing on the Old Course at 9 am, and I would have to finish my round on the New course. I explained that I could only play the Old course, that I would play as many holes as possible, and then come back later in the day to finish the round.
I then actually raced through the next holes (all uphill), reaching the tenth tee in a total sweat. There I realized that the shotgun actually started on holes 10 through 18 because none of the groups were behind me. The good news was that I would be able to complete the round without having to come back. The bad news was that the group immediately in front consisted of  a bunch of hackers and I was looking at three hours to play the last nine holes. Adding to the ordeal was medium-to-heavy rain beginning on the twelfth hole.
At 12:30 pm the Sunningdale round was concluded, and there was a quick five-minute drive to Virginia Water and Wentworth. There I called club member Jim Loughrey (1996), and he came right over. We went back to his house at Wentworth and met his wife Inga. She produced lunch and a dryer for my wet rain gear. At 2:10 pm Jim and I were on the first tee of the West Course (rated 65, designed by Colt and Morrison 1924)(first played September 1985 and again August 1991/total 2 rounds). The weather was the worst of the trip with tremendous rain falling.
Not only did the rain not stop for one second during the round but also at times it intensified. By the middle of the round there was standing water on all greens and we had to chip to the pins because putting was impossible. The course was unplayable, but thankfully was not closed. The eighteenth green is in a bowl with a somewhat steep walk up a hill and then more uphill walking. To someone totally soaked who had played 36 holes the short walk looked like climbing the Himalayas.
We then went back to Jim's home, and my heavy-laden rain gear was again thrown in the dryer. We went back to the Wentworth Club for an excellent meal. I was on the road by 8:30 pm for a 100-mile drive south to Rye on twisting country roads. The heavy rain was still falling, and I arrived at The George hotel by 11:30 pm. The town of Rye has very narrow streets and is hard to maneuver around. The hotel was difficult to find, even with the streets vacant, and I was wondering how I would have done it earlier in the evening with heavy traffic.
Day 62  Play Rye                   Drive Rye/Sandwich                          Play Royal St. George's
I was up at 5 am and drove five miles east to the Rye Golf Club (rated 94, designed Colt 1894 and remodeled by Simpson and then Campbell)(played May 1989). When I left the hotel the skies were clearing, and I had high hopes that the worst was over as far as the rain was concerned. Unfortunately, in the Rye car park the skies darkened and more rain came crashing down. In these miserable conditions I was amazed when my member contact Peter Gracey (1989) pulled up. Peter is a rugged 75-year-old, and starting at 6:30 am we walked all 18 holes together with clubs on our shoulders through rain and wind.
In planning play at Rye Peter Green (1986) had noticed a one-day member-guest event on the club's schedule starting at 8 am on the first and tenth tees on the day I was originally scheduled to play starting at 8 am. Consultation with the club secretary Major Chris Gilbert determined that by starting at 6:30 am I would be past the tenth tee by 8 am. Rye is not the easiest course for a stranger to maneuver around, especially with head beaten down by heavy rain. Fortunately, Peter Gracey was there to navigate. Rain came down in buckets during the last four holes. Later in the morning I learned that 1997 had the wettest June in England since records began in 1860.
By 9:30 am I was in the locker room stripping off every stitch of clothing on my body. I was wishing for the use of Inga Loughrey's dryer for my rain gear because there was another round to play that day. After donning a whole new wardrobe I had tea with Peter Gracey, Chris Gilbert, and Peter Marsh (retired Rye head professional after 40 years of service). The long discussion about Rye's course architecture was very helpful.
I then drove east for 60 miles to Sandwich and the Royal St. George's Golf Club (rated 28, designed by Purves 1887 and remodeled by Colt/Alison and then Pennink)(first played September 1985 with  eventual membership/total 21 rounds). At the start of the drive rain was still pelting down, but later a miracle appeared in the form of clearing skies with the sun popping out of the clouds.
Just before 1 pm I had a key to a room in the club's dormy facilities (officially called Club Accommodations). I then called Ian Findlay (1991 and past club captain) and he along with wife Alison came over for lunch. Then Ian and Neil Roach (member of R&A general committee and past captain of Royal St. George's) were on the first tee with the sun shining, 65 degrees, and a light breeze (a perfect late June afternoon in England). The Findlays had driven down from London that morning in awful weather and thought our chances of playing that afternoon were zero. The rain did continue all day in the London area, causing cancellation of play at the Wimbledon tennis tournament.
That evening I enjoyed dinner at the Findlays' summer home in Sandwich.
Day 63  Drive Sandwich/Walton-on-the-Hill                                    Play Walton Heath(Old)
Drive Walton-on-the-Hill/Gatwick Airport
The morning of Day 63 had the luxury of moving at an unhurried pace. Being a member of Royal St. George's provided a little more scheduling flexibility, so this morning had been left open in case of a cancellation on the previous day. I was running a little low on golf balls, so to be safe I bought a dozen balls in the pro shop. I also enjoyed a long conversation with club secretary Gerald Watts.  Then there was a 84-mile drive east to Walton-on-the-Hill and the Walton Heath Golf Club (Old Course rated 79, designed by Fowler 1904)(played September 1985).
My companion for the afternoon was the pleasant, knowledgeable, and enthusiastic Ken Macpherson. Ken has been the head professional for 20 years, and I had a delightful time with him. Before teeing off I made one of the major purchases of the trip. At Wentworth Jim Loughrey had strapped a thin, hard plastic cover over his forehead to keep the rain off his glasses. During that round I became so wet that I could not even take my handkerchief out of my pocket to wipe the rain drops and fog off my glasses. Meanwhile Jim had no problem seeing out of his glasses for the entire round because of his Aquavis protection. I was pleased to find a pair of Aquavis for sale in Ken's pro shop.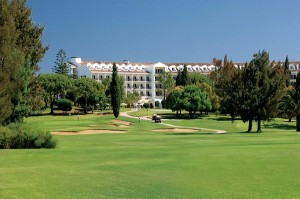 As we started play at 2:30 pm the weather was 60 degrees, overcast with no wind. It looked as if the Aquavis would be put to good use, but the rain held off. Ken and I pulled trolleys and had the course to ourselves. I could not have ended the U. K. part of the trip with a nicer person. Several weeks later Ken wrote me the following: "By now you will probably have had a double leg transplant! I trust that your world tour was an unforgettable experience and I was glad and honored to be a small part of it."
In the early evening I drove 32 miles south to the Gatwick Airport and the Forte Posthouse Gatwick in Horle. My car for the past 18 days was cleaned out, and all the paraphernalia spread around the car was squeezed  into my luggage. The car was returned to the Budget office, and the previous damage report came in handy as the agent grilled me about the dents and bruises on the car. Then a mediocre buffet dinner was had in the hotel dining room.
Day 64  Fly London/Faro, Portugal                                         Drive airport/Penina
Play Penina                                                                 Drive Penina/Vale de Lobo
At 9:25 am a British Air 737-400 flew 1,048 miles to sunny Faro, Portugal, where I was met by the San Lorenzo director of golf Antonio Rosa Santos (1994) at 12:30 pm (watch set ahead one hour and now dealing in escudos). We went to the Avis car-rental office, and I picked up a car. The next destination was the Merdian Hotel Dona Filipa, which is a 22-mile drive from the airport to Vale de Lobo in Almacil. After lunch Antonio drove 50 miles east along the Algarve to a sister hotel Penina. During my 1994 Portugal/Spain trip Penina had been closed for extensive reconditioning, so I was pleased to have the opportunity to play it now.
We were met by the director of golf Leonel Rio, and the three of us teed off with clubs on motorized carts. We had the course to ourselves in mostly sunny weather, 70 degrees and 10-mph winds. I actually had to use sun screen for the first time since day 21 at Cabo del Sol in Mexico. Penina was designed by Henry Cotton and has strong par 3's, which makes sense because Cotton was one of the best long-iron players ever. After golf dinner was enjoyed in the attractive hotel, and then Antonio drove back to the Dona Filipa.
Day 65  Play San Lorenzo                                         Drive San Lorenzo/Sotogrande, Spain
Play Valderrama (9 holes)
I was up at 6 am and drove a short distance to the San Lorenzo Golf Club (rated 100, designed by Lee and Roquemore 1987)(played September 1994). At 7:32 am my clubs were on a trolley, and I was a single player with the course to myself in mostly sunny weather, 70 degrees and no wind. On the seventh hole my heart started pumping real fast because a snotty British "lady" was walking two unleashed dogs on the fairway. One dog came charging directly at my ankles with a vicious snarl. The dog circled my legs for about two minutes with constant snarling, which I feared might turn into chewing on my leg. The owner stood by passively and made no attempt to call off her dog. After the animal became bored and walked off the owner said nothing, not even an apology. I had a few choice words for this "lady."
At 11:15 am I was fortified by candy bars and bottled water provided by the generous Antonio and on my way to Spain. Unfortunately, Avis had no maps of Spain, and mine was missing. Thus I drove the 281-mile route to Sotogrande (now using pesetas) by memory from my 1994 trip. I drove as fast as possible because I wanted to play Valderrama late that afternoon in order to accelerate the schedule somewhat. My goal was to return to the U.S. via the Newark airport at 5 pm and not the distant Kennedy airport at 9 pm.
Arriving at 4:45 pm, I went to see the club general manager James Stewart (1994), who said I could play the back nine;  the front was closed for maintenance. It was now early July, and the Ryder Cup was to be played at Valderrama (rated 51, designed by R.T. Jones 1975)(played October 1994) in mid-September. With golf bag on shoulder I had the course to myself in 80-degree temperature, bright sun, and no wind.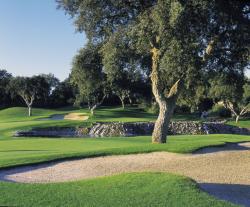 After golf I went down the hill and over the newly expanded highway to Sotogrande and the guest house of Jimmy Patino (1994), the owner of Valderrama. Jimmy was not in residence, but I did have the pleasure of being with his son Felipe at a local restaurant for dinner that also included James and Connie Stewart. Felipe asked me how I would like to play the next day —  with a caddie, by myself, or with the head professional? I told him my favorite way was alone carrying my own bag.
Day 66  Play Valderrama (9 holes)      Drive Valderrama/Malaga    Fly Malaga/Valencia
Drive Valencia/El Saler                   Play El Saler
At 8 am I was on the first tee, and there was a sign that said the front nine was closed. Felipe had made sure that I would have the whole front nine to myself. Finishing just before 10 am I enjoyed refreshments with Felipe and James before racing 78 miles to the Malaga airport and dropping off the Avis car. During the planning of the trip PerryGolf had noted an early afternoon nonstop flight from Malaga to Valencia. However, I thought the schedule was too tight, so we booked later flights from Malaga to Madrid and then on to Valencia. By finishing Valderrama earlier than planned, I was now able to take Iberia directly to Valencia.
The 293-mile flight arrived at 2:30 pm. I had originally planned to take a taxi for the 17-mile trip to El Saler. However, I asked the Avis representative if she could provide good directions to El Saler so that I could rent one of her cars. She assured me that her directions were foolproof, so I rented a car. The directions were awful, and I became terribly lost. Fortunately I eventually found El Saler and checked into the Parador El Saler.
At 4:45 pm I convinced the non-English-speaking starter to grant me a waiver of the greens fee. I then went to the first tee and was able to join a man and two women. Campo de Golf El Saler (rated 60, designed by Arana 1967)(played July 1987) is a public course with a huge amount of play. I teed off in 80-degree weather, partly sunny, with wind howling at 20 to 25 mph. The course is directly on the Mediterranean, and half the holes are links and exposed to the elements. Play was very slow, and I was doubtful of finishing. Fortunately, my non-English speaking companions departed after nine holes, as did some of the players ahead. I finished at 8 pm as sunset was approaching.
One of the most pleasant surprises on the entire trip was the dramatic improvement in the condition of the El Saler course. When I played here in 1987 the course was a dog track in terms of  conditioning. In fact, I used El Saler as an example to show that not all courses needed to be in Augusta National condition to be rated in the World 100. Today I found a course in above- average condition, especially the greens. This is saying something because El Saler has massive greens that may be the largest in the world 100 (the seventeenth is 54 yards deep, and the eighteenth is 85 yards deep). I was so excited about this development that I wanted to congratulate someone connected to the course. Regrettably, there was no one around.
Before going to dinner, I called Gordon Dalgleish in Atlanta to tell him I was running ahead of schedule and ask if he could change the rest of my flights. Within an hour a fax was received from PerryGolf with the requested revisions. Dinner in the hotel was above average, and I felt satisfied with how well the day had developed.
Day 67  Drive El Saler/Valencia       Fly Valencia/Madrid       Fly Madrid/Paris(DeGaulle)
Drive airport/Senlis             Play Morfontaine
Arising at 5:45 am and with excellent directions from the hotel's front desk, I quickly made my way back to the Valencia airport in light early-morning traffic. Luckily I was able to gain the attention of an Iberia reservations lady at an out-of-service window so that my ticket could be changed. I was originally going to play El Saler in the early morning and then fly on a very tight schedule to Barcelona and on to Paris. If all had gone well I would have reached the hotel in Senlis at about 11 pm.
The new schedule had a flight to Madrid on Iberia (177 miles) and then a transfer to Air France and on to Paris (661 miles and now dealing in francs). The rental car booth was commanded by a really surly young lady. It took about a half hour to process my simple reservation because some of the time was occupied by a personal phone call. Finally I leaped into the tiniest car I have ever driven — Citroen AX Image (diesel). If I had hit anything I would have been squashed like a bug.
Charging out of the airport, I headed north for 16 miles on the motorway in awful weather — 50 degrees and rain coming down in buckets. Under these conditions there was no way a sane person would even think about playing golf. Coming off the toll road at Senlis I stumbled upon my hotel (Ibis Senlis). Fortunately, I stopped to register and take possession of a room because they had no reservation in my name. I do not know what would have happened under the original schedule with an 11 pm arrival;  the hotel was fully occupied by 8 pm.
Of course, the hotel had no local map, and no one knew where the course was. I had been there in 1990 and received excellent directions at a local gas station. Going on memory and with a couple of wrong turns I found the small village of Mortefontaine just south of Senlis and finally the course. I went into the deserted clubhouse, and a nice young lady said I could play that day even though I was scheduled for the next day.
Golf de Morfontaine (rated 61, designed by Simpson 1927)(played two rounds June 1990) was another course for which Plan B was needed. After my original member contact did not respond, I called Baltusrol friend Mark Williams (1980), and he worked very hard to make the arrangements. In the meantime I wrote the club directly. After more than two months had elapsed, both avenues responded almost simultaneously.
At 3 pm a trolley was obtained from the caddiemaster. He and his wife then watched me unpack the bulky golf travel bag. He must have thought I was daft, and I was laughing at myself as I pulled on all my rain gear, including the recently purchased Aquavis, and headed for the first tee. Rain was still coming down heavily, and, needless to say, I had the whole course to myself. I finished in 2 hours and 15 minutes, and when I returned the trolley the caddiemaster kept asking me dix huit, dix huit? He was amazed that I had played all 18 holes in this cold and rainy weather in such a short period of time.
After golf I spent an absolutely pleasant and informative hour with Jean E. Dulout, directeur du golf. He has been associated with Morfontaine for almost 40 years, and his love for the club and the facilities was matched by his enthusiasm for the history of golf. I felt very privileged to meet and be able to discuss the history of Morfontaine with such a nice man. When I left he said that his friends called  him "Jimmy" and I was welcome to come back any time.
I would love to go there more often because Morfontaine is in such an enchanting setting that it truly is a "course of a life time." Actually, if I spoke French I would make every effort to try to become a member. So as I walked to the car and drove down the narrow road through a forest of trees there was a glow on my face. The U.K, Ireland, and Continental part of  the trip could not have ended on a happier note.
Day 68  Drive Senlis/DeGaulle         Fly Paris/London(Heathrow) Fly London/Newark
I was up at 5:30 am to pack for the trip home. The temperature was about 50 degrees and the skies very overcast. It certainly would not have been much fun to play an early round under those conditions
The revised plane ticket was now DeGaulle/Heathrow/Newark. It was a good thing I had left plenty of time to get to the plane because the signs at the DeGaulle were terrible and I had great difficulty finding the British Airways terminal and the rental-car return. If I had been on the original very tight schedule of playing Morfontaine that morning and then racing to the airport in late-morning traffic, I think I would not have made it.
Remember I said you cannot plan enough. I learned something new on this trip. If you rent a car in a foreign country you had better be able to translate the rental-car-return sign if it is not in English. With much more time to spare I stopped at an airport hotel and found two helpful young employees. They gave me proper directions and said the signs with "Park de Louage" were for rental car return. Even with directions it was not easy to locate the final parking place for the tiny Citroen.
A British Air 757 took me on a short hop to Heathrow (216 miles and watch set back one hour), where I boarded a British Air 747 for a 6-hour and 55-minute 3,466-mile flight over the Atlantic Ocean to Newark (watch set back five hours and now using good old Yankee dollars). The weather at 90 degrees with sun, was substantially better than what I had left behind in France. The plane was packed, and there was a one-hour gap between touchdown and luggage arrival. A taxi delivered me to my Springfield condo, and I was finally in my own bed at 9:30 pm (3:30 am in France). Despite the 22-hour day I felt lucky because the original schedule had called for an  arrival at JFK at 9:10 pm. There is no telling when I would have reached home or how much it would have cost from that distant airport.
My luck continued. Exactly one week after my trip from Paris to Newark the British Air cabin crews went on a 72-hour union protest, and the carrier was forced to cancel half the scheduled flights.
Day 69              Open
The day was spent doing laundry (desperately needed) and reorganizing the last part of the trip. There were hotels, and host contacts to notify that only one room was needed because I had become a single player with the early release of my traveling companion. It was complicated because Bell Atlantic had crossed my phone line with that of a teenage girl, and I could not receive incoming calls directed to me. I did receive several calls from the girl's boy friends, and they were not happy to have reached an old fogy. In addition, the cable company had neglected to activate the system and the TV did not work. Also, the dryer would not produce wrinkle-free golf shirts. Welcome home!
Day 70  Drive Springfield/Farmingdale, NY                                    Play Bethpage (Black)
Drive Farmingdale/Springfield
Thanks to Bill Bennett my car was parked in my Springfield garage when I arrived home the night before. So at 5:30 am I arose and drove 70 miles east past Kennedy Airport to Bethpage State Park on Long Island. I had to reprogram my right foot and reduce the pressure on the gas pedal after having raced around Scotland, England, Portugal, Spain, and France without much regard for the speed limits.
The World 100 course that should have been one of the easiest, if not the easiest, to schedule was the public-access Bethpage Black Course (rated 86, designed by Tillinghast 1935)(played July 1969). In my original ideal schedule I nonchalantly slotted Bethpage for late July with the other Long Island courses. I am not going to name any of the people involved in the arrangements because nothing worked as it was supposed to. From September 1996 through June 1997 more faxes and phone calls were made to pin down a starting time there than in arranging to play any other course on the list.
First, I found out the course was going to close in mid-July 1997 for one full year of renovation before the U.S. Open. I was amazed because the Open will be held there in 2002, and the shutdown started in July 1997. Consultation of my magnetic planning boards showed that the only date fitting my schedule for Bethpage was the second day after returning to the U.S. Then the question was how to arrange an early-morning guaranteed starting time on a busy weekend. I was given the name of a Bethpage Park official, who said he would send me the necessary permit to apply for a specific time. When the permit failed to arrive I attempted to reach him several times, but to no avail. I went back to my original contact, but nothing happened there either. Finally, during the early part of the trip, I turned the problem over to Arnold Langer (1994) of Sea Gate Travel, a semi-regular player at Bethpage. Arnold did the trick, but it was not until after returning to the States from France that I was sure Bethpage was under control.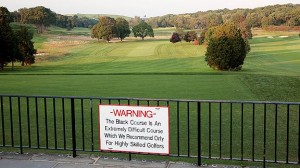 The weather during the preceding week had been extremely hot and humid, and Arnold (a thin 68 year-old) decided he needed a caddie because the course is fairly hilly and the ground hard.  But there are no caddies at Bethpage, so Arnold had to make special arrangements. Unfortunately, two men appeared and insisted on carrying all four bags at $60 a bag. We tried to point out that this was a higher fee than one would pay at Pine Valley, but they were adamant. We considered the fee ridiculous, and, because the weather was not hot and humid on that early July day, we told the two guys to take a hike.
Then at the refreshment shack on the sixth tee a burly Bethpage Park employee appeared on an electric cart. He wanted $60 for having arranged for the caddies. At this point it became clear why the initial caddie rate was so high. My impulse was to tell this guy to take a hike too, but I did not want to risk being hustled off the course without finishing the round. So the park employee received his kickback. On the basis of my brief exposure to the machinations of the New York State Parks dominion, I wish the USGA luck in being able to battle successfully through this political and bureaucratic maze between now and 2002.
Thanks to Arnold, I was on the first tee for the 8:08 am tee time with him and two of  his friends, Brad Davis, a PGA member, and Jeff Haltman. We did not hit off until 8:16 and while waiting observed the following sign at the first tee: "WARNING: THE BLACK COURSE IS AN EXTREMELY DIFFICULT GOLF COURSE WHICH IS RECOMMENDED ONLY FOR HIGHLY SKILLED GOLFERS." In bright sun with no clouds, no wind, and 65 degrees I was back in the U.S. and on the final leg of the trip. It had been six weeks since my last round in the U.S. and, not surprisingly that day would be the longest round of the trip. It took 3 hours to play the front nine and another 2 hours and 45 minutes to play the back nine. After this exhausting round I was back in my car retracing the route to Springfield.
TO BE CONTINUED
About the Author: Gordon Dalgleish is the Co-Founding Director of PerryGolf, the leading provider of international golf vacations. You can find him on Google+