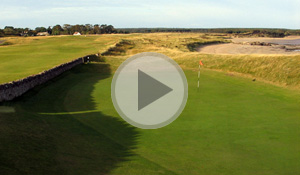 They don't make them like this anymore.  North Berwick (pronounced "bear-ick") was founded with six holes in 1832.  A seventh was added sometime before 1868 when three more were built and one taken away.  The resulting nine holes stood unchanged until 1877 when the addition of nine more produced eighteen that no one particularly cared for.  At 4,841 yards it was too short even for hickories so an extension to 6,095 yards was completed in 1895 which was stretched to 6,464 in 1932 where the club stands today.   It will host its sixth Final Qualifier next summer when the Open is played at Muirfield.
North Berwick is the thirteenth oldest golf club in the world.   There are few with more character.  One and eighteen play side by side like St Andrews.  An ancient shepherd's wall meanders through the course creating consequences like "The Pit". The elongated green is nestled behind the wall and before a sand ridge but it's a short par 4 so it's manageable and memorable.  No. 15 "Redan" is recognized as one of the most reproduced par 3 designs in the game.  The name means a military fortification which you'll find in the form of an elevated green that slopes front to back and considerably right to left.  The green's surface is hidden by bunkers well short of this 190 hole which confuses the eye and produces a very popular front-left green-side trap.  A visit to North Berwick in East Lothian is frequently enjoyed with play at the Gullane clubs, Muirfield and Dunbar.
This is one of sixteen Scotland golf course videos we're posting on a weekly basis to start the year. Each one provides a great sense of the respective experience which we hope will help you confirm your selections from the many available options.

About the Author: Gordon Dalgleish is the Co-Founding Director of PerryGolf, the leading provider of international golf vacations. You can find him on Google+