I had an afternoon free in Glasgow this weekend and so I went along the Scottish Golf Show.  I was very impressed and spent an enjoyable afternoon there.  All of the major manufacturers were present, and many were offering to custom-fit golf clubs.  Each company also had a number of test bays available to try out new clubs.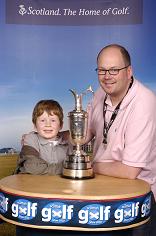 Some of the top courses in Scotland, such as Kingsbarns, Castle Stuart and Spey Valley had their own posts.  There were various challenges which one could take part in, from chipping and putting, to a simulation of the 16th green at Augusta where players were invited to replicate Tiger's amazing chip in back in 2005 in the hope of winning a set Nike irons.  There were also facilities for junior golfers and my son was able to have a lesson from a pro and try out the new clubs…which I then inevitably had to purchase for him!  A real treat was also having our picture taken with the famous Claret Jug trophy.   
All in all a very enjoyable afternoon.  Click here for further details.  
By Alastair Niven.  Alastair has been with PerryGolf for over 9 years and is one of our Golf Travel Specialists.