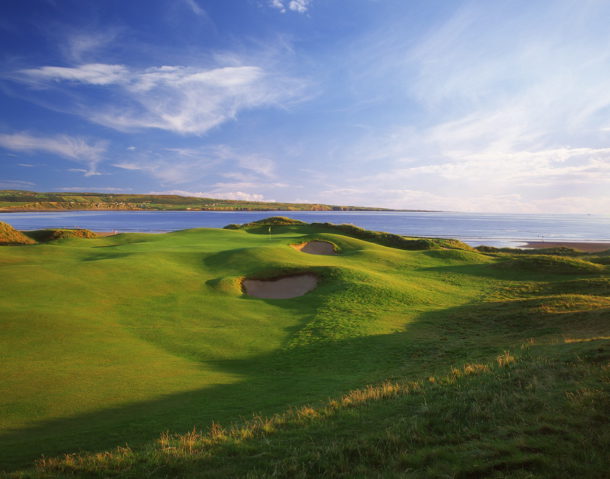 Lovers of links golf, natural beauty and legendary layouts enjoy a treat this week as the Lahinch Old Course plays host to the Dubai Duty Free Irish Open for the first time.
Ranked No. 35 in the world, Lahinch is nestled on Ireland's west coast, "The Wild Atlantic Way," and has been a treasured favorite of PerryGolf clients for decades.
https://www.perrygolf.com/golfcruising/irish-links-golf-cruise-2020-aug29.php
The layout has also been a regular host for elite amateur championships over the last 127 years, however this is its first foray as an European Tour host. The event, which starts Thursday, is the largest sporting event ever held in County Clare and has injected energy into the village and money into the economy. More than 10 million pounds were spent on the course and village in preparation according to the Irish Times and another 6-7 million pounds are expected to be generated this week.
Located 60 miles south of Galway and 45 miles west of Limerick, the course has welcomed many esteemed guests through the years. Byron Nelson visited in the 1960s. Phil Mickelson toured the course in 1991 prior to the Walker Cup matches, has returned on other occasions and was granted honorary membership. In 2009, Stewart Cink prepared for The Open at Lahinch while the man he defeated in that championship, Tom Watson, considers the course one of his favorites. Read more about the character of Lahinch and the characters who have passed through.
Lahinch enjoys an illustrious architectural history. Old Tom Morris designed the original 18 holes in 1892. The unknown Charles "Mo" Gibson made changes in 1907. The great Dr. Alister MacKenzie (Royal Melbourne West, Cypress Point) renovated portions in 1927, although chunks of his work were lost to the sea. In recent times, Dr. Martin Hawtree and his team have overseen changes.
Lahinch will make the finest and most popular golf course that I,
or I believe anyone else, ever constructed."

Dr. Alister MacKenzie (1926)
The course offers views of the ocean – though it's not really in play for most golfers – large grassy dunes, beautiful vistas and the firm, springy turf that characterizes courses in the linksland. From a strategic standpoint, hearty par-4s are the essence of the layout, as No. 3, 6, 10 and 17 feature a possible long iron approach shot to a shallow, sloping green complex.
The Dubai Duty Free Irish Open has attracted a strong field, although next weekend's World Golf Championship tournament in Memphis probably kept some highly ranked American professionals from crossing the Atlantic to play Lahinch.
The betting favorite is Jon Rahm, fresh off a tie for 2nd in last week's Andalucia Masters – held at another jewel in the PerryGolf lineup, Valderrama, which played host to the 1997 Ryder Cup.
https://www.perrygolf.com/golfcruising/iberian-peninsula-golf-cruise-2020-sep11php
Joining the talented young Spaniard in the field are familiar stars from the European circuit such as Tommy Fleetwood, Matt Wallace, Shane Lowry, Louis Oosthuizen, Ian Poulter and Graeme McDowell, who won the 2000 South of Ireland Amateur Championship here.
Of course, all eyes of professional golf and all of the game's best players will arrive in Ireland in two weeks for The 148th Open at Royal Portrush. PerryGolf clients will attend the final round with co-founder Colin Dalgleish (only one golf spot remains) and play a loaded roster of British Isles offerings as they cruise from Edinburgh to Southampton.
PerryGolf is an Authorised Ticket Provider for The Open (sometimes referred to as the British Open or Open Championship). Golfers and golf fans wanting to experience the game's oldest championship at Royal St. George's next summer can do so on the 2020 British Isles Golf Cruise
Golf Channel coverage of the Dubai Duty Free Irish Open is from 6 a.m. to 1:30 p.m. Thursday and Friday, 7 a.m. to 1:30 p.m. Saturday and Sunday. Be sure to tune in and become better acquainted with a course worth knowing.