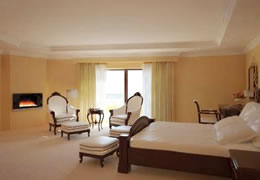 Old Head Golf Links has gone through a massive refurbishment over the past few years; transforming into a beautiful five star resort.  With 15 brand new suites, all overlooking the Atlantic Ocean, the golf course, or both, it's proving to be one of the most charming golf resorts in Ireland.  I was privileged to be invited to stay overnight shortly after the suites opened…and what a visit it proved to be.  The rooms are as good as any you're likely to find in Ireland; tastefully decorated, and extremely spacious with everything (and more) that you'd expect from a five star hotel.  The highlight for me was the relaxing in the bath while enjoying watching golf on the bathroom's flat screen TV…the perfect way to finish the evening after a mouth watering seafood platter in the main restaurant.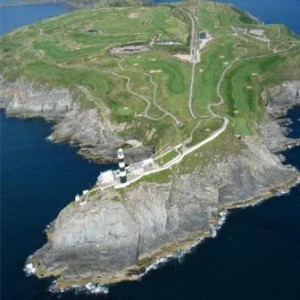 Having never played the course before, it made the trip even more special as it's a fantastic links, and possibly the most spectacular I've ever played.  It stands at the top of the cliffs overlooking the Atlantic Ocean.  9 holes play directly along the cliff tops and all 18 have views out to sea.   Add that to the beautiful lighthouse at the far end of the course, and you have an awe-inspiring view no matter which way you're facing.  Don't be fooled though, as the Old Head Golf Links is much more than just an exceptionally scenic course – it's a great test of golf, with some mind blowing holes.  It's also an immaculately looked after course and so tends to be in absolutely perfect condition all season.  Even the weather was exceptional and my golf was up to the test for once, having carded a gross 75…so it was a great trip all round.   If you've never been to Old Head before, be sure to add it to the list of 'must plays'.  With the fantastic new suites, it's got to be considered a 'must stay' as well.
By Keith Baird.  Keith has been with PerryGolf for over 10 years and is one of our Golf Travel Specialists.