While on a recent visit to Edinburgh, I spent some time at the new Hotel Di Vin property in the city.  The hotel has been open just over a year and is very stylishly decorated.  It has the feel of a small hotel and I was surprised that they have 47 rooms as you would not have thought so from looking at the outside.  
The hotel is a short walk from the city centre and just up the road from the Museum of Scotland.  Entry is via a courtyard that will be excellent in the summer and which also offers a cigar bothy – something I have never seen before but I imagine is very popular with cigar aficionados (especially in the winter).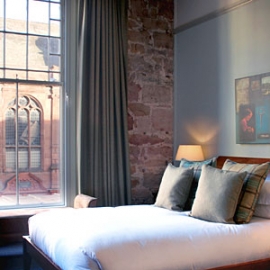 You can choose from standard or superior rooms or suites.  I would say the standard rooms are a little small for 2 golfers but the superiors are ideal and offer very good value for a hotel of this level and in this location.  The hotel, however, does not have twin rooms; so while it is ideal for couples, guys would have to have their own rooms.  The food and wine is the real strength of the property; they have an excellent bistro with a great wine list and chef's table that offers a view into the kitchen.  As well as this they have a whisky bar and a specially designed wine tasting room where their sommelier can conduct tastings for up to 8 people.  For a group of 4 couples a wine tasting followed by dinner at the chefs table would make for a great night!  You can find further details on the hotel by clicking here.
By Alastair Niven.  Alastair has been with PerryGolf for over 9 years and is one of our Golf Travel Specialists.