Back in May 2013, four friends set out to Scotland for the golf vacation of a lifetime. With the help of PerryGolf, the group was able to get tee times at all ten courses they'd hoped to play, even Muirfield and the Old Course at St Andrews. The trip was undoubtedly a huge success for the golf buddies and the perfect way to celebrate the 40th birthday of Alan Shipnuck. Originally published on golf.com , below is Shipnuck's grand story of the foursome's incredible Scottish Golf Vacation.

A big thanks to @PerryGolf for helping us organize this madcap trip – they are fantastic at bringing a dream itinerary to life.

— Alan Shipnuck (@AlanShipnuck) May 20, 2013
I made my first pilgrimage to Scotland when I was 23, an enthusiastic but largely uninformed golfer. The itinerary was bonkers: 17 rounds in nine days, hoofing all the way, though in my youthful vigor I don't ever remember being tired. The trip changed me forever in how I played the game — three-quarter swings! chipping with a 6-iron! – and, more importantly, how I thought about it. I had grown up venerating exclusive private clubs but fell in love with Scotland's democratic ideal, with courses tucked into the middle of town as an important part of every day life. And where I once revered velvety fairways and extreme designs at which man had imposed his will upon the land, after that Scottish sojourn I lusted for natural, quirky layouts with ragged bunkers, blind par-3s, bouncy turf and other hallmarks of an ancient game.
Since that first trip I have been lucky to return to the home of golf a handful of times to cover the Open Championship, sneaking in some short side trips along the way, but serious gaps remained in my Scottish education. I had never played Muirfield, which plenty of folks think is the best course in the British Open rota, and I had never journeyed to the Highlands, where Royal Dornoch enjoys a cult following. Increasingly, I found myself staring at golf porn of neo-classics like Castle Stuart and that new course set amidst vertiginous dunes outside Aberdeen. (I am loathe to type the word "Trump".) But this linksland felt beyond my grasp. As a carefree twentysomething, I had assumed that I would make regular buddies trips to Scotland but the years flew by and they never happened, for various reasons. By the time my kids started arriving en masse a decade ago I had pretty much given up on the idea of a long trip in which I could again immerse myself in the game and the rituals of male-bonding. Luckily, this May I had a trump card: my 40th birthday. A couple of weeks after that grim milestone, my lifelong best friend Kevin Price would also be hitting the big 4-0. Kevin is the most avid golfer I know but somehow had not yet traversed the auld sod of Scotland. We resolved to make the trip and invited two other pals to be part of the wolfpack: Matt Ginella, the travel editor at the Golf Channel, and Tom June, who hails from the hometown Kevin and I share, Salinas, Calif.
We started plotting a dream itinerary. Muirfield and the Old Course were a must, ditto Castle Stuart and Royal Dornoch. I longed to return to Cruden Bay. Back in 1996, it blew my mind, and ever after I pined for Cruden as the idealized essence of Scottish golf. Eventually I enlisted the professional planners at Perry Golf to help us with the logistics.
We settled on 10 rounds in six days, with lotsa driving in between. "'Tis not for the faint of heart," said Perry Golf's managing director Colin Dalgleish. That was exactly what I wanted to hear. As much as I craved the chance to re-experience golf in the kingdom, there was a strong ulterior motive to this trip. Now that I was officially middle-aged, a haunting question needed to be answered: Was I man enough to soldier through such an ambitious itinerary? Time would tell.
PREPARATIONS: A TEE TIME AT MUIRFIELD
Muirfield, site of this year's Open, is basically the Augusta National of Scotland: obnoxiously stuffy and aggressively private. Yet unlike Augusta, Muirfield recognizes that its golf course is a civic trust and every Tuesday and Thursday two hours of tee times are set aside for the great unwashed. These fourballs can be reserved through the club's website and tend to fill up a year in advance. By the time we decided to take this trip, around Christmas time, Muirfield was booked solid from March through October. I was in the process of sucking up to various golf dignitaries in hopes of getting help with a tee time when, on a January morning, Dalgleish awakened me with a frenzied phone call. "There's been a cancellation at Muirfield for May 14," he said breathlessly. "Get on their website and book it immediately!" I did, sitting in the dark in my boxers. All the other logistics flowed from there.
As the trip grew closer, I turned my attention to packing. My belief is that on a journey like this the single most important item is socks — it's a must to change into a fresh pair between 18s. My golf bag came to be stuffed with basic necessities — Alleve, Band-Aids, a fleece ski cap — but also a couple of specialty items. One is Body Glide, an anti-chafing balm favored by runners. We'd be walking 10 miles a day and this could be a lifesaver on the inner thighs. I also packed some baby wipes. There are very few restrooms on Scottish golf courses. I'm not going to go into great detail here, but one time on a famous links I had a gastrointestinal emergency miles from the nearest water closet. A very nice golf towel wound up getting buried among the dunes.
I tend to eat a lot when I play, but there are no beer-carts over in Scotland, so you have to bring your own food. I packed a dozen fruit bars, a dozen energy bars, four pounds of Trader Joe's trail mix and five pounds of Kingmade beef jerky in four different flavors. (This artisanal jerky is cooked up by PGA Tour caddie Jeff King and has become an obsession among dozens of top players.) The only thing missing was a good swing thought. In the months before the trip, I was trying to break-in a new R1 driver. I couldn't really hit it, and then I lost the feel for my old R11. A few weeks out from Scotland my desperation was turning to panic. Kevin is among the lunatic fringe who prowls the message boards at golfwrx.com, and he had read about — and sought out — a custom-fitter named Joe Kwok who works out of his garage in South San Francisco. Assured that Kwok had Mr. Miyagi-style wisdom to impart, I drove up to see him a few days before the trip. I left with a new shaft in my R1, a whole new address position and the kick up the backside I needed. "Relax, you'll find it over there," Kwok told me upon parting. "And if not, don't come home."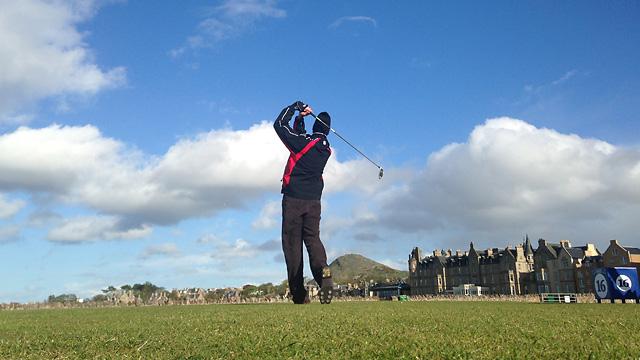 DAY ONE: ROCK WALLS AND GREYWALLS
Kevin and Tom, bless their hearts, went over early to play their way across southwest Scotland, with tee times at Turnberry, Troon, Prestwick and the old and new courses at Machrihanish. Matt and I flew together and we all rendezvoused at the Hertz counter at Glasgow airport. Perry Golf will provide chauffeured transportation on its itineraries, but we opted to drive ourselves because it would keep costs down and, to my way of thinking, be more of an adventure. Knowing that rentals are always more petite in Europe, I had spent a lot of time on the phone ensuring we'd have a good-sized van. What was waiting was basically a glorified station wagon. In a bit of quick thinking, we stored our oversized golf club travel bags at an airport hotel, but stuffing all of our gear into the car was a Rubik's Cube come to life. The back seat wound up bisected by overflow detritus, and packing and unpacking would become a never-ending ritual on the trip.
The mood in the car was positively giddy as we pulled away from the airport, heading 80 miles east to North Berwick. The start of a golf trip is like a great first date — so full of promise, and unencumbered as of yet by human failings.
We started at North Berwick West, one of Scotland's most charming courses. It begins in town and then goes out along the beach, with the island of Fidra hovering offshore. (Fidra is thought to be the inspiration for Robert Louis Stevenson's "Treasure Island.") Ancient rock walls zigzag across the course, left over from the pastures that predated the formation of the club in 1832. Generally, they're just a fun visual to driver over, but on the par-4 13th hole, a wall cuts right in front of the green, leaving one of the most fun shots in golf. (If Donald Trump built that today we'd skewer him, but since the wall's been there for centuries, the hole is universally beloved.) Architecture wonks revere the 15th hole as the original Redan, a 190-yard par-3 with its green diagonally sloping away from the tee.
It had been a historically cold spring in Scotland, and those first blasts of wind were a tad disarming. I teed off in a T-shirt, polo, wool sweater and light windbreaker, but by the time I reached the first fairway I was wearing another jacket as a fifth layer, plus my fleece cap. Then it started drizzling. Even without airplane-back, it's hard to make a full turn in that much clothing. On the second hole, I hit my reconstituted driver for the first time…and hooked it 50 yards into the wrong fairway. Sigh. Part of the fun challenge of a Scottish trip is learning to master unfamiliar conditions — if it was this cold and windy at home, I'd never, ever leave my couch. By the time we got to the fourth hole, we were playing into a 100-yard wind. I know this because Kevin, who plays off scratch, and Tom, a sandbagging 6 handicapper, are long-hitters and both pounded drivers that expired pin-high — on a 178 yard par-3.
Matt and I had slept only an hour or two on the flight over, but we grinded till the end, inspired by a grudge match that goes back nearly two decades. We both carry handicaps around 7 and are wildly unpredictable from one shot to the next, making our matches serialized cliffhangers. I blew a 4-up lead and had to scramble for a par on 18 to end the match at level. (The concurrent team matches, with rotating partners, were a lesser concern.)
From North Berwick it was a very quick drive to our hotel. If Muirfield conjures Augusta National, Greywalls is the Scotland's answer to the Lodge at Pebble Beach — elegant and refined. We were woefully out of place but loved it nonetheless. The hotel is steps from Muirfield's 10th tee, and it was so cool to peek out the window and see the bleachers and other infrastructure that had already gone up for the Open. We enjoyed a long, leisurely, utterly civilized meal, but minutes after downing a chocolate mousse I was in bed, sleeping like the dead.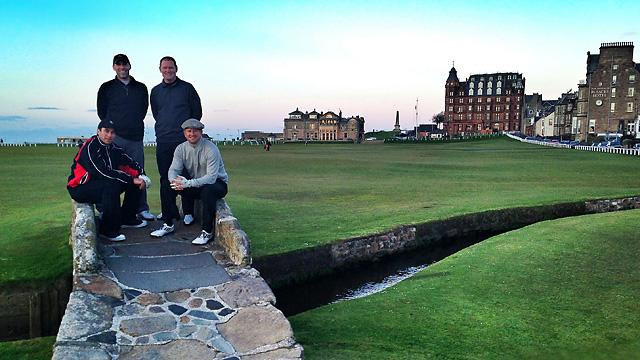 DAY TWO: THE ULTIMATE DOUBLE-DIP
The first sign that Muirfield is not exactly set up for tourist golfers is that there is no pro shop on-site. We almost missed our tee time when Kevin couldn't find his glove and had to sprint back to the car to fish out a spare.
The club dates to 1744, and hosted its first Open Championship in 1892. The list of winners at Muirfield attests to its quality: Nicklaus, Player, Trevino, Watson, Faldo (twice), Els and now Mickelson. Many links courses are routed out and back — half the round the wind is in your face, the other half it's at your back, and the lack of variety can be a little tedious. But Muirfield crisscrosses an expansive piece of land, and there is seemingly a different wind on every hole. The greens were among the quickest we would play, even with the Open two months away. Nicklaus calls Muirfield "the best course in Britain," and one of the reasons persnickety pros love it is because it's a straightforward test with a stark absence of blind shots and unusual quirks.
Maybe that's why I didn't feel the magic at Muirfield. It's an undeniably great course but not exactly fun. In a 30 mph wind it was relentless. Typically, Matt and I halved only two holes, and I won the brutal 449 yard 14th hole with a double bogey. It was exceptionally cool to play through the canyon of bleachers on the 18th fairway. Of course, Matt semi-shanked a shot out of the rough that rattled around the metal benches, handing me our match, and Kevin drew a tough lie in the wicked greenside bunker and took half a dozen swipes to excavate his ball, in full view of wrinkly old members frowning from the clubhouse windows. We slinked off knowing we didn't belong.
Back at Greywalls, waiting for sandwiches we would eat in the car, a gent asked, "Where are you playing next?"
"Old Course."
"Lovely! I hope the weather is good tomorrow."
"Actually, we're playing it today."
"That doesn't seem possible."
Variations of this conversation would be common throughout the trip, and it always left us feeling self-satisfied with the ambition of our itinerary.
Two hours after leaving Muirfield, we roared into St. Andrews with just enough time to poke around the R & A clubhouse before our 4:50 (!) tee time. We were all feeling the majesty of the first tee. Kevin is a superb driver of the ball, but he hit a smother-hook that ran clear across the 18th fairway onto The Links road. We granted him a mully and he piped it down the middle. "I can't remember the last time I felt that nervous," he said walking down the fairway.
His caddie, a leathery older gent, said, "Ian Baker-Finch did the same thing. But unlike him, you recovered."
Indeed, Kevin would go on to shoot 73, the lowest round of the trip, though Tom pretty much matched him shot-for-shot with a stellar 75. (Matt and I, in a moment of poor judgment, took them on in a team game and somehow pushed the match to the last hole, as I scrambled to a 79 and he made two birdies en route to an 83.)
I've been lucky enough to play the Old Course a few times, so it was interesting to see it through Kevin's eyes. He found it underwhelming off the tee, and it's true — many tee shots are awkward and mostly blind. But the course grows progressively more interesting the closer you get to a given hole, and there's nothing like the wild double-greens. Even the hillocks have nicknames. The 15th fairway features a couple of shapely mounds known as "Miss Grainger's bosom." This left Tom feeling a bit homesick, as Grainger happens to be his wife Amy's maiden name.
We played the closing holes in the twilight, with the town's lights twinkling in the distance.
"This doesn't feel real," Matt said.
If Muirfield is an ass-kicking you're just happy to survive, the Old Course is outrageous fun, and when you finish a round there, you want to walk straight to the first tee and try it again. Although on this occasion, we were happy to make the short stroll to the Dunvegan, one of golf's best 19th holes. We ate and drank until well past midnight and then drove to the cemetery on the edge of town. Our plan was to hop the wall and seek out Old Tom Morris's grave, but Matt was skittish and refused to get out of the car. It was just as well — we didn't get to the swank Fairmont Hotel until 12:45 a.m. Our next tee time was just seven hours away.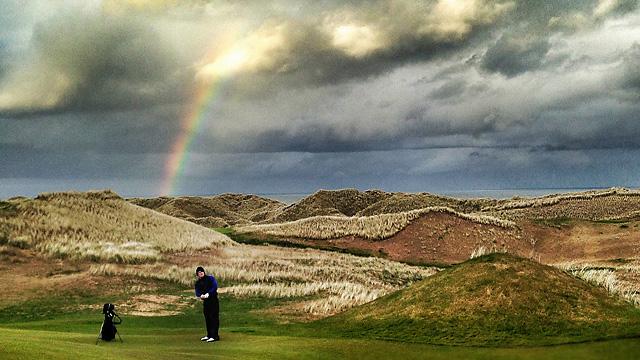 DAY THREE: FATIGUE BECOMES A FACTOR
It was a mad dash to get to Kingsbarns on time, but strolling this lovely linksland I could feel myself settling into the rhythm of the trip. As life all around us moves faster, it seems like I never get to finish a conversation. But being with these guys 17 hours a day, I was enjoying the chance to circle back to any number of topics. With Matt, that meant talking in detail about his new job in a new city. Tom and I spent a lot of time comparing notes on parenting, and I enjoyed probing his political views, which are the diametric opposite of Kevin's.
I was also getting in touch with my game. At home, I play maybe twice a month and never practice, so I'm always searching. At Kingsbarns, I made a couple of welcome discoveries: chipping off the exceptionally tight lies was much easier if I imagined throwing my right hand under the ball, and taking my putter back hugging the green made it much easier to start the ball on-line. I also stopped fighting the zephyrs and began to use them to my advantage, riding the crosswinds more effectively.
Golf has been played on the site of Kingsbarns since at least 1793, but the course was reborn in 2000. It is, quite simply, one of the best in Scotland, which is to say, the world. The complex routing makes wonderful use of exceptionally varied terrain. You find yourself quick-stepping to the next tee, eager to see what awaits — in my case back-to-back 7s down the stretch.
After the round, during the ceremonial removal of socks, I discovered a couple of bloody toes; one of my nails had cracked. I'll admit: I'm lazy. At home, I like to ride in golf carts, feet propped up, locks blowing in the wind. My poor tootsies were just not used to this kind of pounding. Everyone was beginning to feel the effects of this madcap itinerary, so we self-medicated with beers over lunch, but it wasn't enough. I used to laugh at the old guys popping pills on the first tee, but this was the day I began my routine of an Alleve in the morning and four Advil before the second 18, followed by three more at bedtime.
It was two and a half hours north to the Trump International Golf Links. The drives were beginning to get lonelier, as two people were invariably asleep, leaving only a driver and navigator to titter about the signage (warnings for "Elderly people", the town of Gash).
It was after 4 p.m. when we arrived. While I was smearing Body Glide on my thighs in the bathroom, the boys migrated to the driving range, the first one we had seen on the entire trip. I joined them and we were all whacking balls with glee when Matt said, "What the hell are we doing to ourselves?" We marched to the first tee.
On the opening holes, it's impossible not to be dazzled by Trump's rugged dunes, which are taller than any I've ever seen on a golf course. But eventually the dunes never really come into play — they just frame the holes, and the playing field is kind of flat and ordinary. A round at Trump is like going through a stack of Playboys — you appreciate the beauty, but at some point it all starts to look kinda the same. The greens are another problem. Multi-tiered with sharp edges, they look wildly out of place in such a natural setting. The fairways are pretty narrow given the breezes, and there's no wispy rough here — a couple of feet off the short grass and you're dead. I wasn't hitting it badly, but I lost a ball three holes in a row to close the front nine.
On a trip like this it's a mental challenge to not get discouraged. You know you're outrageously lucky to be playing these courses, but bad shots still hurt, and maybe even more so because so much effort has gone into getting to that very spot and you know you may never get back to try it again. On the 10th tee, I resolved to play my absolute hardest, and even though I was still fighting my swing, I produced some of my best golf of the trip. It was getting dark as we arrived on the 18th tee. It's a 586-yard par-5 that was playing more like 700 yards in the cold, heavy air. I hit a strong drive and two flushed hybrids and was still short of the green. A pretty good chip left me a four-footer for par. Everyone else was in with a bogey. Tom had carried me for most of the team match, but with one putt I could take the team match and trump Matt, too. I drilled it.
We stayed on-site and the room was a hoot — it looked as though Louis XIV had designed it himself. There was a huge tub and sometime around midnight I collapsed into a scalding hot bath. My thumb throbbed, my toe was bleeding, my back ached, my inner thighs were raw and my cheeks still tingled from wind-burn. But laying there in the bath I replayed the 18th hole over and over and I couldn't have been happier.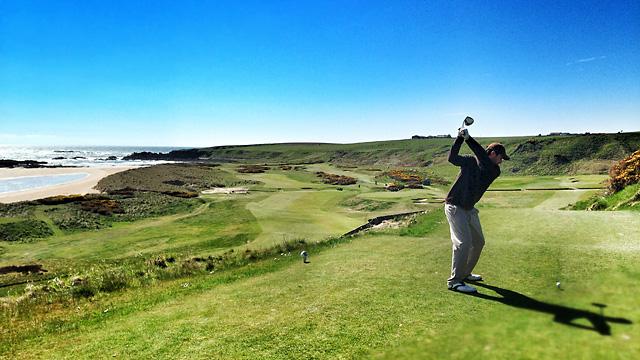 DAY FOUR: AS GOOD AS IT GETS
We had breakfast at the Trump clubhouse. It was not a success. Tom is still grumbling about having paid the equivalent of six dollars for a cup of coffee. Our $12 selection of breads came with three bite-sized pastries and a few pieces of dry toast. Kevin counted exactly 11 pieces of granola in his parfait. Somehow this meal crystallized our feelings about the golf course. "This place has no soul," said Kevin.
Luckily the perfect antidote was waiting 40 minutes up the coast: Cruden Bay. Upon arrival, we received our warmest welcome of the trip — the lads in the pro shop were good fun and the caddies milling about the first tee couldn't have been chattier, but this was all a prelude to the droll musings of starter Dave Singleton. This distinguished gent was turned out in a coat and tie, and he treated the opening tee box as a kind of stage. It should be noted here that an unfortunate consequence of a trip like this is that marauding Americans tend to co-opt the native lingo. Thus we began saying "good weight" for well-judged putts, "lovely shot" for good ones and "fer fook's sake" for the bad ones. So after busting four perfect drives off Cruden Bay's first tee, Matt turned to Singleton and woofed, "Crackin' shots, wouldn't you say?"
"That's what they'd say in Northern Ireland."
"What would you say here at Cruden Bay?"
"They're a'ight."
Laid out by Old Tom Morris in 1899, the course offers a perfect mix of holes: long, tough ones to test your ballstriking, a pair of drivable par-4s to test your nerve, and a blind par-3 to stretch your imagination. From the ninth tee there is an all-encompassing view of the coastline and the spooky majesty of Slains Castle, where Bram Stoker reputedly stayed while writing "Dracula." Along with the sixth green at Pebble Beach, this is my favorite spot in golf. Maybe my favorite back-to-back pair of holes anywhere begins with the par-4 14th, which requires a blind approach to a gorgeous green nestled into a narrow dell. The 180-yard 15th calls for a hard draw around a towering dune to an unseen green. Then you get to rush down the hill to see what fate awaits. This is the kind of unique golf that compels a man to cross an ocean.
Seventeen years ago, I said Cruden Bay was my favorite course in the world. I've played a bunch of good ones in the years since, but my opinion hasn't changed. Alas, on this day the course didn't love me back — after the first hole I drove it pitifully, and Matt took 17 and 18 to beat me for the first time. As consolation, Cruden Bay offered the best clubhouse grub of the trip. There's an amazing view from the dining room but we didn't get to enjoy it: it was three hours due west to Castle Stuart, so yet again lunch was eaten in the car.
It was after 5 p.m. when we hustled to the first tee at Castle Stuart, a neo-classic that has hosted the last few Scottish Opens. Castle Stuart made Gil Hanse Gil Hanse, and it's easy to see why. The place is a golf wonderland, a nonstop thrill ride of one great hole after the next. The course plays around the Firth of Moray and up and down bluffs that offer endless views. The sun was setting as we came to the final two holes, turning the sky and water various shades of pink and orange. We were so loopy — from fatigue and all the sheer grandeur of it all — that on the 17th tee we played shots down the hill to the 11th green, just for kicks. (Note to miffed greenskeepers: none of us hit the putting surface.) On the 18th tee, we decided to drive balls into the firth. Freed up from worrying about a target, I made my best swing of the trip. It was 9:45 p.m. when we putted-out on 18, with Tom and Kevin making birdies for a pair of 75s.
Straggling into the nearby Sandown House — a stylish B&B in a converted farmhouse – where the proprietor Liz Burgess treated us like long lost sons, opening a bottle of whiskey, pouring us (cold!) beers and conjuring a warm, cheesy bread. The four of us were so blissed-out from an epic day of golf that we sat around talking forever, despite the fatigue. On another trip we would have loved staying at Sandown for an extra day or two, allowing for a few more rounds at Castle Stuart. But we had to move on. Once again, we went to bed well after midnight, with the alarm cruelly set for 6:30.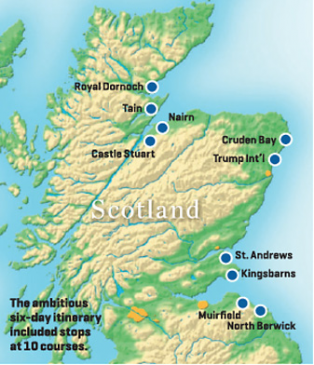 DAY FIVE: NORTH, TO THE LINKS OF DORNOCH
Arriving at Nairn Golf Club the next morning we were all groggy and hung-over emotionally, which led to the trip's first act of capitulation: a two-man scramble. None of us had the mojo to grind on bad shots. I retained the tempo from that last swing the night before and drove it better than I had all trip.
Nairn begins hard against the beach and has some truly great holes but a letdown was inevitable given where we had just been and where we were headed. It took three and a half hours for Kevin and Tom to thump Matt and I and then we were gone.
Dornoch is one of the game's great pilgrimages. Half a century ago, Herbert Warren Wind famously wrote, "Royal Dornoch is the most natural course in the world. We, in America, are just starting to appreciate that no golfer has completed his education until he has played and studied Royal Dornoch." It is the course where Donald Ross grew up and he would export many of its hallmarks.
The hour-and-a-half drive was a little melancholy — we could all feel the trip slipping away. We spent the whole time comparing the courses we had played. These golfy conversations are one of the pleasures of this kind of roadtrip. In the real world, nobody cares about your swing path or wants to haggle about merits of chipping with a hybrid. But here we could immerse ourselves in these conversations without apology.
We pulled up to Royal Dornoch hooting and hollering, with the radio blasting. Like Ahab chasing his whale, we'd all gone a little crazy. The upstairs restaurant in Dornoch's clubhouse is a really cool place to eat lunch — you're right on top of the first tee, with views of the coastline beyond. We sat there so long, and ate so much, I was feeling rather logy by the time we were summoned by the starter, who was memorably wearing a kilt. Unfortunately, the first seven holes played straight into some of the strongest winds of the trip — it was like a punch in the mouth. The second hole, with its severely elevated green framed by gorse and other horrors, was one of the toughest par-3s in Scotland, and it is with great shame that I report Matt won the hole with a triple bogey. I was playing a little better by the sixth hole, a 161-yard par-3. I pured a four-iron that trickled just past the flag. I thought my ball was hiding in a swale, but in fact it had rolled over the back of the green into a collection area with almost no grass that was 15 feet below the putting surface. I wanted to cry.
The eighth hole, with a massive drop-off from fairway to green, is one of the coolest holes we saw. After that the course plays mostly downwind, but that's not necessarily good news. Dornoch offers great views, spectacular terrain, and gorgeous bunkering, but its most marked feature is the elevated turtleback greens, which Ross would bring to Pinehurst. But you can't run the ball up to these greens, and downwind if you fly it pin high your ball will skitter over the back. On a calm day Dornoch would be a great challenge, but in 30 mph winds, in our weakened states, it was an unsolvable riddle. Over a late dinner at our B&B, Matt spoke for all of us: "I'm beginning to rethink this itinerary."
In the room we were sharing, Matt, a famously fastidious scorekeeper, spread out all our scorecards and ran some numbers. In our seven individual matches I was 2-1-4. Amazingly, in the cumulative tally, I had won a mere two more holes than he had. At least, that's what the cards showed. Now, at this late hour, Matt wanted to revisit our first match at North Berwick West. One of the quirks of that course is that the pro shop is just off the 18th fairway, well within play if you pull your drive, which I did. My ball came to rest on some rocky landscaping framed by a low-hanging chain-link fence. It looked to me like an immovable obstruction, on the order of an on-course ballwasher or bench. Matt had the scorecard in his pocket, which spelled out the local rules, so I yelled across the fairway seeking advice. He said to take a free drop, which I did, making a par that halved the match. Now Matt was saying that I was not entitled to free relief, that it should have been a penalty drop for an unplayable lie, and therefore I really made a bogey to lose the hole and the match. I accused him of pulling a Fred Ridley and trying to rewrite history. He accused me of being a bully like Tiger. In his telling, Matt hadn't wanted to enforce a penalty because he was "trying to be nice to the trip organizer." We resolved to call North Berwick the next day for a ruling. Throughout the trip, we had shared a room and our late-night conversations felt like breezy dorm room confessionals. This time, no pleasantries were exchanged at bedtime.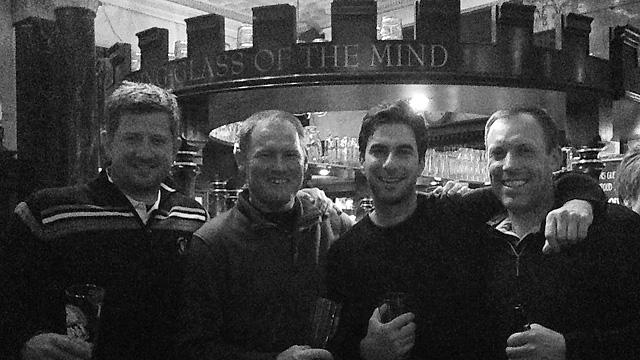 DAY SIX: OLDER AND WISER
Tain Golf Club was the perfect place to end out trip. It's a quintessential Scottish course — loaded with character and a pleasantly scruffy around the edges. The course winds through farms and pastures, with ever-present sheep and cows providing an ambient soundtrack. (A couple of sheep on the lam were scampering around the 7th fairway.) The par-4 11th, called "Alps," featuring a green hidden behind a glorious sand dune, was one of my favorite holes on the trip.
While strolling Tain, a peaceful feeling came over me. In the beginning of the trip the four of us tended to walk down the fairway in a clump, eager to share the experience. In later rounds, there was more solitude, and I didn't mind the time to Zen out. I had arrived in Scotland a tad overwhelmed, wrestling with changes in my personal and professional life. With my phone stashed in the golf bag, surrounded by so much beauty, I had the chance to figure out a few things. I realized that I was okay with growing older. Surviving this trip definitely helped. It was the golf equivalent of climbing Mt. Everest — there was plenty of pain and doubt, but tremendous satisfaction at having completed the journey. Despite the dings, I felt like an insouciant 23-year-old again. For a week anyway.
The camaraderie made the trip. A week earlier, Tom was just an acquaintance; now we had forged a strong friendship. It was great to reconnect with Matt, and for Kevin and I, what a 40th. He and I grew up one block apart and played on the same basketball teams beginning in seventh grade. We've been on a handful of epic golf adventures together, but this one topped them all. Kevin is an emotional guy, and he had tears in his eyes when we finished at Tain. Finally getting to Scotland meant more to him than any non-golfer could ever understand. It was moving for all of us to share the experience with him. Bringing friends together is one of the best things about golf. Would the four of us ever spend a week together laying on a beach in Santorini or exploring art galleries in Paris? C'mon.
Matt, on the other hand, felt little sentimentality; on the four-hour drive south to Glasgow, he repeatedly called North Berwick. The post-facto ruling loomed large, because of the events of our match at Tain. After my second birdie of the day, on 14, I was one-up for the day but Matt played his ass off coming in and won three of the last four holes to take the match 2-up. In my mind, that left us square for the entire journey, but Matt couldn't let go of the dream of a time-machine ruling. Finally, he reached some random dude in the North Berwick bar. Slurring his words only slightly, the guy said he was "96 percent sure" my ball was in-bounds (yes!), but there was no free relief from the silly clubhouse landscaping (boooo!). Trying to keep things civil, I paid Matt 10 pounds to settle the bet. And you thought Ken Venturi got jobbed at the 1958 Masters.
That night at a pub in Glasgow we plotted our next trip, which could very well be for one of our 50th birthdays. (Gulp.) The consensus was that it would make sense to take St. Andrews as a home base and be way less ambitious. Eighteen-hole days will suffice. Maybe we'll visit a few castles, or even shop for souvenirs. One thing we agreed upon: This was an awesome trip…and we'll never, ever do another like it again.
By Alan Shipnuck, Senior Writer, Sports Illustrated
Published: Tuesday, October 22, 2013
Read the original here.
Interested in taking a golf vacation to Scotland now? Learn about PerryGolf's golf packages here.
About the Author: Harrison Gould is the Social Media Marketing Manager of PerryGolf, the leading provider of international golf vacations. You can find him on Google+