I recently had the pleasure of playing the 2010 course at Celtic Manor, which is due to host the Ryder Cup later this year.  What a great day it turned out to be – helped by the fact the sun was splitting the sky! 
The course has been specifically designed for the tournament with many classic match play holes which begin straight from the start with a tough 465 yard par 4.  The greens were slick and the fairways lush – which for April was a real treat.  Many of the holes include strategically placed water hazards; no more so than the tough 14th where there is water on left and right.   At only 413 yards off the back tees it doesn't sound tough, but the landing area is so narrow that anything off line is heading for trouble.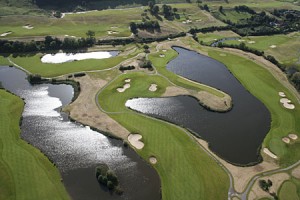 Then follows the 15th which is very much like the famous 10th at the Belfry.  It's officially a 377 yard par 4, but, as the crow flies from tee to green, it's a good deal shorter than that, so many of the pro's will be pulling out the driver and going for the green.  The safe play is up the left with an iron, but in the fourball…expect fireworks!  I didn't play off the back tees, so it was a bit shorter and I felt brave so had a go at the green and very nearly made it.  A chip and a putt later and I'd made a birdie three.  I'll be watching with great interest come the end of September to see how many of the USA and European team members can better that! 
The finishing hole will make for a grandstand finish for any matches lasting the distance.  It's a long par 5, not too dissimilar to the fantastic 17th at Valderrama with a massive water hazard directly in front of the green.  The brave pros will go for it in two.  The more conservative one's will lay up and play a wedge to the green.  I chose the latter and my wedge shot found the green – only for it to spin back into the water.  A personally disappointing finish to a thoroughly enjoyable round; but it gave me a taste of what was in store for what will be a fantastic tournament.  I know I can't wait for it…I'm sure you can't either.
For more information on how you can attend the Ryder Cup with PerryGolf, please click here.
By Keith Baird.  Keith has been with PerryGolf for over 10 years and is one of our Golf Travel Specialists.