We have always sought "innovation" at PerryGolf and tried to offer interesting and unique ways to enhance the golf travel experience.  Our exclusive charter of the 226 passenger Le Diamant (formerly Song of Flower of Radisson Cruise Lines) for Ryder Cup 2010 is one such example.  Set against a backdrop of limited accommodations in South Wales, and with the alternative of long road journeys from England along the invariably congested M4 corridor (and that is in normal traffic times), we arranged to charter and berth Le Diamant in a quiet area of Newport Docks less than 5 miles from the venue.  All packages include official Ryder Cup tickets and transportation in association with Ryder Cup Travel Services.  Regular shuttle transportation, available exclusively for PerryGolf passengers, will operate from the ship directly into the official transportation area and bypass the public park and ride facility.  The ship offers cabins and suites from 200 to 400 square feet.  If you have plans to attend the 2010 Ryder Cup at the Celtic Manor Resort then this solution really does by far provide the most comfortable and convenient accommodations available.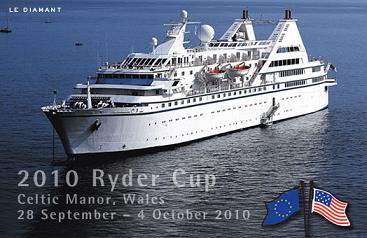 Packages are available from $4,795 per person, and include 5 nights accommodation onboard Le Diamant with all meals including house wines with dinner, general admission tickets to the 2010 Ryder Cup (Friday to Sunday inclusive) plus Thursday practice round and Opening Ceremonies, daily shuttle transportation to and from the matches, captain's cocktail party, all shipboard gratuities and port taxes.
We also offer two exciting pre Ryder Cup tours to Scotland to whet the appetite in advance of the matches.  We encourage you to join us for 3 nights in Scotland at either Turnberry Resort  (with golf at Royal Troon, Western Gailes, Ailsa Course Turnberry and St Pierre Wales) or Gleneagles Hotel (with golf at Kings Course, PGA Centenary Course, Kingsbarns and St Pierre Wales), in advance of the event.  All tours are VERY inclusive of accommodations, all breakfasts, almost all dinners, wine with dinners, greens fees or alternative sightseeing program, ground transportation plus air transportation between Scotland and Ryder Cup Wales, and all taxes and gratuities on included items.
Another event operating immediately in advance of the Ryder Cup is the Heritage Fourball in the Highlands of Scotland.  Teams of three amateurs and one PGA pro are invited.  Why not arrange to bring your golf pro?  Following on the success of our event in 2008 which saw teams competing from Scotland, Europe and the USA, the 2010 Heritage Fourball Championship will again be played over 54 holes September 26-29. 2010 courses will comprise Royal Dornoch, Nairn  and two rounds over the much heralded new links (rated #1 best new international course 2009 by Golf Magazine) at Castle Stuart.  Gross and Net Champions will be awarded but, as always, we expect the most memorable prize will be the unique camaraderie enjoyed with old friends and new.  Several evening social functions are naturally included in the entry fee of $2,895 per amateur with complimentary entry for your PGA pro.  The tournament format will also mix teams on one of the days. Spouses or non-golfing guests are also most welcome, the cost for them fully inclusive of two full days sightseeing program and all tournament social functions is $1,450.  
Whichever combination you might choose, we hope you will make a date to join us in Scotland and Wales at the end of September for one of the world's greatest sporting events!