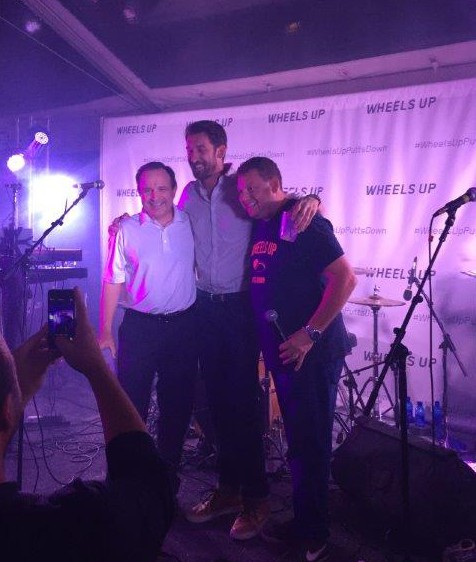 Last week the golf world witnessed a most memorable Masters Tournament, whereby the spotlight was without question on 21 year old, Jordan Spieth. Spieth was not alone in making the game look easy, but nonetheless he made it look the easiest. What an exciting week for golfers and non-golfers alike who witnessed this exceptional turn of events. Better still, was PerryGolf and many of our clients. How to win friends and influence people in the golf and travel industries? PerryGolf explains here…


Thanks to a recent marketing partnership with Wheels Up, a membership-based private aviation company that significantly reduces the cost of flying privately, PerryGolf was invited to join the Wheels Up team at their Hospitality House all week, Wednesday – Sunday from 7AM to 7PM, for socializing, food, drinks, Masters afternoon TV coverage, and of course, air conditioning.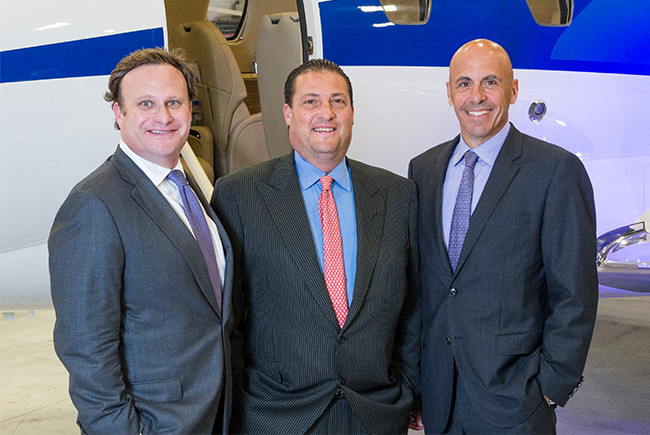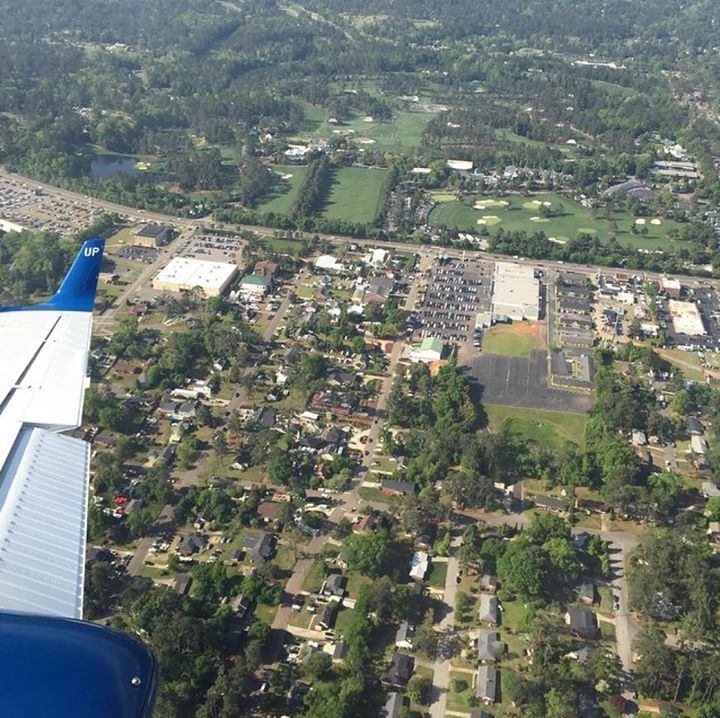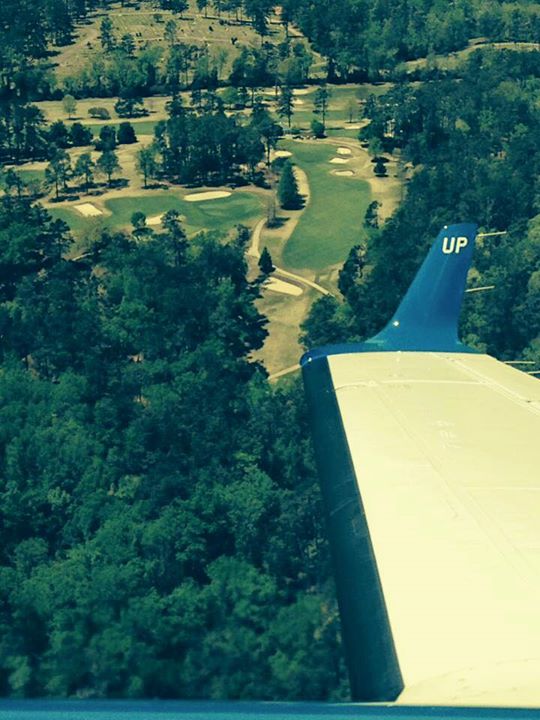 The daily Hospitality House, which was located just across the street from the old entrance to the tournament, a few houses down Azalea Drive off of Washington Boulevard, was done exceptionally well, with compliments to the entire Wheels Up team for their arrangements, particularly Gary Spitalnik, Executive VP for Events of Wheels Up.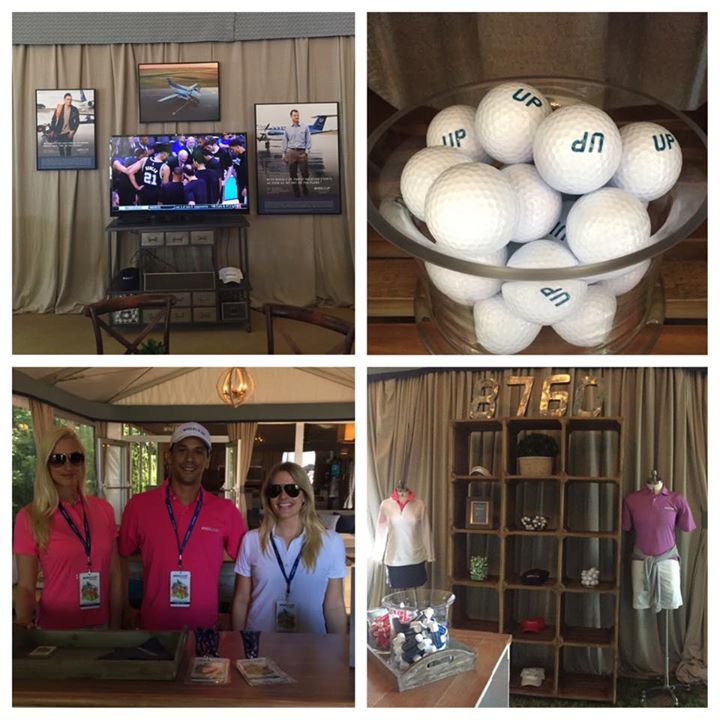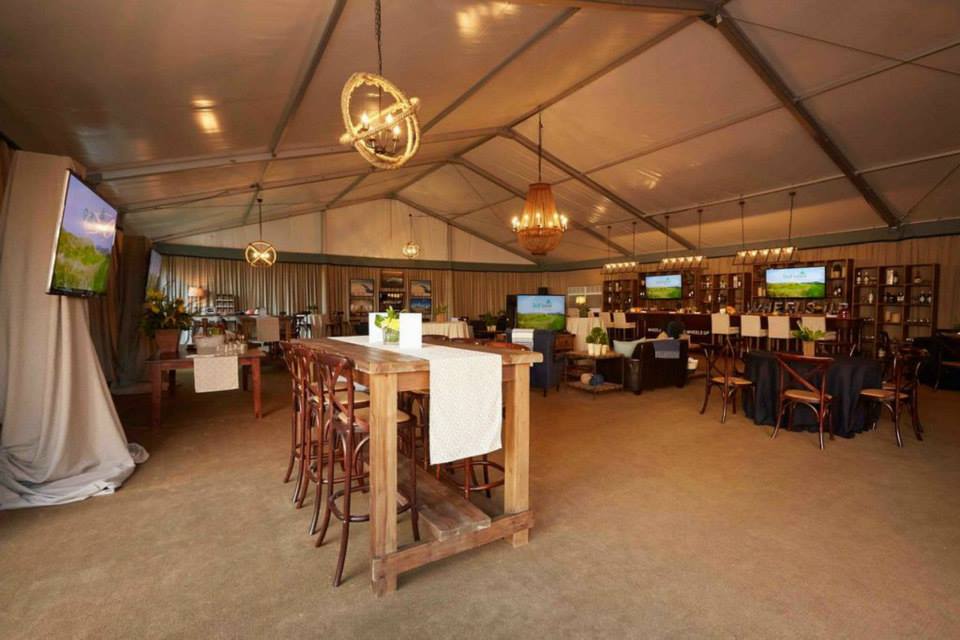 The house was set up with a substantial number of seats, couches and tables, along with about a 10 TVs for attendees to enjoy afternoon coverage of the tournament each day. There were multiple [open] bars for refreshments of nearly any liking. A breakfast buffet and omelet bar in the morning transitioned to a lunch buffet and panini bar in the afternoon plus Live music on the outside patio. Staff was anything but shy in numbers, so guests were basically waited on hands and feet the entire time.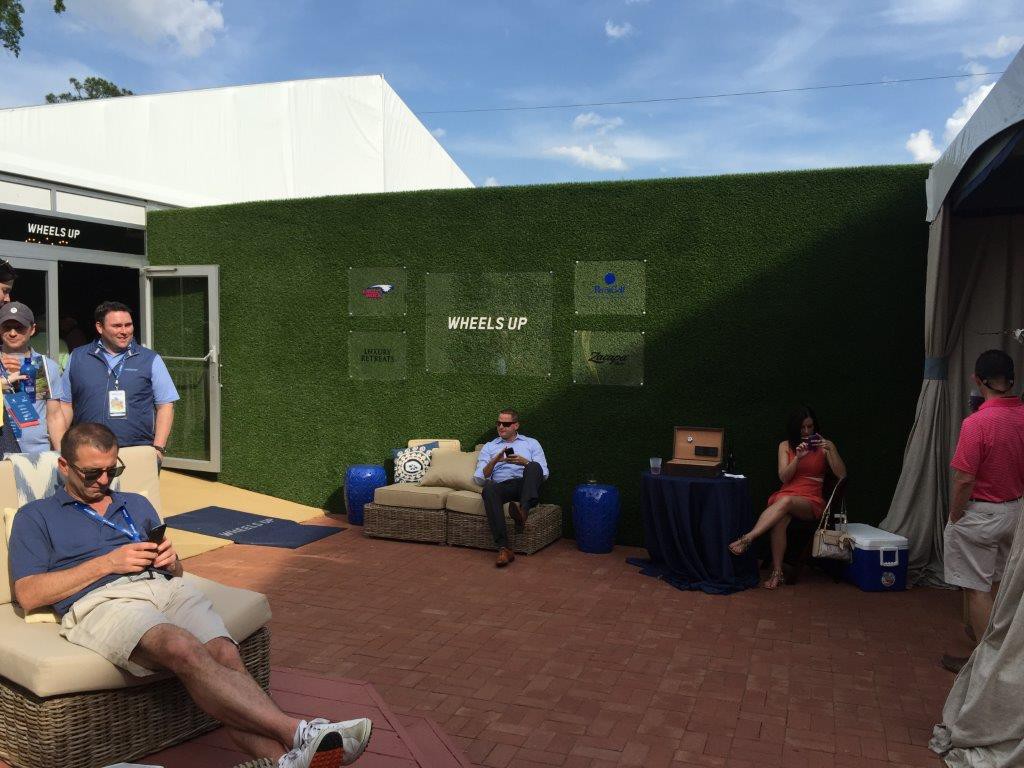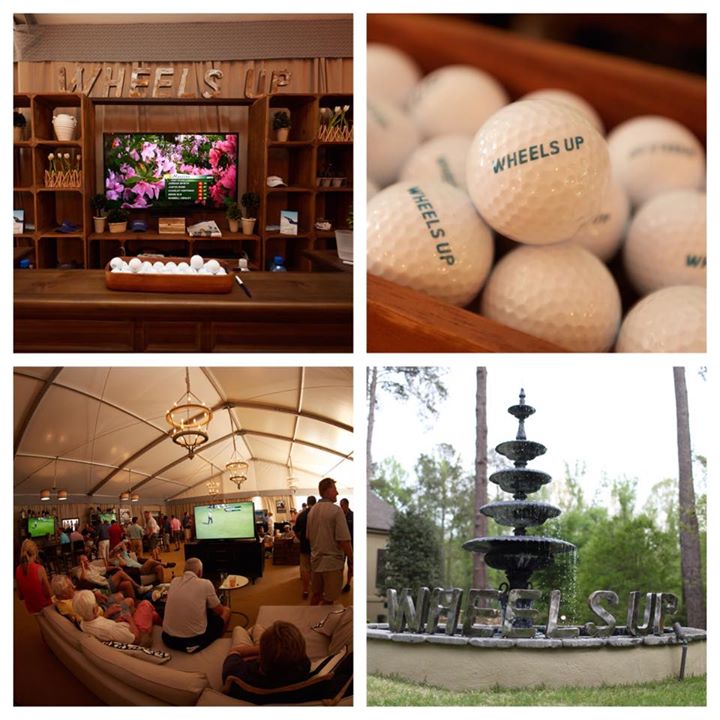 PerryGolf's Gordon Dalgleish, Mark Barnes and Harrison Gould spent Wednesday thru Friday in Augusta, Georgia for the 2015 Masters Tournament. It was a wonderful week whereby we each very much enjoyed putting a face to a name and becoming better acquainted with those clients whom we had an opportunity to meet.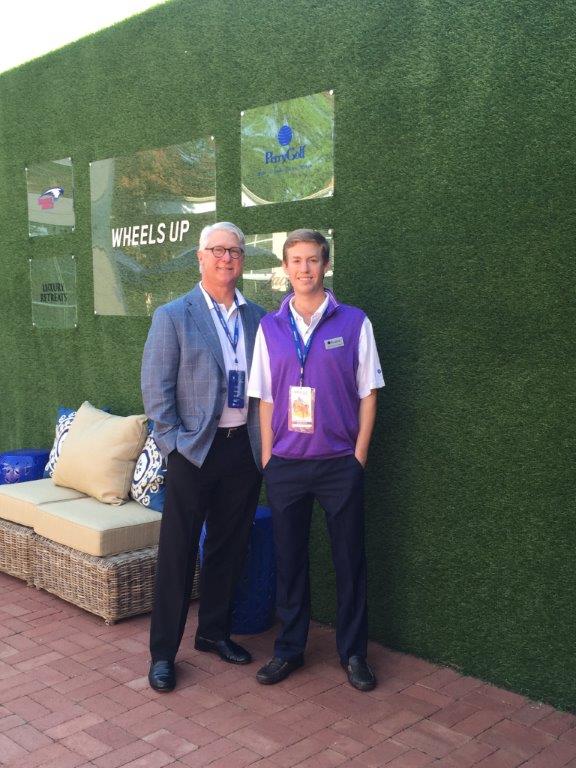 Perhaps the highlight of Wheels Up week was their party on Thursday night, "Wheels Down at The Masters." The event was hosted by Wheels Up Members Nick Faldo, Rickie Fowler, Andy North, and Scott Van Pelt; featured food by Wheels Up Member and celebrity chef Ming Tsai, and live music by Kelley James.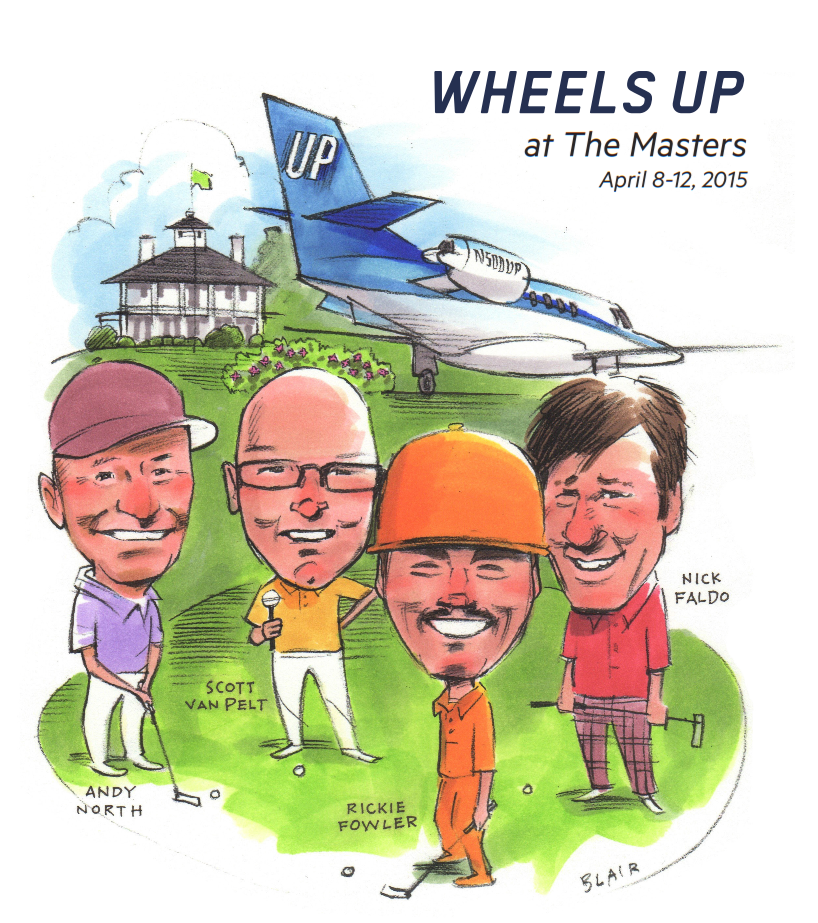 Aside from eyes on Jordan Spieth all week, at the Thursday night party eyes were focused elsewhere. They weren't focused on Rickie Fowler or Wayne Gretsky or Tony Romo – well, they may have been to some extent – but the real spotlight that night was on the featured giveaway prize, complements of PerryGolf. One lucky winner was awarded via random drawing, a trip for two on our 2016 Caribbean Golf Cruise! That's right – all-inclusive* golf cruise for two people, on board the spectacular SeaDream II – a signature PerryGolf Cruise.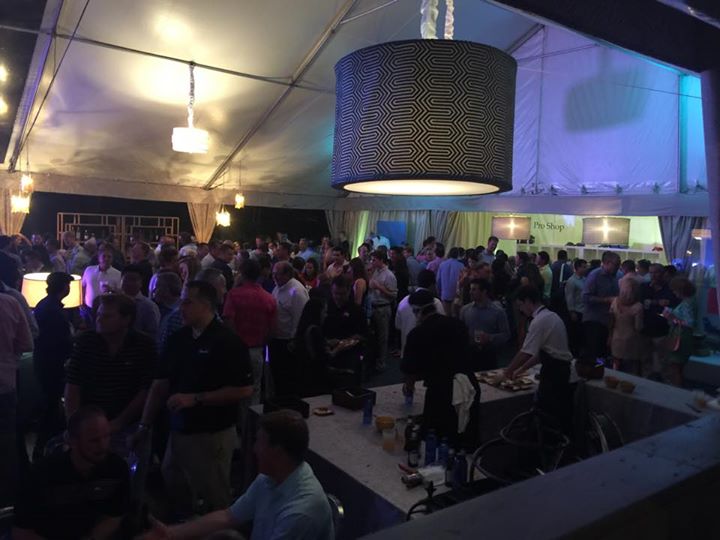 Clients and guests of Wheels Up and PerryGolf would enjoy themselves throughout the day at the Hospitality House. Typically we saw more traffic first thing in the morning, so folks would enjoy a hearty breakfast before heading out the course. This would again pick up at the house just after noon, for lunch and air conditioning; and again toward the end of the day for the last couple of hours.
What a week of golf for not only Jordan Spieth, but also for those who watched the tournament. Special congratulations to Spieth, who turned professional at 19 and had a T-2 finish at last year's Masters. Young Spieth had no mercy as he went on to win the 2015 Masters Tournament by 4 shots, shooting 64-66-70-70 for a total of 270 (-18). He tied the record for most birdies in Round 1 of a Masters (9), and set the new record for low 36 hole score, 130.
On Friday, Wheels Up arranged for a guest speaker to talk at 4PM for half an hour. It was a real treat to listen to Michael Mullen, AO, MSC is a retired United States Navy admiral, who served as the 17th Chairman of the Joint Chiefs of Staff from October 1, 2007 to September 30, 2011.
PerryGolf is pleased to be working with Wheels Up, and feel the partnership is a good fit for promoting private jet aviation domestically and golf travel internationally.
Furthermore, PerryGolf is pleased to offer special benefits exclusively to Wheels Up members because we think our audience would enjoy flying privately with Wheels Up, and that members of Wheels Up would enjoy taking an international golf trip with PerryGolf.
For details on these exclusive PerryGolf benefits for Wheels Up members, please contact Gordon Dalgleish, President of PerryGolf, at Gordon.Dalgleish@PerryGolf.com or 800.344.5257 ext 222.
About the Author: Harrison Gould is the Social Media Marketing Manager of PerryGolf, a leading provider of international golf vacations. You can find him on Google+, LinkedIn, Twitter, Instagram , and Pinterest.