A favorite amongst PerryGolf clients for a meal while staying in St. Andrews is The Peat Inn; a family run, first class restaurant with three separate dining areas and only a 15 minute drive from the town centre.  During a recent visit to the area, we stopped off for dinner in the evening.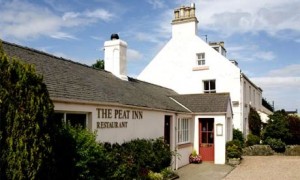 Upon arrival we were led into the lounge area and served canapés while we examined the menus – a nice touch, although be careful not to enjoy the canapés and aperitifs too much if you want to leave room for your meal!  There are three different menus to select from; the Tasting Menu, the Menu of the Day and the Main Menu (this offers a selection of six dishes per course).
If you enjoy French Cuisine, then these menus offer the kind of classic servings that ensure you will return again.