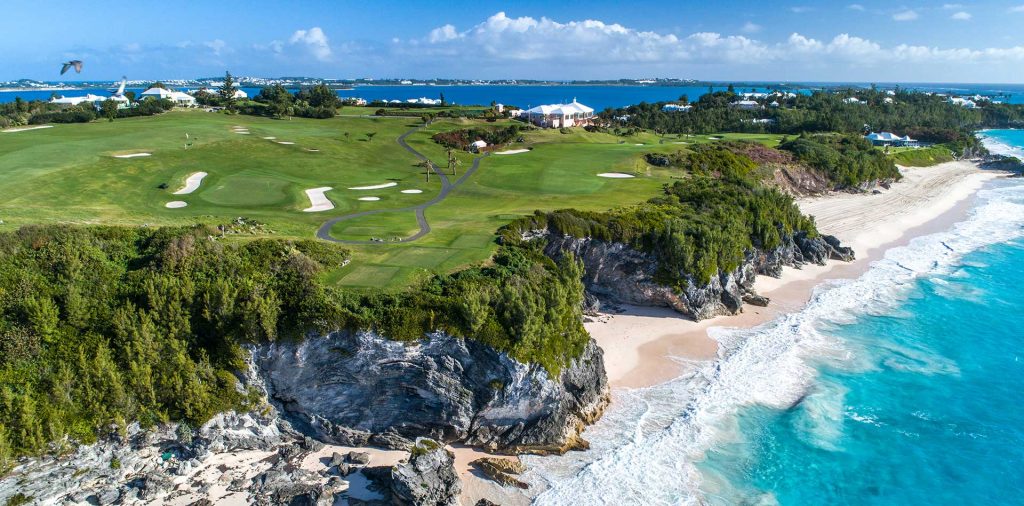 You go to heaven if you want – I'd rather stay here in Bermuda – Mark Twain
Bermuda, located 665 miles east of North Carolina, consists of 138 islands offering a blend of British and American culture.
From bicycle trails in Hamilton to subterranean adventures such as Crystal Caves to exquisite shopping, dining and cocktailing, strolls on the the coral sand beaches amid an island vibe, Bermuda is a refined gem in the North Atlantic Ocean.
PerryGolf proudly takes you there in April on its 2019 Charleston & Bermuda Golf Cruise, which features a round trip from New York City and includes an option to attend the final round of the Masters. Partnering with the 690-guest Azamara Journey, you'll be comfortable on Bermuda in April when the average high temperature is 72 degrees and the average low is 63 – the ocean registers approximately 68 degrees.
Azamara's Guide to Cruising to Bermuda
The Mid-Ocean Club is the island's shiny gem. Revered by recreational golfers, championship chasers and architectural aficionado's alike, Mid-Ocean is a rare layout conceived and crafted by Charles Blair MacDonald, who is perhaps better known for his designs at National Golf Links, Piping Rock and Sleepy Hollow. He did impeccable work on the island as holes twist through undulating valleys and perch high on cliffs overlooking the brilliant blue water in Harrington Sound.
Tom Doak renovated the course in the mid-2000s and converted the greens to Tif-Eagle, ensuring they'll roll true for decades.
I think Charles MacDonald, like the rest of the Golden Age architects, had a great insight into what separates great holes from average holes – and how they could be played by all levels of golfers. The latter doesn't imply simply placing tees at varied yardage from the green. MacDonald kept the basic strategies intact at all three of his tee boxes by using angles and length to their best advantage. It meant, in his world, that different levels of golfers could play against each other in match play without giving all these shots we do today. – George Bahto, golf course architect and MacDonald biographer.
During your stay in Bermuda, also enjoy a round at Port Royal, which offers spectacular views to rival those of Mid Ocean Club. Designed by Robert Trent Jones Sr. in 1970 and the recipient of a $14.5 million renovation prior to the course's run from 2009 to 2014 as host of the PGA Grand Slam of Golf. The 16th hole measures 235 yards from the championship tees, forcing golfers to carry the Atlantic Ocean the entire way.
We still have room for YOU on the "2019 Charleston & Bermuda Golf Cruise" includes 11 Nights + 4 Rounds (The Mid Ocean Club in Bermuda pictured). New York to New York. April 10 – 21. Itinerary: https://t.co/xGHKJi1sLG pic.twitter.com/LaVrYxk55u

— PerryGolf (@PerryGolf) January 18, 2019
Of course, this 11-Night, 4-Round journey departs New York City and makes its first stop in charming, historic Charleston on the South Carolina coast.
See why Charleston is known as America's Friendliest City. Visit Fort Sumter, where the Civil War began, and tour the historic plantations such as Boone Hall, which may look familiar to those who have seen Gone With the Wind.
Or just stroll around downtown, shopping on King Street and treating yourself to a meal every so often. Not only is Charleston known for amazing seafood, the downtown area has also enjoyed a barbecue renaissance in recent years with renowned pitmasters Rodney Scott and John Lewis among those opening restaurants. Another winner sure to please any palate is Husk, the home of chef Sean Brock. It was Bon Apetit's Best New Restaurant in America in 2011, developing its menu entirely from locally sourced ingredients.
There's golf to be played in the Low Country as well.
The Ocean Course at Kiawah Island catapulted on to the global golf scene in 1991 when the United States and Europe battled in a thrilling Ryder Cup that wasn't decided until the final putt as Bernhard Langer's par attempt grazed the edge of the cup. The layout, ranked No. 25 in the world in Golf Magazine's 2017 rankings, continues to thrill recreational golfers and is a walking-only course played with caddies.
Over on Isle of Palms, the Links Course at Wild Dunes is the first design ever crafted by American architect Tom Fazio, who has the most courses ranked in Golf Magazine's Top 100. From the opening tee shot at Links to the gorgeous finish overlooking the Atlantic Ocean, enjoy a course that fits the landscape and feels natural as it weaves through the rugged sand dunes and windswept shore.