Enjoy Cape Breton Island, Nova Scotia for a Long Weekend of Exceptional Golf, Natural Beauty and Fresh Seafood!
Alexander Graham Bell found stunning natural beauty. Mike Keiser and Ben Cowan-Dewar found what they think could be "Bandon Dunes East". We think you'll find Cape Breton Island in Nova Scotia to be an excellent addition to PerryGolf's portfolio.
Cape Breton Island is the northern most portion of "New Scotland" covering a space nearly the size of Connecticut. Golf is played here from May through October when the leaf season peaks so emphatically across this heavily wooded wonderland that Travel + Leisure 2011 recognized Cape Breton as the #1 island
to visit in continental North America. Better still, it's close; the flight to Halifax from Chicago or Atlanta is no more than 2 ½ hours. And it's comfortable; during the summer you can expect the upper 50s at night and rarely more than the low 80s during the day.
A visit here should allow for at least 4 nights which would comfortably permit play at half of the six Cape Breton clubs we are pleased to recommend: Highlands Links (Stanley Thompson's world #98 beauty), Le Portage, Dundee, The Lakes, Bell Bay and Cabot Links. Plan on two more nights if you wish to play them all, plus there's a solid case to make for Fox Harb'r on the mainland which wouldn't be terribly out of your way traveling to or from Halifax.
| | | | |
| --- | --- | --- | --- |
| Nights | Itinerary | Golf | |
| 4 | | Bell Bay,Highlands Links, Cabot Links | |
| 5 | | Bell Bay, Highlands Links, Le Portage, Cabot Links | |
| 6 | | Lakes, Bell Bay, Highlands Links, Le Portage, Cabot Links | |
| 6 | | Lakes, Bell Bay, Highlands Links, Le Portage, Cabot Links | |
| 7 | | Lakes, Bell Bay, Highlands Links, Le Portage, Cabot Links | |
| 8 | | Dundee, Bell Bay, Lakes, Highlands Links, Le Portage, Cabot Links x 2 | |

NOTE: These Sample Itineraries are provided for guidance purposes. You are entirely welcome to book them as they are shown but as always they may be adjusted or completely customized in any way you wish.
---
Dundee, The Lakes and Bell Bay are found on opposite sides of Bras d'Or Lake which is actually a major inland sea in the middle of the island. It is here next to Bell Bay on the northwestern shore where Alexander Graham Bell built "Beinn Bhreagh" – his beloved summer estate which became his retirement home until his death in 1922. Highlands Links, Le Portage and Cabot Links are seaside courses found along or near the island's famous Cabot Trail. The Trail makes a 185 mile loop around the northern tip of the island hugging the coastline and passing through the rugged highlands of the Cape Breton Highlands National Park. Road trip aficionados consider it to be one of the most scenic drives in the world. Golf aficionados will appreciate Highlands Links found on the east coast and routinely among the world's top 100. Thompson's 1941 classic has recently completed an extensive restoration program by Ian Andrew that began in 2008.
On the west coast is Cabot Links. Toronto native Ben Cowan-Dewar and co-owner Mike Keiser (Bandon Dunes) will open Canada's first true links layout this summer which creates for Cape Breton what PerryGolf co-founder Gordon Dalgleish believes to be "an extremely interesting story to tell." Gordon tells that story at PerryGolf – The Blog including further details about the golf courses and the lodging choices.
Golf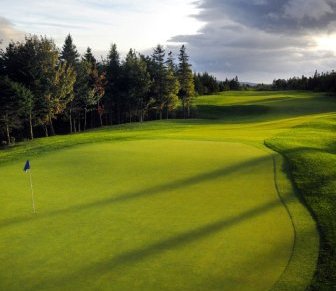 Located in the historic village of Baddeck overlooking the Bras d'Or Lakes. The routing takes full advatnage of the natural features of the land and is especially renowned for its final four holes providing as memorable a finish that can be found on any course.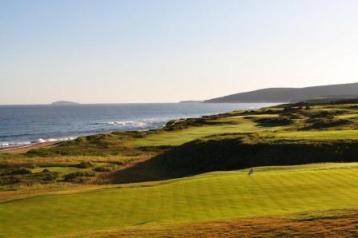 Located between the former mining town of Inverness and the Gulf of St Lawrence. The course moves through a number of different environments. The centre of the property, especially nearer the water's edge, is the most classic linksland. The southern end of the course, around the harbour, includes a lot of the old mine areas while the northern end of the course, typified by the par three seventeenth, has a more scrubby feel, with low trees and gorse-like vegetation in quantity. But it is the run up the coastline on the back nine that will really grab the golfer's attention at Cabot. The course is full of memorable, strategic holes, calling for good decision making and precise execution.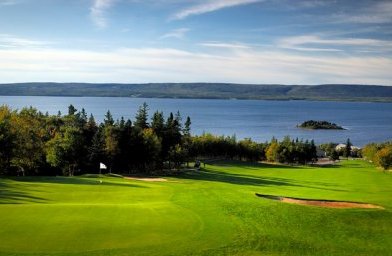 The course is nestled on the side of South Mountain. With a number of elevation changes it offers great views of the lake from virtually every hole.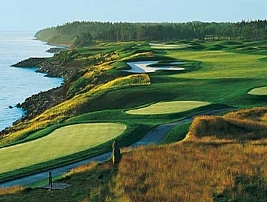 A magnificent blend of Scottish links and traditional parkland golf. Designed by renowned course architect Graham Cooke, the outward nine lures you away from the sea through sheltered forests, expansive wetlands and deep rock-lined lakes. The inward nine is a pure delight to play as the Scottish flavour of the course is highlighted along the spectacular rugged seacoast of the Northumberland Strait. Fields of rich, waving fescue surround and accent one of golf's finest finishing nines.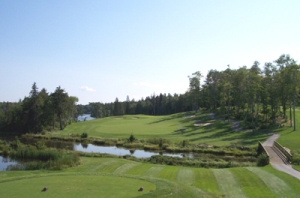 Mature hardwood stands frame the breathtaking views of three shimmering lakes throughout Glen Arbour. Sculptured bent grass fairways, bluegrass roughs, paved cart paths and a fully manicured practice facility combine to offer an unforgettable round. Glen Arbour was designed for all levels of play, and features a minimum of 5 sets of tees for each hole. From the back tees, the course measures 6800 yards, and as short as 4,736 yards from the front tees. Players will notice many natural water features strategically positioned throughout the course and over 90 sand bunkers provide the main hazards.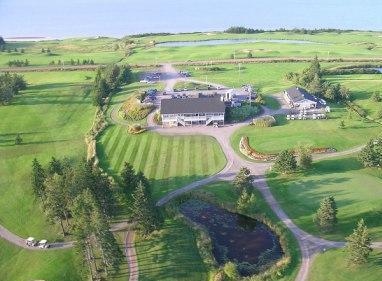 The course overlooks the Northumberland Strait and is one of Atlantic Canada's most picturesque and challenging layouts. Prevailing winds, rolling fairways, well placed bunkers and lightning fast greens make it a true test and enjoyable experience. The course is one of contrast, ranging from the link type holes directly on the Northumberland Strait to majestic tree framed fairways and almost tranquil meadow like settings.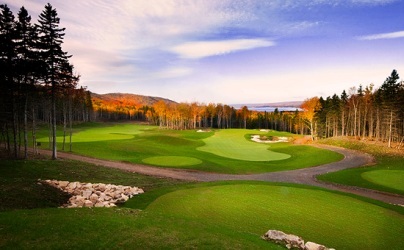 The course was designed by Graham Cooke and features stunning views of the Bras d'Or Lakes while shifts in elevation take you over two brooks and three plateaus. Frequent changes in wind direction provide a real challenge to the golfer.
Hotels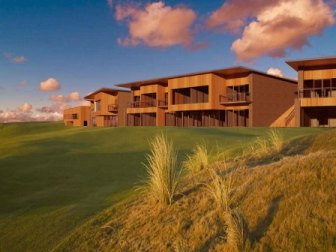 Cabot Links Lodge features 48 guestrooms, with floor to ceiling views of Canada's true links course and the sea beyond in every room. Designed by award-winning architect Susan Fitzgerald, the lodging is located next to Cabot Bar and Panorama Restaurant, and fans south to be bordered by the putting green. The lodgings are timeless yet modern and the project explores local material traditions within a modern aesthetic. Cedar soffits and heavy timber construction combine with wall to wall glazing and an exterior cladding of eastern cedar shingles to create an architecture that is clearly both within the Maritime vernacular tradition and modern.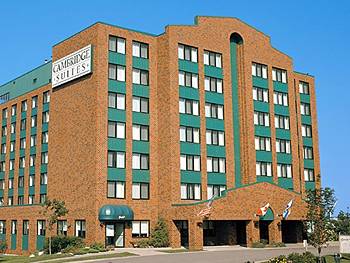 The Cambridge Suites Hotel give the added comfort and spaciousness of a suite without spending more than the price of a hotel room. Perfectly located in the heart of downtown Sydney, Nova Scotia. Guest rooms come with free high-speed Internet access. Accommodations also have phones, cable televisions, pay movies, separate sitting areas, irons with ironing boards, clock radios, and hair dryers. Infant beds and roll-away beds are available. Guests will find a restaurant, bar/lounge, spa tub, sauna, fitness facility, business center, event space, barbecue grills, and laundry facilities. Manager reception, continental breakfast, and Internet access are complimentary.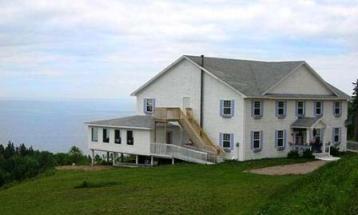 The Castle Rock Country Inn affords a spectacular position on the famous Cabot Trail. Situated at Ingonish Ferry, the inn overlooks the magnificent vista of Middle Head Peninsula, the Atlantic Ocean and the mountain range of the Cape Breton Highlands. Moose sightings are common in the area and it pays to keep alert, particularly during dawn and dusk. The property boasts 17 comfortable guest rooms, all with a four-piece private bathroom, queen beds, writing table, and armoire with satellite television. Some rooms have an extra sofa bed. There is also a highly regarded restaurant with superb views of the coastline. On a warm summer's day, there is no better place to relax than the inn's delightful balcony with its sweeping views in both directions.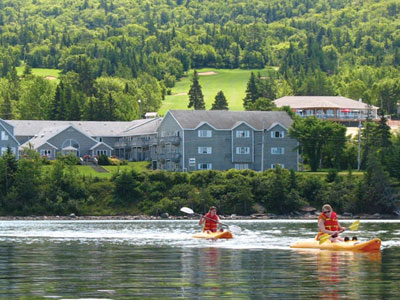 Dundee Resort is just a quick drive away from Cape Breton's famous Cabot Trail or magnificent Fortress Louisbourg National Historic Site. Accommodations include 98 rooms including 60 hotel rooms, some with balcony, fireplaces or jacuzzi, 36 one-and-two bedroom duplex housekeeping cottages & 1 three bedroom duplex housekeeping cottages, all have 4-pc bath and large decks with lake views. MacRae's Dining Room offers a comfortable setting to enjoy an intimate or family dinner with fabulous sunsets over the Bras d'Or Lakes.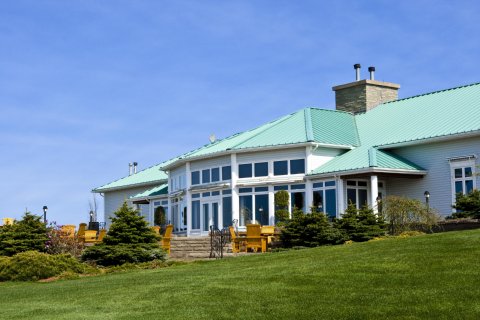 Fox Harb'r offers guests exclusive semi-private access to world-class resort amenities. In addition to gracious accommodations, challenging golf, a serene spa and enticing dining, you'll discover even more incredible facilities and services. The Sporting Lodge features skeet shooting and sporting clay, while the tennis courts offer beautiful ocean views. A luxury yacht is available for ocean adventures, the private airstrip welcomes arrivals by jet, while the secluded deep-water marina welcomes you by sea. This unique and peaceful retreat is beyond expectation. As you enter the gates of Fox Harb'r, you'll find twelve manor-style guesthouses, where each suite possesses its own individual character and personal charm. Distinctive amenities, heated granite bathroom floors fulfill the needs of even our most discerning guests.
The Inverary Resort offers you accommodations and cottages right on the waterfront of Baddeck, Alexander Graham Bell's beloved Cape Breton home, and the starting point of the world-famous Cabot Trail. In keeping with the famed inventor's tradition, the MacAulay Family has been extending a warm welcome to travelers from around the globe for over 30 years. Originally built in 1850, this 11-acre Nova Scotia vacation resort sits on the shores of Cape Breton's glorious Bras d'Or Lakes, and offers you a breathtaking view, beautiful landscape and a variety of accommodations, including cottages. Bask in the sun on the expansive waterfront boardwalk, spend a day at the spa or relax by the indoor pool. Join the local entertainers at the Thistledown Pub for some sing-a-long, foot stomping fun.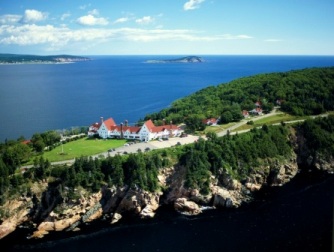 Situated high on a cliff surrounded by the Atlantic Ocean and a view of majestic Cape Smokey rising out of the sea, Keltic Lodge Resort and Spa has been welcoming guests to Cape Breton Island's most majestic property since July 1940 . Comfortable Cape Breton accommodations are offered in the historic Main Lodge, the Inn at Keltic and in cozy two or four-bedroom cottages with fireplaces and verandas, totaling 105 guestrooms. Recreation facilities included on property or in the surrounding area range from a heated outdoor pool, nearby ocean beach Ingonish Beach, hiking wilderness trails, lawn games, whale watching, Aveda Spa, and boat cruises. Fine dining and award winning cuisine are offered in two Cape Breton restaurants. The Purple Thistle Dining Room offering outstanding cuisine, overlooks the Atlantic Ocean. The Atlantic Restaurant welcomes guests for a casual, comfortable dining experience and traditional Maritime menu items. The Highland Sitting Room features nightly entertainment and a light pub style menu.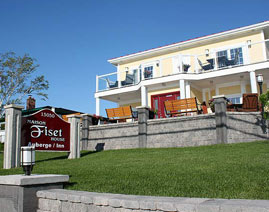 This beautiful historic home was built in 1895 by Father Pierre Fiset for his brother Dr. Napoleon Fiset and his family. Dr. Fiset was the first doctor to practice in the Cheticamp area. Maison Fiset House was restored and enhanced in 2011 into an 8 bedroom Inn. The Inn's multiple terraces feature a beautiful panoramic view of the village's assets of ocean, harbour views and the majestic Cape Breton Highlands along the world famous Cabot Trail. Each room in the inn recalls a part of Cheticamp's history. Old photos are located close to each room.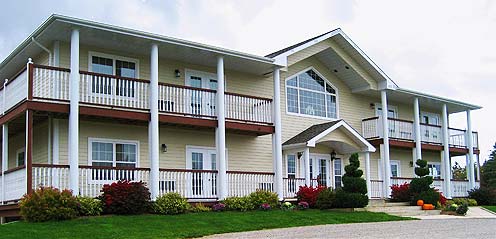 The Birches at Ben Eoin Country Inn is a colonial style facility with ten elegantly appointed guest rooms and two luxurious junior suites, all with access to the balcony. Many rooms feature fireplaces and air-jet tubs. The building is situated on ten acres of land adjacent to Ski Ben Eoin and has about 9,000 square feet of space. The innkeepers designed the Inn themselves and knew the feeling they wanted to convey from the exterior and interior decor. The Grand Foyer welcomes guests with its spacious two-storey open design, grand staircase, fireplace and comfortable seating. The dining room is located just off the foyer and is open to the public and Inn guests. The inkeepers have paid attention to the small and large details to insure that all guests experience a sense of luxurious relaxation during their stay at The Birches.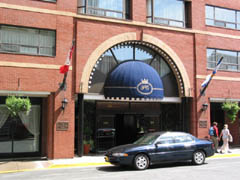 The Prince George Hotel is situated in central Halifax. It is accessible to the Neptune Theater, the Province House, the Halifax Citadel, the Public Gardens Park, and the Dalhousie University. There are 203 non-smoking and spacious guest rooms with free toiletries, Internet access and local calls at the Prince George Hotel. Rooms features air conditioners, coffee/tea makers, shower/tub combinations, hair dryers, desks, satellite televisions, ironing sets, and clock radios. The Prince George Hotel has a lot of facilities available to guests including a restaurant, a cocktail lounge, room service, a business center, meeting rooms, event space, and Internet access in public areas. Guests will also find an indoor pool, a spa tub, a sauna, and fitness facility on-site.
Click here to read Gordon's blog post from the two-day visit he and his brother Colin took to Cape Breton last year.
Cape Breton Island to offer second golf course: Cabot Cliffs
Cape Breton Island – golf travel finds a new destination
About the Author: Harrison Gould is the Social Media Marketing Manager of PerryGolf, the leading provider of international golf vacations. You can find him on Google+