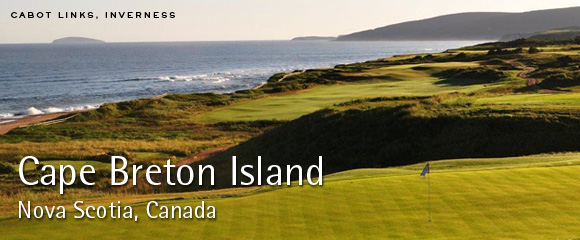 Our second season with Cape Breton Island approaches with Stanley Thompson's masterpiece at Highlands Links fully restored to its original excellence.  There is every expectation that World #98 (GOLF Magazine) will be rising in the rankings.
Last year's newcomer and Canada's only authentic links layout, Cabot Links, met every expectation to the point that co-owners Mike Keiser (Bandon Dunes) and Ben Cowan-Dewar have announced plans for a second course.  Cabot Cliffs will be designed by Coore and Crenshaw.  Keiser told Bill Coore during one of their recent site visits, "I think we're on to something big here."  We couldn't agree more particularly considering the availability of four more Cape Breton courses we can recommend highly; Dundee, Bell Bay, The Lakes and Le Portage.
Golf is played here in "New Scotland" from May to October when the leaf season erupts so spectacularly that Travel + Leisure recognized Cape Breton in 2011 as the #1 island to visit in continental North America. Better yet it's convenient; the flight to Halifax from Chicago or Atlanta is around 2 ½ hours. It's also a great place to beat the US summer heat, plus you'll find the local cuisine to be a seafood bonanza.
This incredible PerryGolf package golf trip to Cape Breton Island is valid from June to October for this 2013 season.  Four night packages begin at $1,395.  Detailed Sample Schedules from 4 to 8 nights are available at PerryGolf.com/capebretonisland.

About the Author: Harrison Gould is the Social Media Marketing Manager of PerryGolf, the leading provider of international golf vacations. You can find him on Google+