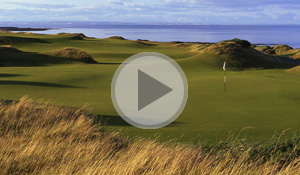 Golf dates to 1793 on the site where Kingsbarns Golf Links is found today, overlooking the North Sea 7 miles east of St Andrews.   Everything changed in 2000 when Kyle Phillips reinvented links golf with the opening here of the game's first "modern classic" links layout.
Modern classics are very much like traditional except they're longer (7,125 yards for Kingsbarns), the fairways are wider and there are multiple sets of tees. It's an idea you'll find in many places now ranging from Bandon Dunes to Machrihanish Dunes, Castle Stuart and the European Club.
This is one of sixteen Scotland golf course videos we're posting on a weekly basis to start the year. Each one provides a great sense of the respective experience which we hope will help you confirm your selections from the many available options.

About the Author: Gordon Dalgleish is the Co-Founding Director of PerryGolf, the leading provider of international golf vacations. You can find him on Google+