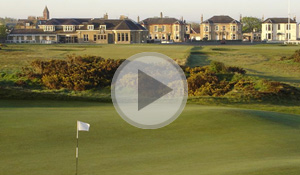 Prestwick is Scottish golf royalty. It was founded in 1851 and lies adjacent to Royal Troon along a stretch of Ayrshire coastline as famous as any in the world for prime golfing terrain.  It was here in 1860 where the first Open Championship was played and won by Willie Park from Musselburgh with a score of 174 for 36 holes, 2 shots clear of Tom Morris.  Prestwick would go on to host 24 Open Championships plus 11 Amateur Championships, the most recent in 2001.
Today Prestwick is prized for its wonderful authenticity.  The 6,544 yard par 71 is very much the same layout that Old Tom Morris designed in 1882 when he expanded it to 18 holes.
This is one of sixteen Scotland golf course videos we're posting on a weekly basis to start the year. Each one provides a great sense of the respective experience which we hope will help you confirm your selections from the many available options.

About the Author: Gordon Dalgleish is the Co-Founding Director of PerryGolf, the leading provider of international golf vacations. You can find him on Google+