Couples travel is not only about creating new memories. It's also about unwinding and reconnecting with one another. What better way to do that than on a seamless experience together that combines some of your favorite interests. From marquee golf and iconic sightseeing to wine tastings, safaris, rich culture and luxury accommodations with butler service, here are PerryGolf's Top 5 golf vacations for couples.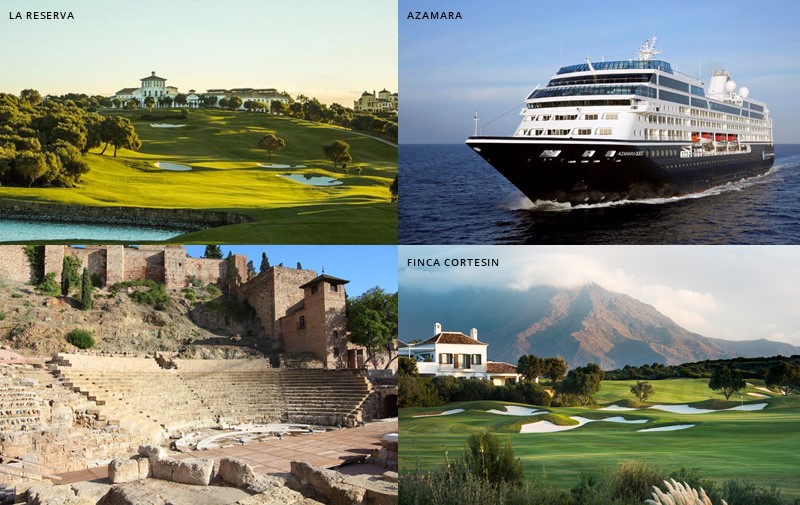 October 31 – November 9, 2023 | 9 Nights | 4 Rounds | Barcelona – Lisbon on Azamara Quest
PerryGolf is proud to partner with Azamara® for an exceptional 9-night, 4-round golf and sightseeing voyage around the Iberian Peninsula. This cruise with less than 700 guests onboard the outstanding Azamara Quest begins in Barcelona, then visits six captivating ports including Valencia, Cartagena, Malaga, Gibraltar, Seville and Portimao, before concluding in Lisbon, the lively capital city of Portugal.
Our golf offers four outstanding rounds including El Saler, Finca Cortesin, La Reserva, and Royal Seville.
Pricing & Full Details Available Here.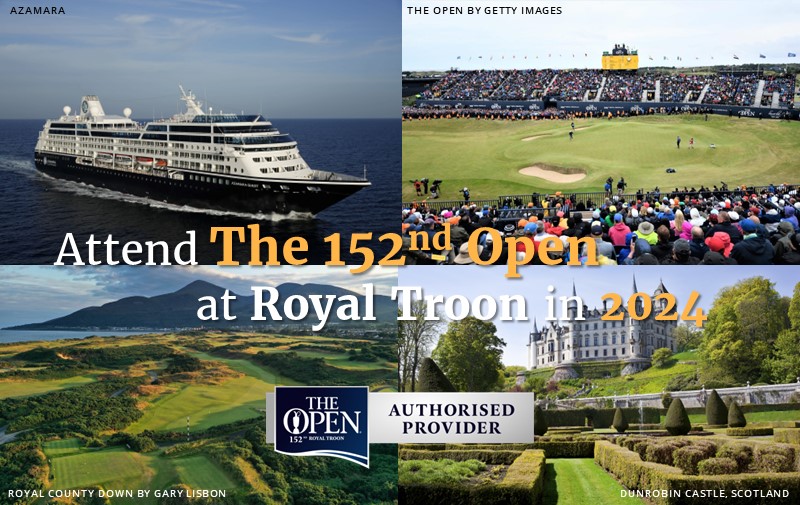 July 14 – 26, 2024 | 12 Nights | 6 (or 3) Rounds | Edinburgh – Dublin on Azamara Quest
PerryGolf proudly partners with Azamara® for an exceptional 12-night, 6 (or3) round golf and sightseeing voyage through the British Isles. This cruise with less than 700 guests onboard the outstanding Azamara Quest will visit eight ports beginning in Edinburgh, Scotland and concluding in Dublin, Ireland. The itinerary is beautifully balanced with famous city experiences like Dundee, Glasgow and Belfast, plus exceptional golf at world renowned and highly revered venues around the British Isles.
The golf line-up is outstanding. Your biggest decision may well be whether to join the WALTER HAGEN flight, or the BOBBY JONES flight. Whichever you select, you are assured of six fabulous rounds with play on some of the finest and most renowned courses of the British Isles; Open Championship venues such as Royal Portrush and Carnoustie, the much loved and revered Royal Dornoch and Royal County Down, and modern day classics such as Castle Stuart, The K Club, Kingsbarns, and Dumbarnie. Midway in our cruise we watch history unfold as we attend the final two rounds of The 152nd Open at Royal Troon Golf Club.
Pricing & Full Details Available Here.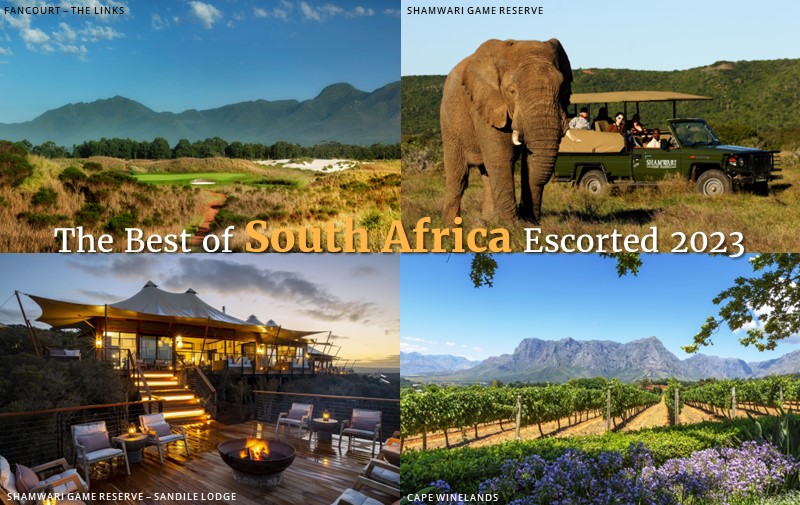 October 19 – November 1, 2023 | 13 Nights (3 on Safari) | 5 Rounds | Fully Hosted
Join us on a fully-managed 14-night tour of the very best of South Africa. Experience the iconic city of Cape Town, visit the vineyards of the Franschhoek wine region, tour the Garden Route and spend three nights at Shamwari Game Reserve under a canopy of African skies expecting to observe the Big Five on multiple occasions on this Escorted Tour. PerryGolf is thrilled to present this fully managed, fixed itinerary of 13 nights with 5 rounds featuring South Africa's No. 1 course, Fancourt – The Links, Pearl Valley, Steenberg and Pinnacle Point.
On a land-based tour like this, group size is also a significant consideration. We are very confident to have found the sweet spot between 24 – 30 golfers. It is a large enough group so that travelers have flexibility yet small enough that the logistical movements can be handled in a comfortable environment. Time and time again the like-mindedness of clients on our escorted tours is remarkable.
Pricing & Full Details Available Here.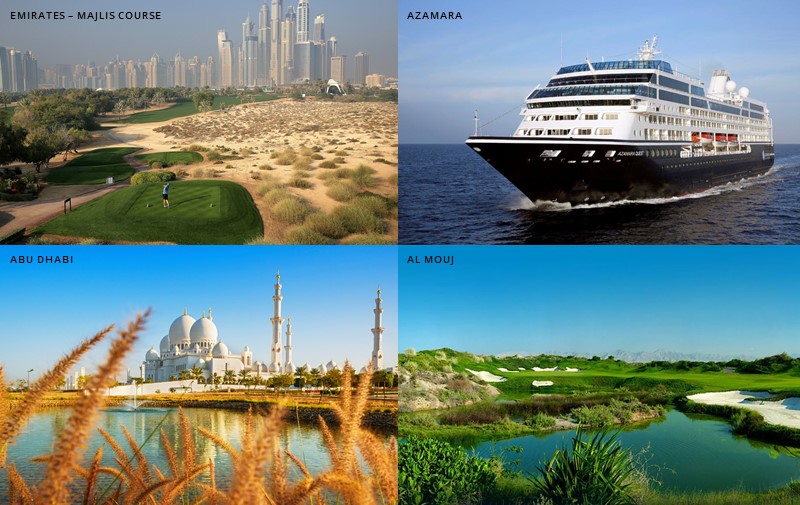 November 13 – 20, 2023 | 7 Nights | 4 Rounds | Dubai – Dubai on Azamara Journey
PerryGolf proudly partners with Azamara® to see one of the world's most startling man-made wonders for an exceptional 7-night, 4-round golf and sightseeing voyage through the Arabian Gulf. This cruise with less than 700 guests onboard the outstanding Azamara Journey will reveal a place where you'll see what uber imagination and unlimited resources can achieve. We visit Dubai, Abu Dhabi, Sir Bani Yas and Doha.
The golf program is equally strong; five striking layouts with impressive facilities including the Majlis Course of Emirates, Saadiyat Beach, Yas Links and Education City.
Pricing & Full Details Available Here.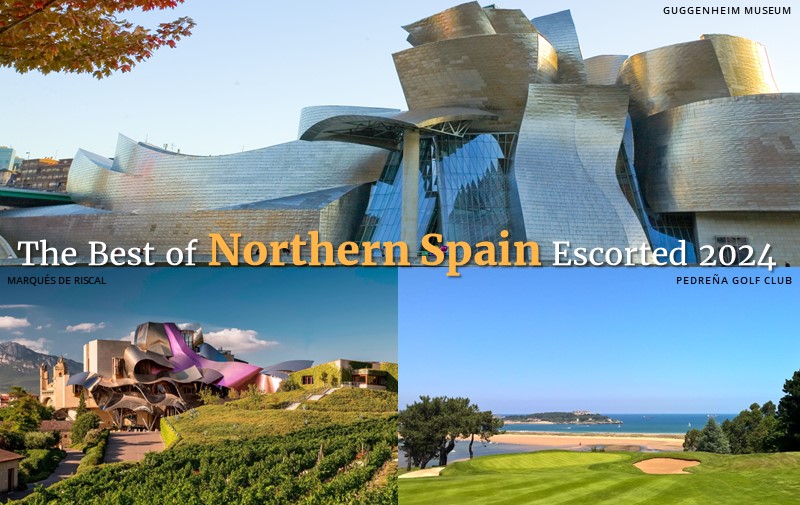 May 6 – 14, 2024 | 8 Nights | 4 Rounds | 5 Dinners | 5 Lunches | 2 Wine Tastings | Fully Hosted
This fully managed Escorted Tour will visit Bilbao, Laguardia & San Sebastian which is a remarkable combination. Bilbao is home to the magnificent Guggenheim Museum which we will tour plus enjoy a private dinner inside.  The Hotel Marqués de Riscal in Laguardia is Frank Gehry's vision of a 43 room hotel as a contemporary 21st century château. Maria Cristina Hotel is exceptional in San Sebastián which is home to more Michelin Star restaurants per capita than anywhere else in the world.
We play marquee golf including Pedreña Golf Club – a Harry S. Colt design that Seve Ballesteros called home; Neguri Golf Club of 1911; José María Olazábal's beautiful course – Real Nuevo Club Golf de San Sebastian – Basozabal – which is set in a stunning location that features 360 degree panoramic views of the most famous mountains in the area;  and finally, Biarritz Golf Club – Le Phare which is located in France just north of Biarritz and dates back to 1888. It was the original home of the Biarritz green design which was later used at a number of courses in the USA.
This tour was hugely enjoyed by guests on our inaugural visit in 2022!
Pricing & Full Details Available Here.
Couples who enjoy combining their love of golf with their passion for travel will find an unsurpassed selection of international vacations in our Couples Golf Travel portfolio.
About the Author: Harrison Gould is VP Special Projects of PerryGolf, the leading provider of international golf vacations. View on LinkedIn.