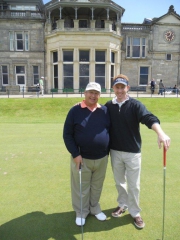 Over the years I have heard countless stories about golf…and fathers and sons, particularly as it relates to St. Andrews. We have had multi-generational trips with grandfathers, fathers and grandsons and I recall one client who took his son to St. Andrews 25 years after his father had taken him and played the Old Course. These are special trips and unforgettable moments for the participants.
I have recently come across a writer, and former caddy, Don Snyder who has a new book being published next spring by Doubleday. The book shall be titled, "WALKING WITH JACK, A Father's Journey to Become His Son's Caddy". Don sent to me an excerpt from the book as it relates to St. Andrews, and for all the golfers who have visited St. Andrews over the years, I challenge you to read the following…and not get a lump in your throat;
" And somewhere in the heavens it must have been written that my last loop as a caddie here in St. Andrews would place me on the first tee of The Old Course with a wonderful fellow in his fifties who had recently lost his father, a man from whom he had been estranged for many years. We talked about fathers and sons for the first two hours and when we reached the 9th tee he told me the story of his autistic son, now age thirty whom he and his wife had been caring for since the beginning. He had never been able to walk a golf course with the son because of the loud sounds the boy makes and the way he waves his arms uncontrollably.  The father confided to me that in truth he was embarrassed.  
We got to the tenth green and I asked if he had made the trip to Scotland by himself. He said, "No, my wife and our son are here in the hotel."  It was around 6pm by then. When we made the turn for the homeward holes I realized that there were only four groups behind us left on The Old Course. I told the man that if he wanted to sit for a while and let everyone play through we could then be the final group and we could call his wife and tell her to bring the son to the 14th tee so he and his father could walk a few holes together, side by side on The Old Course.  
It all worked out perfectly. The son was making his loud noises and swinging his arms like some crazy helicopter that would never fly, but it was beautiful to witness the two of them. It was something I'll never forget.
I wonder what it must have been like for this father to never be able to fix what was so terribly broken in his son. What I did today I did for him of course, but also for myself, and for fathers everywhere, I think.  And for my own father whose presence I felt today out on the golf course.  I think he was looking down at us from wherever it is we go next."
From the book "WALKING WITH JACK, A Father's Journey to Become His Son's Caddy"  by Don Snyder. Copyright 2012 by Don Snyder. Published by Doubleday.  

About the Author: Gordon Dalgleish is the Co-Founding Director of PerryGolf, the leading provider of international golf vacations. You can find him on Google+