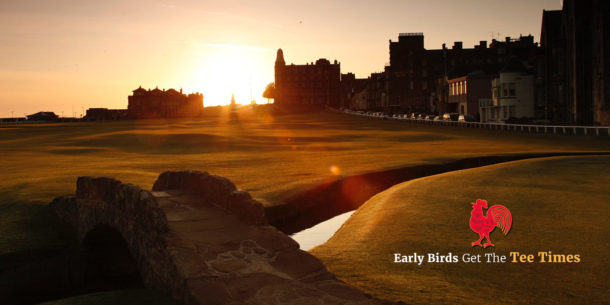 International Golf Travel – The most impactful trend
Much has changed since August 1984 when my brother and I started PerryGolf. Of all the changes – new golf courses, hotels, airline options and service improvements – the one which has the greatest ongoing impact to our clients, is the booking window.
For almost 30 years, we generally saw reservations to be made 6-8 months in advance of travel to the British Isles. January & February were consistently our two largest bookings months for trips that coming summer (May thru September).
Over the last five or six years, that booking pattern has significantly altered. August & September have replaced January & February as the peak booking months. As demand for great golf experiences has increased due to a strong US Dollar and vibrant economy, and the number of tee times at the principal, famous links course of the British Isles has remained, mostly unchanged…the only variable is how early people are willing to commit to a "bucket-list" trip.
While demand, and therefore early booking of the Old Course at St Andrews seems logical, we also see similar situations at other stalwarts of the British & Irish golf scene; Royal County Down, Muirfield & Royal Troon being the most obvious.
From a practical application of the impact of early booking and restricted availability closer to departure, our advice is invariably to delay your trip until the following season, unless you are flexible in your wishes. Book your trip early, permit PerryGolf to create and deliver the trip you want, with the courses you want to play and in a sensible, logical sequence; for otherwise, you try to create your dream trip from poor options and you make forced compromises which ultimately detract from the overall experience of what you envisioned your trip to be.
About the Author: Gordon Dalgleish is the Co-Founding Director of PerryGolf, the leading provider of international golf vacations. View on LinkedIn.