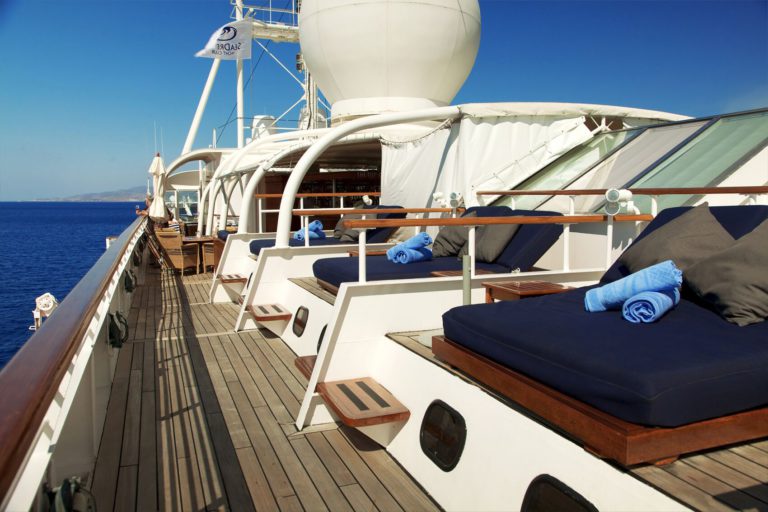 When Old Man Winter nips sharply at your ears and toes, golf, sun and relaxation can seem like faded feelings never to be revisited again. With the golf clubs packed in the garage and the cashmere sweaters stacked in the closet, it becomes difficult to envision making a birdie or wearing short sleeves until the snow melts and the ground thaws.
Never fear. PerryGolf has the tonic for the Winter Blues, offering two Golf Cruises to the Caribbean in 2019 on SeaDream I, a cozy elegant ship featuring a fabulous spa. SeaDream I serves as the ideal vessel for navigating the smaller ports distinct to this region and provides hours of carefree cruising on clear, calm seas.
Built to accommodate 100 guests and an award-winning 95-person crew, the ship will steer from St. Thomas to St. John's and exotic ports such as Anguilla and St. Kitts, you will bask in the warmth of the French West Indies while building lasting friendships with fellow guests of a similar ilk, pursuing golf, travel and adventure.
Exceptional service and quality dining are hallmarks of these all-inclusive cruises on SeaDream, as guests bask in the sun and enjoy open bars, with gratuities included.
Expect to return home refreshed after a pleasurable week enjoying these five highlights of a PerryGolf Caribbean Golf Cruise.
Scuba Diving in Nevis
Whether you are a novice snorkeler or experienced diver, the island of Nevis, just seven miles long and five miles wide provides the ideal setting to explore the wonderful underwater world. Discover the beautiful coral reef featuring deep holes filled with schools of colorful fish, caves, ledges and mini-walls. Ample instruction is provided but no license is required. You'll be under the close and constant supervision of an expert dive master who will guide you to amazing shallow water sites like "Hot Springs", "Bug's Hole" and "The Church Reef." Mark this item off your bucket list shortly after your Caribbean journey begins.
Charms of St. Bart's
First things first: The 's' at the end is silent. Now get ready to spend a day and night in one of the coolest destinations in the Caribbean, a French-speaking island known best for its white sand beaches and boutique shops. What you will not find here are large ships in port – which is why SeaDream I is the ideal vessel for exploring this part of the world – or high-rise buildings – there's a two-story limit.
Christopher Columbus discovered the island in 1493 and named it for his brother, Bartolomeo. Located 240 miles east of Puerto Rico, St. Bart's has experienced many incarnations in the centuries since – from expat escape haven to popular destination for aspiring entrepreneurs from abroad. What's remained constant is the beauty of 14 beaches, the shopping in the duty-free port and the overall laid-back, leisurely pace of life one comes to expect in the Caribbean.
Golf
The golf courses offered on this cruise fit seamlessly into the mood of the week: they are well-conditioned and enjoyable, challenging in spots but played in shorts and shirt sleeves under pleasant skies and offering opportunities to make a birdie or two.
Designed by Robert Trent Jones II and opened in 1991, Four Seasons Nevis is a pleasant par-71 layout, measuring 6,766 yards from the championship tees and playing to a slope of 132 and course rating of 73.1
Royal St. Kitts delivers views of both the Atlantic Ocean and the Caribbean Sea. Redesigned by noted Canadian architect Thomas McBroom and re-opened in 2004, it features lush fairways and demands golfers avoid the water hazards in play on 10 holes and the more than 80 bunkers dotted across the layout.  The par-71 courses offers four sets of tees, ranking from 5,000 to 6,851 yards.
The only golf course on Anguilla, Cuisinart Resort was designed by Greg Norman and is a world-class championship layout. The Shark plotted five sets of tees so golfers of all skill levels can have a fun round at Cuisinart as the par-72 course measures from 5,317 to 7,063 yards.

Norman Island
Located at the southern tip of the British Virgin Islands, this privately owned island may have been the inspiration for Robert Louis Stevenson's literary masterpiece, Treasure Island. Perhaps there's a trove of pirate's gold buried in the sand or hidden in the caves, as local lore suggests. Considered one of the "Little Sisters" islands, many a sailor sought shelter from a storm here through the centuries.
Enjoy hiking the pristine beaches, snorkeling around the wrecks and reefs and be certain to allot time for a cocktail or two at Pirates Bight or the abandoned schooner, Willie T, next door which serves as an eating or dining establishment. Norman Island does not have any fulltime inhabitants, although in true Caribbean fashion, it offers two bars.
Champagne & Caviar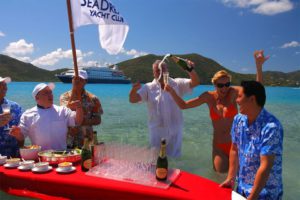 Needing minimal explanation, if any, SeaDream's legendary, world-renowned Champagne & Caviar Splash delivers the ultimate conclusion and an emphatic exclamation point to your seven-day voyage.  A shore side celebration of the yachting lifestyle, guests and crew reflect on good times shared and look ahead to meeting again, enjoying flowing champagne toasts and delectable caviar. A gourmet barbecue served on a white sandy beach will follow. At the sound of the yacht's horn … play the music, let the bubbles flow and enjoy a bite of caviar.