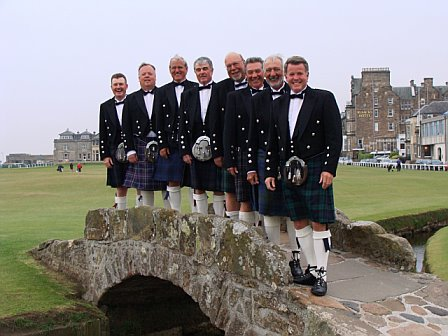 I was lucky. A wise elder from my club who knew the ropes organized the earliest golf trips I joined, all stateside. The game changed in 1994 when our bunch set sights on Ireland and our elder could not make the trip. His lieutenant took the wheel and did a nice job. Two truths became clear; first, international travel is more complicated than a long weekend at Pinehurst. Second, a specialized golf tour operator is worth their weight in Pro Vs!
I've led four international trips, beginning with my first in 1994; three with guys from my club to Scotland, Ireland and Scotland/England, and one with the wives (and a couple mother in laws!) this past October to South Africa. I enjoy the role. It earns me a pint now and again and it's interesting to learn so much more about the counties we've visited. I'll confess to a perk as well: I prefer to control my fate when so much is on the line.
If you're thinking about volunteering to lead a group, or you've been "volunteered," my experience has found three things that make a big difference:
1. Start Silly Early: Starting early pays off … literally. You'll almost always find early- bird offers (airfare discounts typically), and nothing comes close to endearing you to your group than saving them money! If the unfortunate happens and someone has to drop out, you'll have time to find a replacement. Early puts you at the head of the line, increasing availability for your top course and hotel choices. Time also allows you the chance to react to the fluctuations of the US dollar. If it's headed south, a tour operator who prices in guaranteed US dollars can do you a big favor. Eventually everyone's prices will have to go up, so again sooner is better. You can bet on a tour operator who prices daily if you think the exchange rate will improve, but like any wager the agreement cuts both ways.
2. Get Several Quotes: You never want anyone thinking they paid too much so I always get competing quotes. You can also get good ideas. It's gospel in my view to prepare your preferences in a Word document – rather than visiting each website and completing difference forms – so the input will be identical for pricing. I try to keep my hands on this pretty close. If a member of the group is inclined to quote a different tour operator, it's fine but I ask that I do the liaison so the input will match. The quotes always come back with apples and oranges anyway; so the last thing this needs is apple, oranges and coconuts!
There will be a lot to see in the quotes beyond the cost. How promptly was it prepared? Did the operator provide sufficient detail? Was the quote easy to read? Were terms and conditions spelled out? As you might expect, quotes will vary in spite of having all begun the same. The hotel room category alone can have real money impact on the total. You could see the same hotel, but the room overlooking the sea is going to be more than the parking lot view. This is the homework phase — not my favorite — but a bad place to make a mistake.
Be absolutely sure you pay attention to the Terms & Conditions. You need to understand the cancellation policies, payment schedules, change fees and credit card surcharges (most are charging 2% or so to pay with a credit card). And don't overlook payment terms. Many tour operators price by the day; a number price with guaranteed US dollars. You can choose to gamble or play it safe..
I don't hesitate to spend time with the tour operator if something isn't clear, whether it's a point in their quote or their competitors'. At the end of the day, I'm not after anyone's job!
3. Answer Questions Privately: Once I've circled back on the proposals and made sure I understand the "fruit baskets" reasonably well, I'll email the best and next best to the group for their review. This naturally surfaces comments and questions, and leads me back to the tour operator. I like to forward questions to the operator for two reasons: 1) the process will soon be in the their hands to finalize for reservations forms, payments, documents, etc., so the Q&A exercise serves as a handoff , and 2) they've got the answers! (If they don't, you may have the wrong tour operator.)
One thing I've learned, the uncomfortable way, is when I forward the question to the tour operator, I'll normally copy only the group member who asked the question rather than the entire group — even if everyone was copied on the original. Every question isn't relevant to everyone, and truth be told, some won't be relevant to anyone. Pretty sneaky I know, but I'm not signed on to herd cats!
---
[BB1]
not sure about this first-time reference.