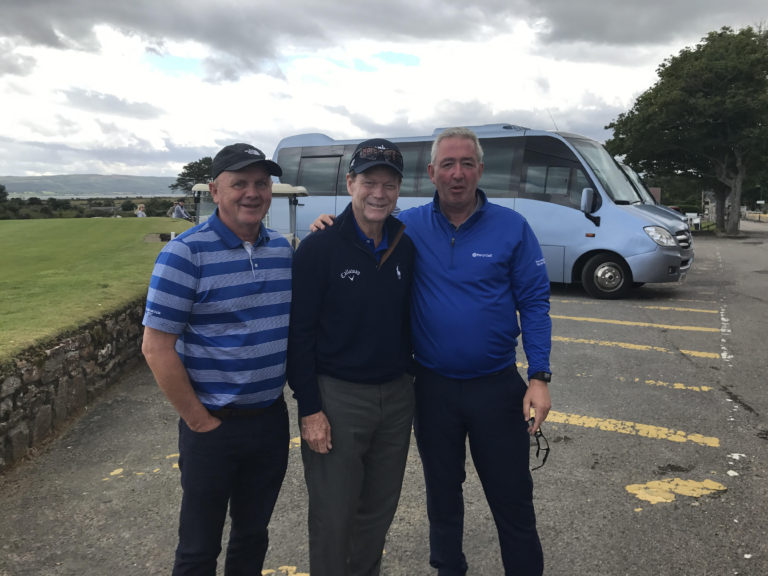 PerryGolf's Concierge Drivers play an essential part in any Customized or Escorted Tour. They fill many roles during your trip abroad – from recommending restaurants to sharing nuggets of local history and culture while also making certain every part of the Tour from the airport to the hotel to the first tee runs smoothly on schedule. This post is the fourth in an ongoing series, during which we'll profile the devoted, diligent Concierge Drivers who help PerryGolf guests: Play the Game. See the World.
Patience and a sense of humor.
Those are the keys to thriving as a PerryGolf Concierge Driver the way Joe Marshall sees it.
Marshall would know, of course, having served in that capacity for nearly two decades, shepherding clients around his native Scotland, pointing them toward the pubs and restaurants where they can hang with the locals, taste the flavor and savor each experience on their trip.
"It's my hobby as well as a job," Marshall said. "When I stop enjoying it, I'll stop doing it. I like golf, I like working with people. I've made a lot of friends over the years at the golf courses and with the regular clients."
It was through a friendship with another member at his home club that Marshall's tenure with PerryGolf began. John Finnegan competed against PerryGolf co-founder Colin Dalgleish on the amateur golf circuit and was working as a concierge driver in 2000 when he told Marshall the company was expanding its tours.
Marshall, 60, was working as a taxicab driver in Glasgow at the time. He jumped at the chance to pilot golfers around the land where he's lived his entire life and where the game was born.
"I had no experience in this line of work," he said.
He adapted quickly and excelled easily, understanding that on certain tours there might be as many as 16 golfers, pulling in different directions, each having a unique vision of the ideal golf vacation.
Learn more about the VIP Coaches & Concierge Drivers
"There are only so many things you can do in a day," Marshall said. "People are here to have fun. They want to laugh."
Marshall keeps the mood light and the spirits high. He chuckles when clients arrive in Scotland with predetermined notion of the restaurants and pubs they should visit in the evening.
"They'll look at guide books and think they know where they want to go," he said. "The places that are listed in guide books, I reckon they've paid advertising fees to get in there. Very few are the ones I would use, I like the local flavor in St. Andrews, Turnberry and Troon."    
As for his own golf game, Marshall said he's never won anything other than the 'odd five pounds' in a match the club where he's belonged his entire adult life, Haggs Castle Golf Club. The course, built in 1910, is a parkland layout considered one of the best in western Scotland. For many years it was site of the Glasgow Open and in 1986, the Scottish Open, won by television commentator and host David Feherty.
Near the end of a tour, it's typical for clients to start planning ahead to their next visit to Scotland, wanting to experience the courses and cultures of one of the country's unique regions, from the Highlands to Ayrshire to Aberdeen.
With a slight prod, Marshall lists his favorite links in Scotland: The Ailsa Course at Trump Turnberry, basking in the light of its recent renovation; Kingsbarns, host of the Dunhill Links and the first Scottish course to be built on linksland in 70 years when it opened in 2000; Royal Dornoch – an absolute must play for aficionados of prolific architect Donald Ross, who designed more than 400 courses in the United States.
You probably won't enjoy the good fortune which spun toward Marshall and a group of PerryGolf clients on a trip to Royal Dornoch. They were honored to meet Tom Watson, the American legend and one of the first to convey to the golfing world the joy awaiting on the ancient links where Ross apprenticed under Old Tom Morris.
https://www.perrygolf.com/standard-quote.php/76553/Highlands-of-Scotland.html
However, having been there many times, Marshall will offer this piece of advice for those venturing north to the Highlands to play Royal Dornoch – play it twice, on consecutive days because the first round is certain to present a challenge quite fierce.
Marshall remains happily busy during the golf season from April to October, helping host a variety of trips with groups as large as 16 people and lasting anywhere from 5 to 12 days.
During the winter, he rests – as much as his seven grandchildren will allow.
His four sons and daughter all live within a five-mile radius of his home in Glasgow.
"They keep me on my toes," he said.
He always looks forward to resuming his duties behind the wheel. Like other longtime PerryGolf concierge drivers, Marshall relishes the relationships formed through the years.
"It's good when you get to know some of the clients," he said. "Over the years we've become friends. And we stay in touch two or three times a year and get to know our families … build a bond and a friendship."