The Cathedral of Santa Maria del Fiore in Florence is one of many memorable attractions in Italy made readily available on a PerryGolf Escorted Tour, catering to couples.
From the banks of Venice to the shores of Sydney, whether observing the flightless Kiwi or simply gazing out upon the beautiful water of Lake Como, PerryGolf offers myriad destinations for couples who seek to combine their passions of travel and golf.
Enrich your mind and replenish your soul while pursuing those pesky pars, making lasting friendships along the way with similar minded folks who walk alongside on a unforgettable journey. Each of PerryGolf's Cruises, Custom Tours and Escorted Tours provides not only a host of activities, sightseeing, dining and, of course world class golf on amazing courses, but also ample time for relaxing, recharging and enjoying a vacation certain to create indelible memories.
(Also, keep in mind that if you book a PerryGolf cruise by March 31st, your better half saves HALF, and you will also receive free internet while on board select Azamara cruises).
While PerryGolf can take you from the British Isles to South Africa and many points in between, learn more about these three destinations which are ideal for golfing couples:
Italy
If ever there was a country suited for traveling couples, it's this European destination which is famously shaped like a boot.
Milan. Venice. Rome.
Shopping. History. Food & Wine.
Whatever you prefer – or why not a taste of each? – Italy caters to couples, allowing ample opportunity to indulge and inhale each scene and delight. Inquire about PerryGolf's Best of Italy Escorted 2018, which begins Aug. 25 and spans two weeks, traveling from bustling city streets to quiet countryside. Admire Michelangelo's amazing painted ceiling in the Sistine Chapel, feel in awe while gazing deep into Da Vinci's Last Supper and you never know which A-List celebrity you may bump shoulders with while strolling about Lake Como.
The golf is stellar. Marco Simone will be the site of the 2022 Ryder Cup and is certain to present a daunting challenge to the finest professionals from Europe and the United States. Located 10 miles from the center of Rome and meandering around an 11th century castle, Marco Simone combines a creative mixture of challenge, beauty, risk and reward, designed by noted American architect Jim Fazio. The par-5 16th hole, measuring 550 yards from the championship tees with its green defended by a menacing stream is certain to snare the attention of each man or woman who passes through.
The quaint, beautiful towns of Sorrento and Positano sit perched high upon steep cliffs overlooking the Mediterranean.
A major shipping hub and port in the 18th century, Positano today is a sophisticated resort gazing down over the gorgeous central Amalfi Coast in Italy. Explore along steep flights of steps, if you wish. The town's origin is traced to the ninth century and its nucleus centered around a Benedictine Abbey.
John Steinbeck, Pablo Picasso and Liz Taylor are among those who have fallen hard for the charm of Positano.
New Zealand
Sparse in population, rich in beauty and abundant in local hospitality, New Zealand demands at least one visit from any adventurous traveling couple.
From Taupo to Queenstown and every interesting point in between, PerryGolf delivers a unforgettable experience in New Zealand, offering both an Escorted Tour which begins Nov. 5th and a delightful cruise which departs in January, 2019 in addition to Custom Tours of your preference.
Let's start with the golf, which in recent years has increased in quantity and quality. The incredible landscapes, rocky cliffs and vistas of sparkling blue water provide the perfect canvas, enabling talented course designers to craft masterpieces worthy of the trip required to experience them.
Along those lines, Cape Kidnappers receives all the headlines – and rightfully so. This Tom Doak masterpiece makes Pebble Beach look mundane, demanding shots over trees to targets in slivers of land nestled 500 feet above the glorious Hawke's Bay. Equally enjoyable is Royal Wellington – the first in New Zealand to receive the Royal designation – and a regular host of the New Zealand Open – most recently in 2014.
Away from the links, Hawke's Bay and its world-renowned wineries will make any wine connoisseur feel warm and fuzzy. It's the nation's oldest wine producing region in New Zealand is known for its full-bodied red wines and complex Chardonnays.
Lake Taupo is a destination beyond description. Called "Nature's Ultimate Playground," the brilliant scenery from Huka Falls to Mine Bay Maori Rock Carvings must be explored and PerryGolf provides ample time for just this on the journey.
Australia
Dates haven't been finalized for the Best of Australia Escorted Tour 2019, but expect it to begin in January or February – and expect it to fill up quickly. The array of quality golf, interesting cities and warm people make Down Under a special landing spot. Then again, the warm climate awaiting when most Northern Hemisphere residents battle nip and chill of winter doesn't hurt Australia's seasonal popularity, either.
The golf is stunning in this grand sporting nation. We'll discuss, momentarily, the world renowned layouts and immaculate conditions. But first, consider the wealth of attractions to realize in Sydney, Melbourne and beyond.
When discussing iconic images, the Sydney Opera House takes center stage. Located on the glorious Sydney Harbour and perhaps the most easily recognized structure in all of Australia, it welcomes seven million visitors annually. Take a guided tour or better yet – enjoy one of the 1,500 performances the Opera House holds each year.
For deluxe accommodations, the Langham Melbourne is an exquisite 5-star hotel on the banks of the Yarra River. Calm your body, mind and soul as East meets West in the Chuan Spa, which is considered among Australia's finest.
Vue de Monde is simply one of many elite dining options available in downtown Melbourne. Be sure to save room for the rest and enjoy the view from 55 stories above the city, gazing across the skyline.
In Queensland be certain to visit one of these restaurants. We can almost taste the Patagonian Toothfish and Sydney Rock Oysters.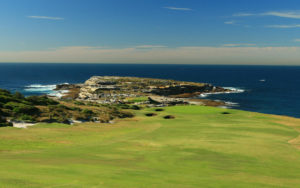 There are so many of the world's best golf courses from which to choose. New South Wales (right) opened in 1928 after the Scottish architect Dr. Alister MacKenzie unveiled his brilliant vision. Abutting the Tasman Sea and Botany Bay, the layout is routinely ranked within the top five in Australia. Over on the northeast coast of Tasmania, the two courses at Barnbougle Dunes – The Dunes and The Lost Farm send scribes scrambling to the online thesaurus seeking other ways to say spectacular.