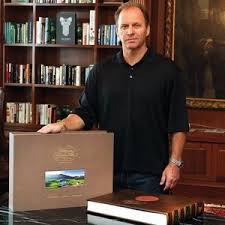 Top South African golf photographer Grant Leversha has been awarded the highest international recognition for his latest project: Within an African Eden – Golf Courses of South Africa.
When I conceived the idea to produce a work on golf courses in South Africa, my vision was to set a new publishing standard and I decided from the outset that the end result would be a sumptuous work of art…
Leversha began his career in sports photography back in 1992, where he became the official photographer of the Springbok Rugby Team in South Africa.  By the mid-90's, Grant began focusing both his camera and attention on another significant passion of his – golf.  He has become a very established and respected photographer in the industry, winning numerous awards over the years.  While Grant is perhaps the most recognized golf photographer in South Africa, his portfolio of photography and upstanding reputation in the industry also stretch around the world: USA, Canada, Thailand, and Northern Ireland.   Among some of the most notable venues he has worked with are Pebble Beach, Cypress Point, Royal County Down, and Troon North.

VIDEO: Grant Leversha: Within an African Eden from Grant Leversha on Vimeo.
Leversha's anthology of the most iconic South African golf courses was captured on large-format camera systems and features a brief history of each course – truly a remarkable work of art from "tee to green."  From the highest standards of publishing to its full-leather binding to its calligraphy, illustrations, and printing; it's to no surprise this spectacular opus beat out thousands of other reputable entries from around the world, earning Leversha gold in three major international publishing/printing awards:
He went on to say, Every aspect in the production of this work has been carefully researched, and I engaged only the best of professional craftspeople in their respective fields.
Grant Leversha's scrupulous style and creative usage of natural light, together distinguish his photography from others in the field.   Even achieving his many accolades, Leversha remains very humble believing all gifts and talents are God-given: In the independent publishing world these are considered the 'Oscars' and I am hugely encouraged that experts in the field of publishing and art books have recognized this work to be worthy of such accolades.
One judge concluded, What made it stand out was the extreme care taken with the breathtaking photography, superb writing, outstanding layout, and exceptional binding. In this day and age it is a joy to discover fine quality in both writing and design. But for this once-in-a-lifetime book to show up, the complete and total opposite of thriftiness and immediacy, is something this judge will never forget.
His publications are limited in quantity: only 1000 numbered copies in total comprise the Premier Collection and Masters Collection – a mere 26 of which make up the Masters Collection.  While both collections are endorsed with forewords by Johann Rupert, Gary Player, Jack Nicklaus, Ernie Els, Nick Price, Peter Matkovich and Ronald Fream, only the Masters Collection is signed by each.  Leversha remarked,
I am equally proud that this is going to prove to be a lasting legacy to golf in South Africa. The game is in good hands and these awards together with the increasing global footprint of collectors, will ensure South African golf and South Africa as a country is well showcased.
Want to see what all the hype is about? Check out his stunning photography on his website. Only one copy of the Masters Collection remains for sale!
Ready to take a golf trip to South Africa?  Browse the latest PerryGolf South African golf travel opportunities on our website.
About the Author: Harrison Gould is the Social Media Marketing Manager of PerryGolf, the leading provider of international golf vacations. You can find him on Google+