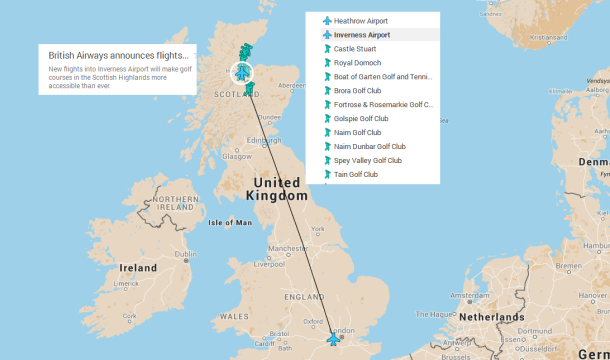 British Airways has announced new daily flights from Heathrow (LHR) to Inverness (INV), Scotland. This is exciting news for businesses operating in the Scottish Highlands, as beginning May 3, 2016, it will be even easier for tourists to visit the Scottish Highlands and enjoy the many fantastic experiences the region has to offer, from its renowned links golf courses to distillery, castle and garden tours.

Operating an Airbus A319 with up to 143 seats, travel time from London to Inverness shall be ~1.5 hours. Inverness Airport is situated about 10 minutes from Castle Stuart Golf Links and 75 minutes from Royal Dornoch Golf Club – two highly popular links courses that are consistently ranked among the world's best.
[Tweet "British Airways offers new flights from Heathrow to Inverness | #PerryGolfTrip #ScottishHighlands"]
This new routing will encourage travelers from around the globe to visit the Scottish Highlands, which is known for its dramatic scenery, turbulent history and its residents' warm Scottish welcome.
For golfers, this is fantastic news. Convenient air travel arrangements coupled with PerryGolf's "Scottish Highlands Golf Trip" are grounds for a most enjoyable golfing vacation package in Scotland.

For more information about this announcement from British Airways,
click here
.
NEW! More Convenient Air Travel for Golf Trips to Scottish Highlands #BritishAirways… https://t.co/LgUfQeMj7C pic.twitter.com/4pM5jRwfP2

— PerryGolf (@PerryGolf) November 5, 2015
About the Author: Harrison Gould is the Social Media Marketing Manager of PerryGolf, a leading provider of international golf vacations. You can find him on Google+, LinkedIn, Twitter, Instagram, and Pinterest.