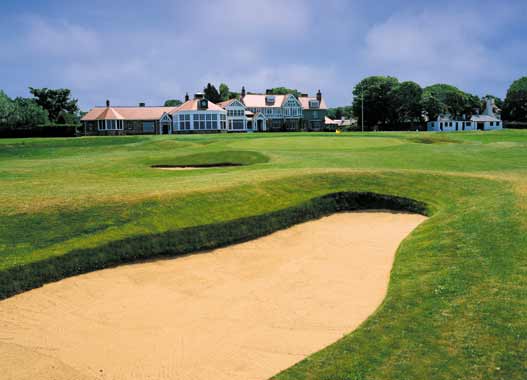 The Open Championship returns to Muirfield golf course this week for the first time since 2002.  Muirfield is located in the small town of Gullane, Scotland.  Part of the East Lothian, Muirfield is just one of the excellent links courses that abounds the area.  Home to Honorable Company of Edinburgh Golfers since 1744, Muirfield will undoubtedly produce a true champion of the game at this year's Open Championship.
Known for its difficult weather conditions, The Open is perhaps the most distinctive major of all.  You'll see bump and runs, low spinners, and "texas-wedges" played at Muirfield.  You'll see well struck balls get knocked down by the fierce wind and come up twenty yards short of the dance floor, and you'll see beautiful knock down, finessed shots not be able to hold the green with wind in back.  Golf never sees itself more clearly than it does at a British Open, as we come back to its origins here in Scotland.
Muirfield has a distinctive design with the front nine wrapping along the outside of the links and the back nine circling the interior.  Over the Winters of 2010 and 2011, changes at 15 holes were made, including the introduction of new bunkers in selected drive areas; the relocation of green-side bunkers to tighten the entrances to greens; the extension of greens to provide more championship pin positions, and the introduction of six new championship tees taking the course to 7245 yards in length.
Trees are a great way to tell time and nothing marks the passage of time more graphically than growing trees. Like other links courses in the area, it too is a treeless course, looking probably just how it did when Vardon won in the twenties, and Braid and Hagen.  We get a deeper appreciation of the game as we remember how the founders played the game.  Here at Muirfield, where also Cotton won, and Gary player and Jack Nicklaus and Tom Watson, this July 18-21 will certainly mark another great chapter in the tradition of the game.
As a reminder to how difficult play can be at The Open Championship, and at Muirfield for that, here is a short video from the 2002 Open when even Tiger Woods shoots  an 81.
Follow PerryGolf on Twitter at @PerryGolf for the latest information on the Open Championship.

About the Author: Harrison Gould is the Social Media Marketing Manager of PerryGolf, the leading provider of international golf vacations. You can find him on Google+