An opening became available to play Muirfield for the first time when a group of past clients invited me to play with them.  Chuck Battey, his son David, and son-in-law John Fraser had a great two-week Scotland itinerary in mind.  Muirfield was one of their 'must plays'.  As there were only three of them, they asked if I would join them so that the group matched the clubs requirements; all visiting parties are in multiples of 2 players.  Naturally, I accepted the invitation without hesitation.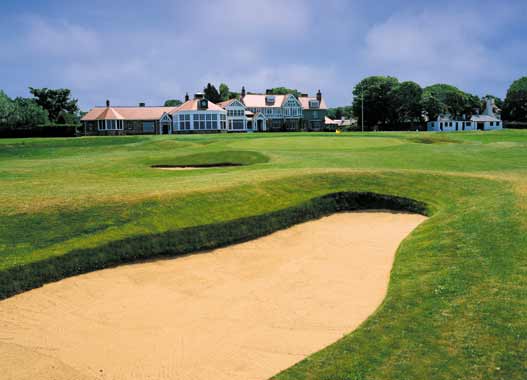 The course isn't laid out like a traditional, straight out and straight back, links course.  It's structured in two loops, so the wind comes at you from a different angle on almost every hole, making it more challenging – yet without doubt, more interesting.  More details on what many people consider to be the best golf course in Scotland, can be enjoyed at LinksMagazine.com.
After golf, the Battey's told some wonderful stories about their many previous trips with PerryGolf while we enjoyed a fantastic roast lunch in the clubhouse (where lamb, beef, chicken and all the trimmings were available at the buffet).  Our schedules didn't allow time to go back out on the course for the traditional alternate shot afternoon round; however the day was already special enough.
Visitor tee-times at Muirfield are not the easiest to come by as they only permit visitors on Tuesday and Thursday mornings…so if you'd like it included in your schedule, be sure to start planning it well in advance of your travel date.  By well in advance, I'd recommend 15 months prior to the time of travel as that's when their diaries open up and the tee-times don't remain available for long.  It's well worth the planning, as it is one course you won't want to miss.
By Keith Baird.  Keith has been with PerryGolf for over 10 years and is one of our Golf Travel Specialists.