A visit in February was made to St Andrews, Scotland by PerryGolf staff – Daryl Youden, Yasmin Falconer, Gary Sheppard, Michael Paterson. In this article they provide insight to various accommodation and dining options in StAndrews.

Old Course Hotel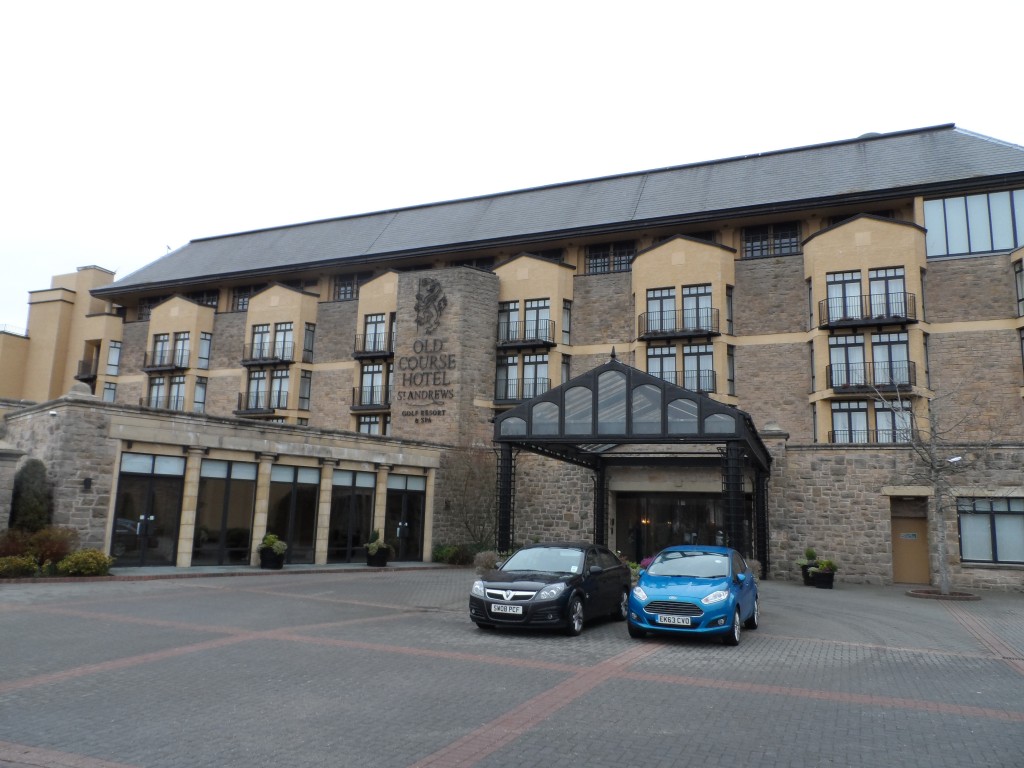 The PerryGolf team of golf travel specialists visited the Old Course Hotel. Despite some maintenance going on at the hotel, they were able to see an Eden Room, Deluxe Suite and an R&A Suite. The rooms as you would expect are luxurious and spacious with a warm red color featured heavily throughout both the rooms and corridors, on account of it being Mr. Kohler's (the owner) favorite color.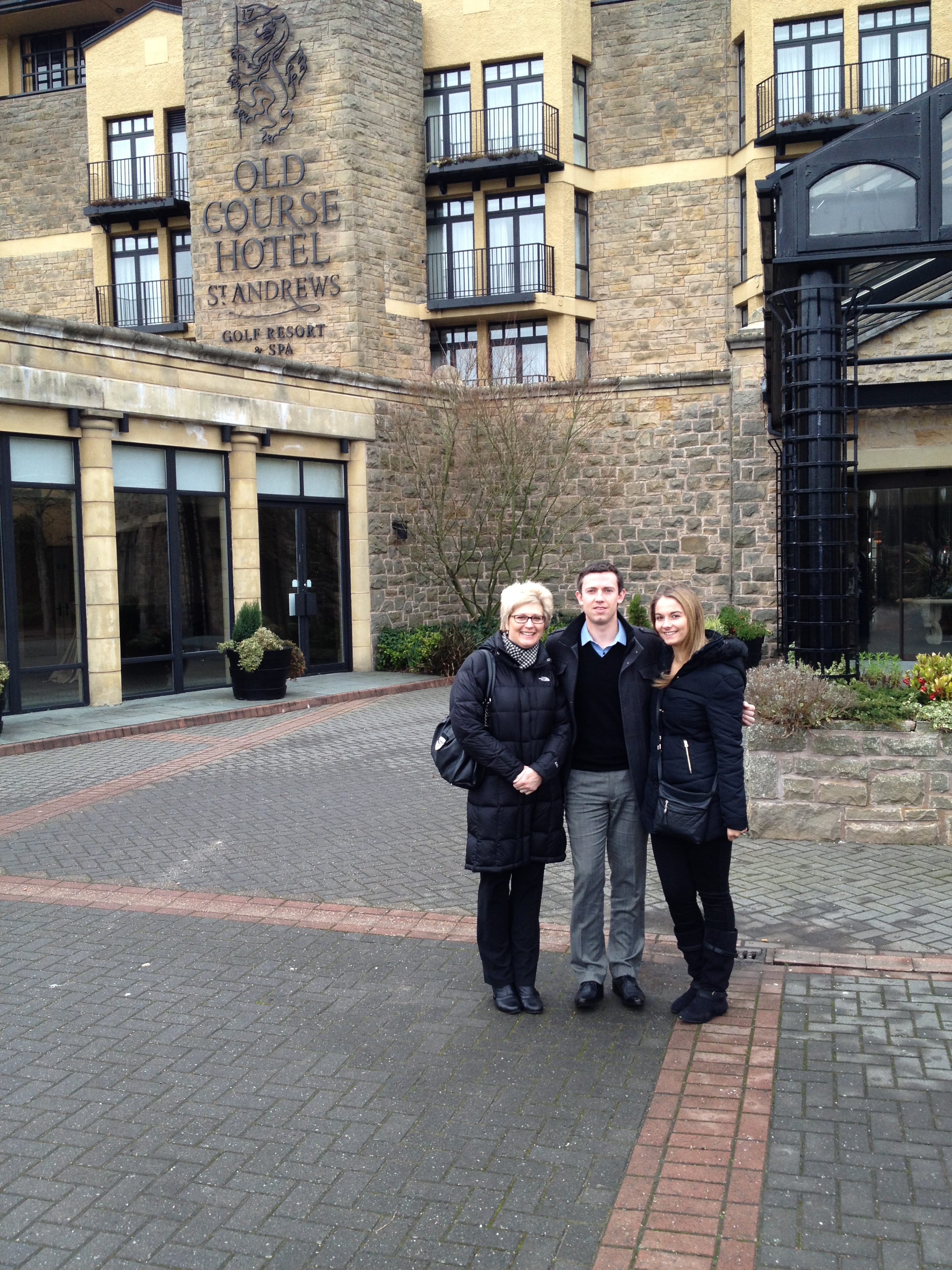 Guests will not be short of options for dining or enjoying a refreshment during their stay. The spacious West Deck overlooking the Road Hole makes for the perfect place to enjoy a drink in the summer. The Road Hole Restaurant (3AA Rosettes) serves breakfast, lunch and dinner daily. Located on the fourth floor, the restaurant offers fantastic panoramic views of the golf courses and sea.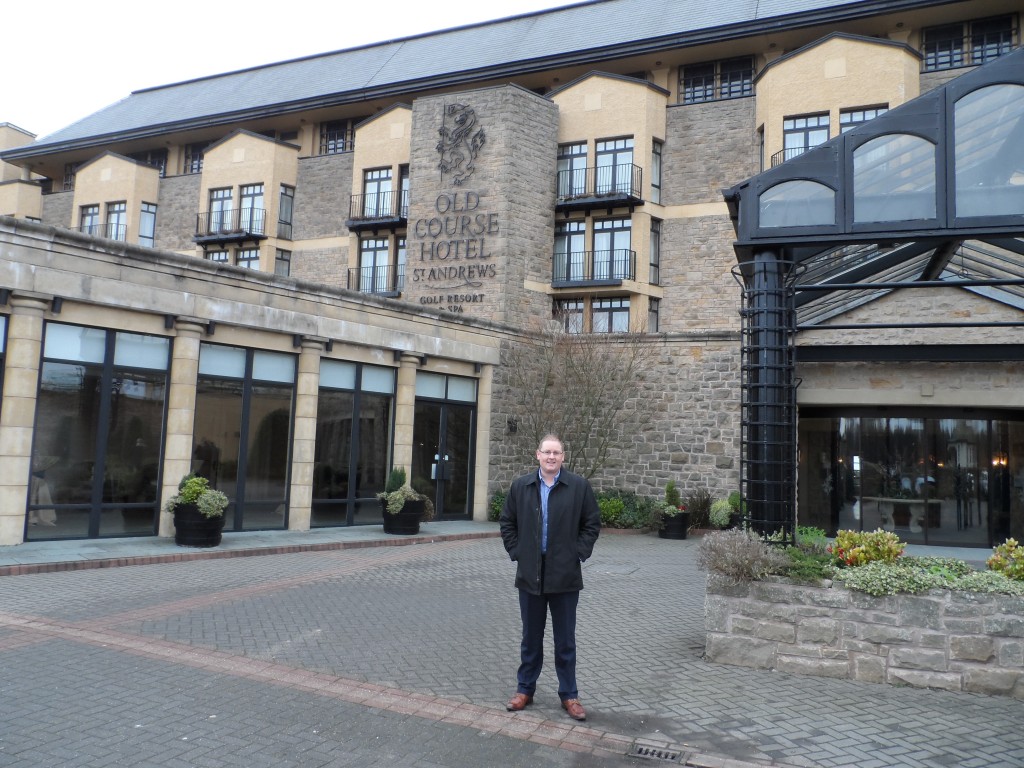 Located next door, The Road Hole Bar offers equally impressive views serving food daily until 5pm. The bar offers an wide range of drink selections but perhaps most notable is its lavish whisky collection that represents every operational and many mothballed distilleries in Scotland. Whisky tastings can easily be arranged for groups of all sizes. Private dining for larger groups is available in the Board Room next to the Road Hole Bar. On the ground level and specializing in steak and seafood is The Sands Grill. The study and conservatory areas provide a quiet space to enjoy a refreshment. The very popular  Jigger Inn provides food, drinks and an exceptional view of the Old Course at St Andrews.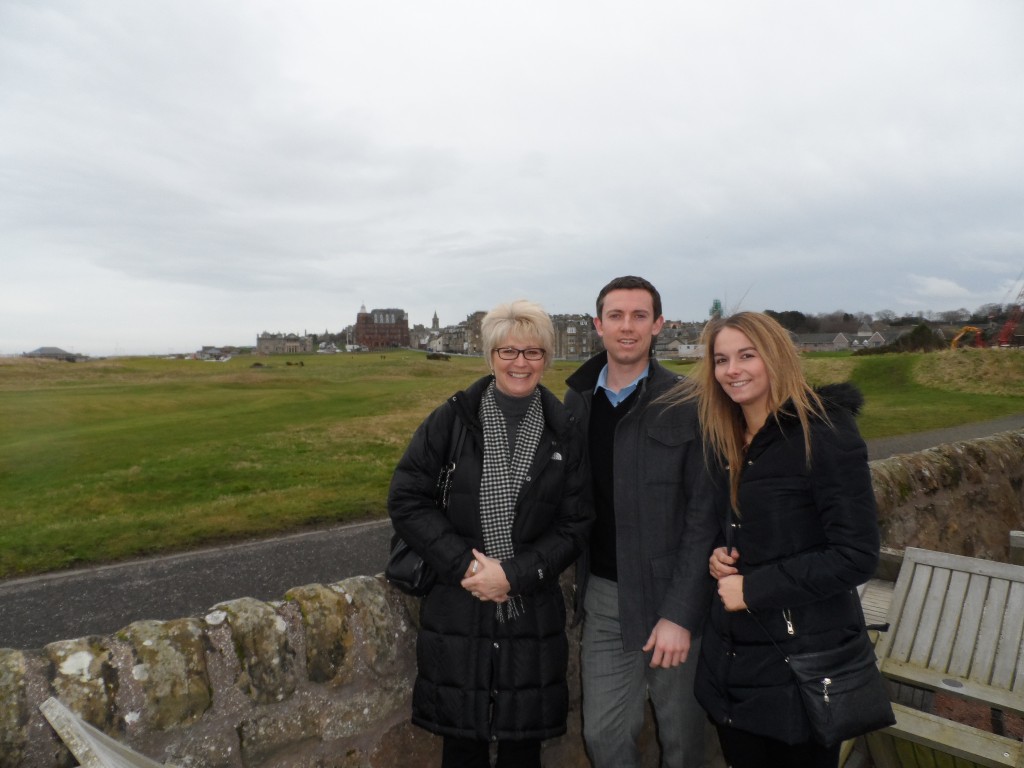 The Kholer Spa is the first of its kind outside of the U.S.A. and offers a range of treatments. In addition to the luxurious treatment rooms, the hotel has a pool, thermal suite, rooftop hot-tub located at the rear of the building, and a fitness suite.
Fairmont St Andrews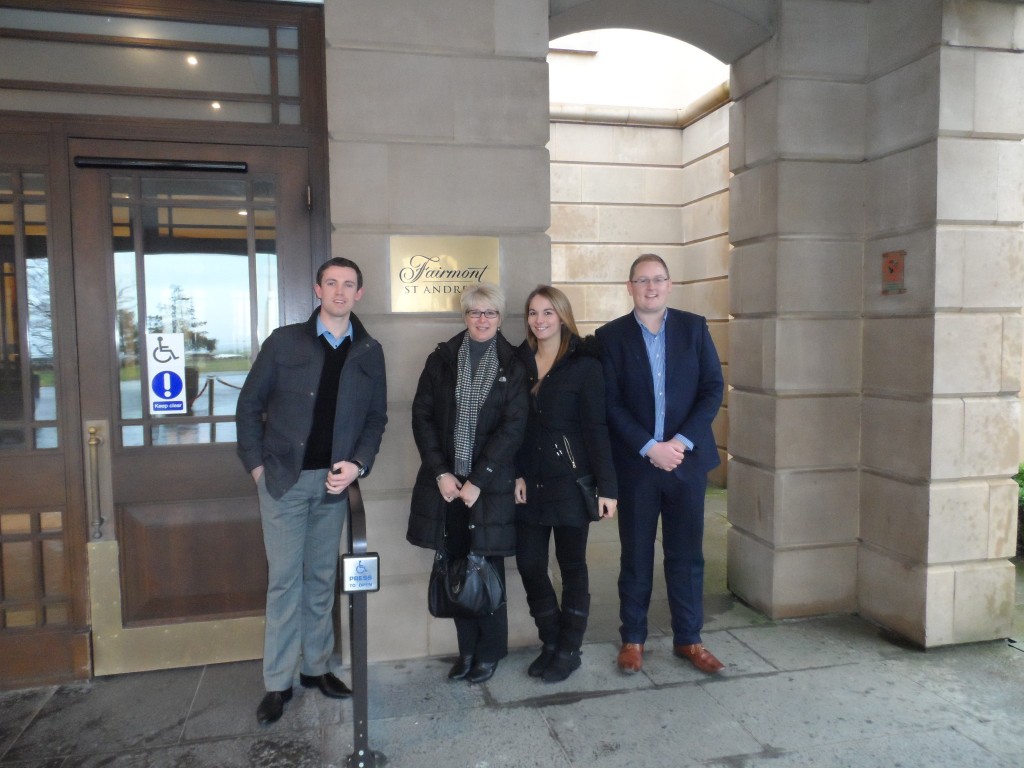 At The Fairmont St Andrews, we had an enjoyable lunch in the Kittocks Den, an area located just next to the reception serving food and drinks. We were shown a variety of bedrooms at the Fairmont: The Fairmont, Fairmont View and Deluxe Sea View Room only differ in view, and all offer a single king-size bed as a double or two queen-size beds as a twin. Despite the larger twin beds, all the rooms felt very spacious. They managed to see a Junior Suite which offers a slightly more spacious sleeping area than Fairmont Rooms, and also an Executive Suite which dwarfs even the Junior Suite offering a separate lounge area.
The Squire, Esperante (soon to be rebranded as an Italian) and the Kittocks Den offer dining options within the hotel plus The Rock and Spindle Bar seems a great place to enjoy a snack or drinks and where guests are able to relax whilst also taking part in a game of pool/snooker, game of darts or watch some televised sport. The Atrium within the hotel is a tranquil open area which is filled with comfortable seating where afternoon tea can be served. Just a few minutes away is The Clubhouse which commands a dramatic cliff-top setting and stunning views over the magnificent bay of St Andrews. It's ideal by day for lunch whilst soaking up the views or an informal yet stunning dinner by night.  The shuttle bus or your PerryGolf VIP Coach Driver will transport you to and from the Clubhouse at your convenience. I should note that the hotel has an extensive range of function rooms which vary in size, so depending on your group size and type of trip, PerryGolf may arrange for you an event requiring access to such room.
One thing for sure, you can't go wrong with either option. The location of the Old Course Hotel is of course a grand feature it boasts. You'll get a special feeling walking through its hallways and noticing small touches like the British Open past champions boards and past champions picture gallery. On the flip-side, the Fairmont St Andrews also has a great location, and with transportation services at your fingertips, it isn't an issue. Many groups of men enjoy the Fairmont because it offers pool, darts, and unique sports bar facilities.
Restaurants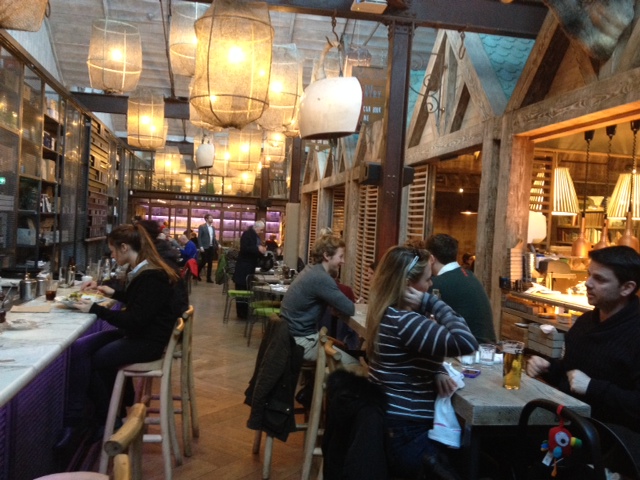 The staff also managed to take a look at various restaurants throughout the town but one in particular that I'd like to mention is Forgans, which opened in May of last year. We managed a look inside the restaurant which is on the site of an old golf club making factory. An old "cleek" (driving iron) was found during the building of the restaurant and they plan to display it in the restaurant which may be interesting to golfers. Within the restaurant there are 5 different "bothies" each with a unique design which operate as private dining areas. Each hold between 8 and 12 people but can be combined to hold larger groups. The restaurant is gaining positive reviews on TripAdvisor and may the perfect place for private dining of larger groups.
Another stop worthy of mentioning was at The Adamson. The Adamson menu has been developed by an experienced team and is inspired by classic brasserie cooking with a contemporary twist and a strong seasonal influence. The food is complimented by a well-balanced selection of quality wines, spirits and cocktails.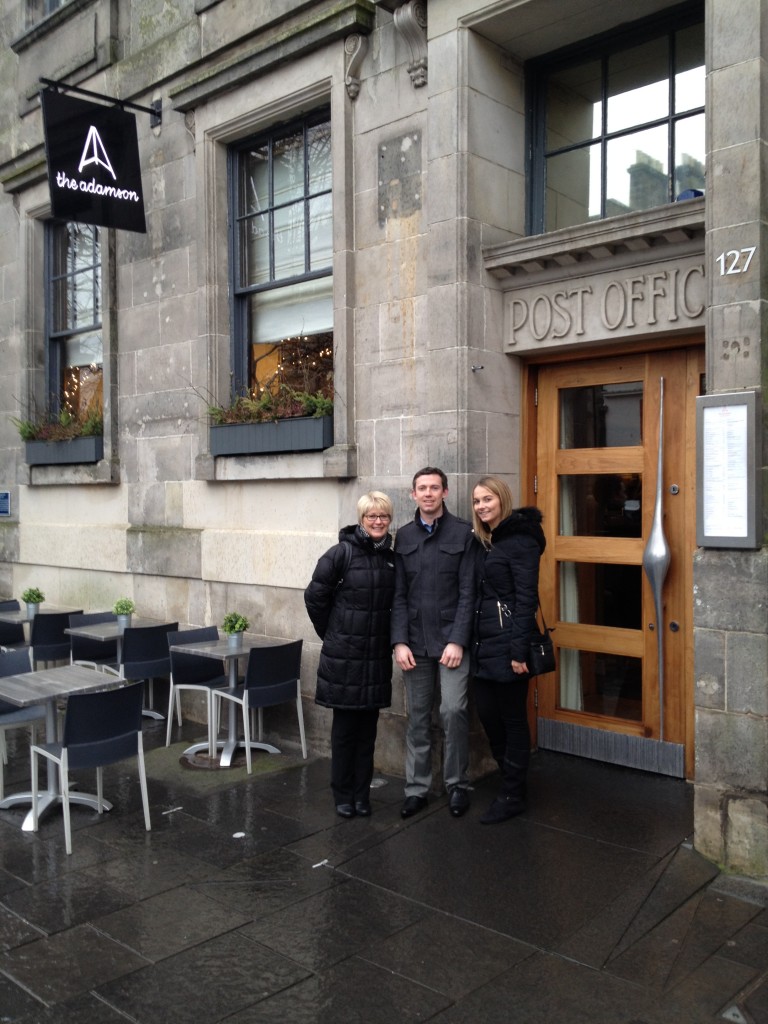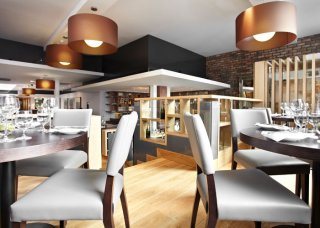 Also throughout the day the staff managed to pass by Hotel du Vin St Andrews, which recently opened April 1, 2014. Before returning home they stopped in at the Kingsbarns Golf Club.
Hopefully this has been a useful summary of our visit.
Written by: Michael Paterson
About the Publisher: Harrison Gould is the Social Media Marketing Manager of PerryGolf, a leading provider of international golf vacations. You can find him on Google+, LinkedIn, Twitter, Instagram , and Pinterest.