Is there a better pub anywhere in Scotland than the Jigger Inn?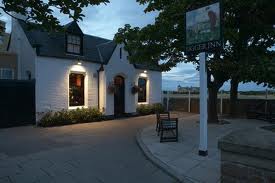 In terms of location, I doubt it, as it stands to the right of the 17th hole on the Old Course; arguably the most dramatic hole in major championship golf.  With a decent sized outdoor seating area from where you can watch golfers hit their approach shots to the 'Road Hole', it makes the perfect spot for lunch at the height of the summer.  Traditional fish and chips with mushy peas is the speciality, but with a wide range of great pub grub to choose from, and with everything made to a very high standard, it's a meal you'll enjoy for more than just for the great view.  Even on a cold and rainy day, the log fires inside make it the ideal spot to warm up, and with a wide range of local beers and malt whiskeys, there's something for everyone.  If you're in St. Andrews and you're looking for a casual but enjoyable lunch, you needn't look any further.
By Keith Baird.  Keith has been with PerryGolf for over 10 years and is one of our Golf Travel Specialists.