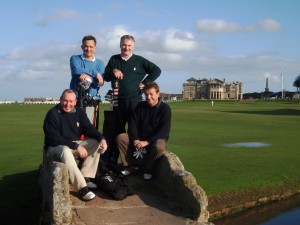 Golf in late autumn is not something that many from overseas tend to travel to Scotland for, but for sure you may be missing a great experience! …. by necessity my personal 2009 golf season kicked off late, but threw up some great treats … let me tell you more;
During 2009 in addition to trying to carry out my "day job" at PerryGolf, almost all my spare time was consumed as Captain of the Great Britain & Ireland Walker Cup Team travelling the length and breadth of the British Isles, plus Europe and the USA, to major amateur events watching potential candidates for the team for our match against the USA at Merion Golf Club September 12-13. Simultaneously I was working on arrangements for what would be our ten days together as a team, including details of preparation, travel, team clothing, special team events (as a team send-off we were even fortunate to enjoy an audience with the Duke of York in his private study in Buckingham Palace, himself a very keen golfer and recent Captain of the R&A, prior to our departure to the USA).
While the result (16.5 USA, 9.5 GB&I) was bitterly disappointing, with so much work and effort put into it by so many people, it was none the less an extraordinary shared experience for us as a team, that none will ever forget. The USA were worthy winners under the excellent guidance of Captain Buddy Marucci, and they were unquestionably fine ambassadors for the United States. It was certainly all a very high intensity time.
So, it was a welcome quiet time in late October and early November when I had the chance of playing some golf in Scotland. And, boy, did we pick some unbelievable days.
First up mid October I hosted the Chairman of Selectors of the GB&I Team, and two members of the selection committee who I have worked with these past few years, at Loch Lomond Golf Club only 15 minutes from my home. The day began clear with blue skies, the course was simply superb, and we enjoyed a 24 hole day with a great lunch taken outside. On a fine day there can be no more spectacular place to play golf, and it more than made up for my many missed rounds there during 2009.
Later in October I was fortunate to join a number of teams playing in an event on the Ailsa Course at Turnberry to mark the retirement of the Head Greenkeeper, the almost legendary George Brown. George has overseen Turnberry Links for 24 years including the hosting of three British Open Championships (1986, 1994, 2009). This event, the George Brown Invitational, was arranged by the hotel almost unbeknown to George, and included teams comprising many whom George had dealt with over the years, from the local Club, greenkeeping association colleagues, the R&A as British Open organizers, travel companies etc. Fittingly the Ailsa Course was in magnificent condition, shirt sleeve weather, and a most enjoyable day was had by all ….. again I thought can there be any finer place to play golf!
Two days later I joined three good friends on the Old Course of St Andrews on the second last day of October. We were celebrating an unusual occurrence. During 2009 one was Captain of Portmarnock Golf Club, one was Captain of Royal County Down Golf Club, and one was Captain of Gullane Golf Club, and I was Captain of the GB& I Walker Cup Team. Brendan Cashell, Captain of Portmarnock Golf Club, despite extensive golf travels had never before played the Old Course, and thought this would be a great way to conclude his golfing year. It was duly arranged and again we enjoyed a warm and sunny day on the Old Course. My "highlight" of the round was on the Road Hole where a badly blocked drive surely had to hit the right side of the roof of the Old Course Hotel, yet a few bounces later (hotel roof, Jigger Inn, wall, and roadway perhaps … all unseen-:), and suitably covered in black tar, it reappeared well down the fairway leaving a simple six iron to the green. As we walked off the 18th green I thought … can there be any finer place to play!
Ten days later and now moving towards mid November, I was back at St Andrews for a meeting of The Golf Industry Golf Society (GIGS), and association bringing together a number of senior people from throughout the golf industry in the UK (hotels, equipment, golf and golf event management etc) where we stayed at Fairmont St Andrews, the preferred hotel of PerryGolf in St Andrews which consistently gets excellent review by our clients. We played the newly redesigned and rerouted Torrance Course which enjoys a spectacular setting overlooking the town of St Andrews, and which has now been selected as a final qualifying venue for the British Open. The routing works well, the golf course is excellent, and again what a fantastic day … we could not believe it was to get better the next!
Following a fabulous dinner that evening in the Esperante Restaurant, we were out on Kingsbarns the following day, which almost invariably receives great accolades from our clients. A marvelous days golf in almost shirt sleeve weather, the course in exceptional condition, and looking out over a glassy North Sea as far as the eye could see. Again I thought can there be any finer place to play!
So, now my clubs will not likely reappear until the New Year … well aside of the occasional game perhaps. While Scotland cannot guarantee you these conditions in late autumn, based on my recent experiences it is surely worth a slight roll of the dice! … even if the weather doesn't always match up you can still be sure of a warm welcome!