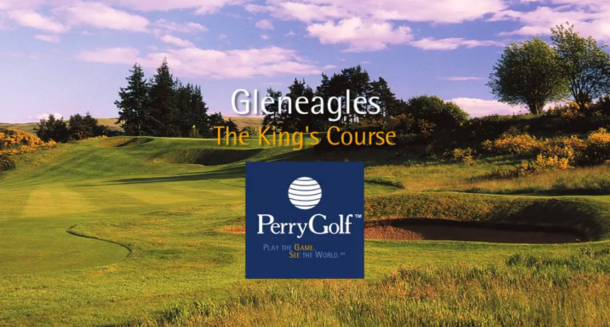 Located in Auchterarder, Scotland, The King's Course at the 5 star luxury Gleneagles Hotel dates back to 1919, representing the finest 'classical' golf course design. The King's course was the inspiration of James Braid, five-time winner of the Open championship.
It is certainly one of the most beautiful and exhilarating places to play golf in the world. With the sweeping views from the tees all around, the rock-faced mountains to the north and the green hills to the south, and the peaks of the Trossachs and Ben Vorlich on the western horizon. Of the more than 200 courses he would go on to design, The King's is considered to be Braid's parkland masterpiece.
You'll find links-style pot bunkers, heather and gorse combined with inland characteristics like trees and forests, a slower surface; plus numerous elevation changes of which several are considerable. The first hole is a good example. Take one or two clubs extra (depending on the wind) to reach "Dun Whinny's" elevated green whose front is guarded by a bunker twenty feet below the surface!
Gleneagles is also home to the Queen's Course and the PGA Centenary Course which hosted the 2014 Ryder Cup. A visit to Gleneagles is very often combined with golf and sightseeing in St Andrews, or it can serve nicely as the first part of a trip that includes the Highlands. The choice is yours.
Do you want to play Gleneagles King's Course? View the PerryGolf Scotland Package below!

About the Author: Harrison Gould is the Social Media Marketing Manager of PerryGolf, a leading provider of international golf vacations. You can find him on Google+, LinkedIn, Twitter, Instagram, and Pinterest.