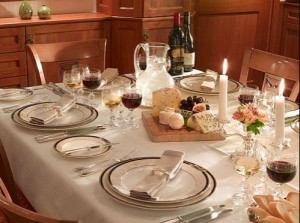 Whether you're a gourmet chef, wine guru, or cheese connoisseur – or simply love to sit back, relax, and indulge yourself in this refined type of cuisine while an aficionado in each area shares his expertise, you'll find that dining aboard a hotel barge is right up your alley.  Take a few minutes to read through this article, watch the video, and get a better understanding of how upscale dining aboard a hotel barge is when you travel with PerryGolf.
The classic traditions of French and International cuisine are an unforgettable highlight of our hotel barge cruises.  Each morning you'll wake up to newly baked breads, buttery croissants, and a variety of fresh pastries from the local patisserie.  Together with the aroma of fresh coffee brewing, enjoying your breakfast on deck is the perfect way to begin you day.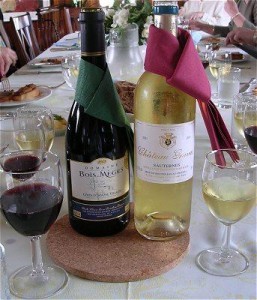 Luncheon, often enjoyed on the sun deck, will be a colorful arrangement of salads, pâtes, savory quiches and of course, a selection of cheeses, all accompanied by an excellent choice of wines from the barge cellar.
Dinner is the culinary highlight of each day. Served by candlelight, each course is a delicious creation, complemented by fine wines. Your chef will use the freshest ingredients, bought from the wonderful local markets, and pick herbs from the small on-board herb garden to produce wonderful regional and national dishes that are full of flavor.
Our hotel barge trips are not only fun, relaxing, and romantic, but are also educational.  Whether this is a new experience or not, you'll have the opportunity to learn about the cuisine, wines, and area from your Chef, Captain, and Tour Guide.  The epicurean cuisine and overall experience will of course vary, depending on the trip.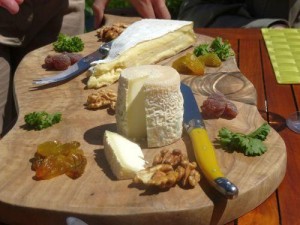 For example, in the French experience regional specialties range from a Filet d'Agneau au Basilic to Magret de Canard to Poulet à L'Estragon.  For the wine gurus out there, the wine cellar offers a very impressive selection – to name just a few: Chateau de la Saule 2005, Domaine Corsin, Pouilly Fuisse, Domaine Laroche, Domaine Comte Georges de Vogue.  Don't forget the cheeses – there's no better way to complement an excellent, aged bottle of wine with a variety such as these: Aisy Cendré, Bouton de Culotte, Epoisses, and Ami du Chambertin.
On the other hand, in the British Isles experience you'll see regional specialties varying from a Munro of marinated Salmon to Pheasant breast with Horseradish sauce to Navarin of Lamb with fine herbs.  Expect an equally impressive selection of wines, but also an assortment of single malt whiskies and 80 Shilling Ales.  Be sure to pair these with Scottish Brie, Whisky Chase, Stratdown Blue, or Orkney smoked!
To see more about these gastronomic experiences, please watch the video produced by our valued business partner European Waterways:
Dining aboard a Hotel Barge – Gastronomic Cuisine, Fine Wines and Delicious Cheeses
A travel partner of PerryGolf, European Waterways have been involved in all aspects of the hotel barge and travel industry for over 35 years including designing, building, owning and operating their fleet of luxury hotel barges.  We at PerryGolf are pleased to have partnered with them to provide these spectacular barge cruises.
It is our particular pleasure to present the hotel golf barges of PerryGolf.  Seven utterly charming vessels are offered for exclusive-use arrangements that will accommodate 8-18 Guests who enjoy the camaraderie of a supremely relaxing and localized experience in the Scottish Highlands, the suburbs of London, the Burgundy and Provence regions of France.

About the Author: Harrison Gould is the Social Media Marketing Manager of PerryGolf, the leading provider of international golf vacations. You can find him on Google+