Edinburgh is a city that should be on your list of places to visit while in Scotland; a great place full of charm and fascinating history. On a recent visit there, I stayed at the Sheraton Grand Hotel – the hotel is in an excellent location, only a short walk from the restaurants, bars, shops and the sights.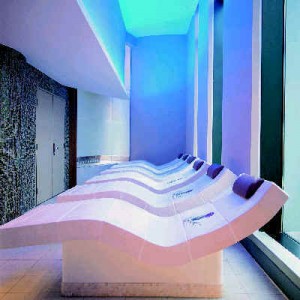 The highlight of my stay was a visit to the Thermal Suite located in One Spa at the hotel; you are able to enjoy the different spa experiences in the thermal suite that include a gently heated Laconium, the blissfully scented Aroma Grotto, the warming Tepidarium and the Rock & Bio saunas. You also have access to the Hammams, the rain forest showers and the rooftop Hydropool. There is an extra cost for use of the Thermal Suite – for a resident to utilize the Suite, it will cost an additional £25.00. I would say it was definitely worth the additional amount, it is a great relaxing experience and I would recommend this to anyone.

After an afternoon spent rejuvinating in the spa, I visited Edinburgh Castle which offers an interesting history and is always a 'must-visit' while in Edinburgh. I enjoyed drinks and dinner at The Living Room located in George Street, a short walk from the hotel. Excellent food; classic dishes that I would call home comfort food.
The evening was finished with a night at The Stand Comedy Club – never a disappointment and great end to an excellent night in Edinburgh.
By Denise McKee. Denise has worked for PerryGolf for over 10 years and is one of the members of staff responsible for our British Isles programs.