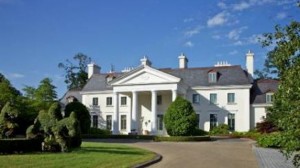 Situated in Straffan, Co. Kildare about 30 minutes from Dublin Airport and Dublin City Centre, the Straffan House is a luxurious private lodging located on the property of The K Club, recent winner of the Best Five Star Hotel Award at the 2013 Hotel & Catering Golf Medal Awards. 

Owned by Sir Michael Smurfit – founder and President of The K Club – the Straffan House spans 34,000 sq. ft. of luxury over three stories and basement.  Its contemporary, beautiful design and layout was influenced by The Kildare Hotel, which was the original house but is now the hotel.
The Straffan House offers luxurious amenities including a spa, fitness center, entertainment room, as well as a swimming pool equipped with a swim up bar.  And if you enjoy the occasional glass of wine, you will be pleased to see the glass-fronted, thermostatically-controlled wine cellar.
The decor is marvelous: from high ceilings to fine stucco work to stunning chandeliers throughout the property – the Straffan House is truly exceptional.  Equipped with ten bedrooms, you'll find the original and famous artwork adorning its interior to be anything but short of impressive.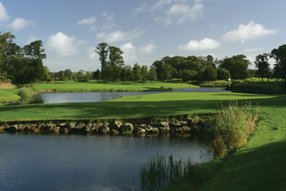 While laundry facilities and Wi-Fi are conveniently at your fingertips, perhaps one of the most attractive features of staying at the Straffan House is its inclusion of your own private chef, service team, and concierge.  Conceivably equally attractive are The K Club's two Arnold Palmer designed championship golf courses that you'll have full access to unlimited usage.
The Palmer Course, venue for the 2006 Ryder Cup, hailed among Europe's greatest courses; and The Smurfit Course, host to the European Open for three years.   Guests can also indulge at the luxurious 20,000 sq. ft. K Spa, considered one of the finest spas in Europe and by many, the best in Ireland.
If you're looking to play multiple venues, there are many more great golf courses in the area.  Within one hour of Dublin you'll find Portmarnock, Bernard Langer's Portmarnock Links, The Island, Druid's Glen, and Co. Louth. 
For non-golfers, venture out to The Irish National Stud and Japanese Gardens, see some classic horse racing action, visit the Straffan Butterfly farm, or do some shopping at the Kildare Village Designer Shopping Outlet; so much to do in just this area.  Dublin is only about 40 minutes away if you're interested in the  Top 10 Things to Do in Dublin, Ireland.

About the Author: Harrison Gould is the Social Media Marketing Manager of PerryGolf, the leading provider of international golf vacations. You can find him on Google+