Congratulations Gordon Reid, two Wimbledon titles in two days!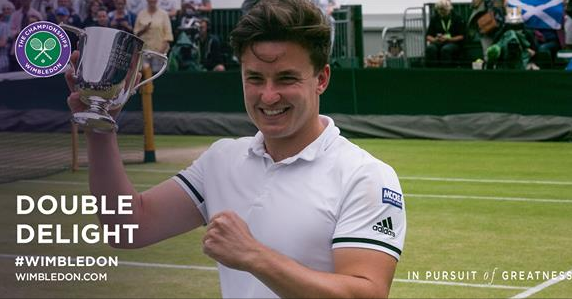 After claiming the doubles title alongside Alfie Hewett, Reid also went on to become the first Wimbledon Gentlemen's Wheelchair Singles champion, beating Sweden's Stefan Olsson 6-1, 6-4 in one hour nine minutes.

It's incredible to have the opportunity to play singles here. It's something I've dreamed of for a long time. To come here and win in front of all the people who I love. I'm never going to forget this moment.
Britons, Gordon Reid & Alfie Hewett claim Wheelchair men's doubles title: https://t.co/FEpu0AxwhU#Wimbledon pic.twitter.com/pdnA5y1Lt4

— Wimbledon (@Wimbledon) July 10, 2016
Cheered on by the crowd on a packed Court 17, and with cries of "Reid-o" ringing around the grounds, the 24-year-old added the singles crown to Saturday's doubles title, which he won with fellow Briton Alfie Hewett.


Of his first match point, which he squandered with a double fault, Reid went on to say,
The moment got to me a little bit, I let a little bit of doubt creep into my mind. My arm got a little bit tense and I didn't go through very fast with either of those serves. But I cleared my head and pushed back up for the second one. Just picked my spot and hit it well and the rest is history.
Reid described the win as a "bit of a dream", adding:

A Wimbledon title was always going to be unbelievable but to be the first to ever win the singles event, I'm never going to forget that.
Reid said he hoped the victory and attention wheelchair tennis has attracted would inspire others with disabilities.
For me, this sport has helped me so much in my recovery from my condition, my life in general. It's helped me a lot. Because we're busy as full-time athletes, we don't always have opportunities to give back to the sport. So if this can help in some way inspire more people and get more people playing and help other kids in the same way it helped me, that's just as special to me as winning the title.
Gordon Dalgleish, President of PerryGolf, went on to say,
This is a remarkable story which is genuinely inspiring by the son of our CFO. He overcame a debilitating disease contracted as a 13 year old. He has so much to be proud of.
About the Author: Harrison Gould is the Social Media Marketing Manager of PerryGolf, a leading provider of international golf vacations. You can find him on Google+, LinkedIn, Twitter, Instagram, and Pinterest.