Click here for trip summary & overview
Day 21  Play Cabo del Sol           Drive Cabo del Sol/Airport            Fly Los Cabos/Los Angeles
The alarm went off at 5:15 am, and before 6 am we were back on the road for a short drive to Cabo del Sol and our 6:50 am tee time. After a short conversation with the director of golf Brad Wheatley (1996) we were off the first tee as a twosome. The sun was blazing (almost blinding), the temperature was in the high 70's (eventually it reached the low 90's), and there was no breeze. We were the only people in long pants (to conserve luggage space I had not packed any short pants). My traveling companion was driving the motorized cart, and I was on foot. There were some steep walks up and down slopes (real hamstring stretchers), but being on foot afforded the opportunity to see some lovely ocean views that cannot be appreciated from a moving vehicle. There is a long walk between the seventh green and eighth tee down to the floor of a ravine that weaves through rock formations and a view of the sea and waves that you would miss on a speeding cart.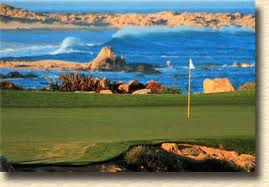 Cabo del Sol is a very expensive resort course (rated 68, designed by Nicklaus 1993)(played April 1996) and a massive real estate development. Substantial building had taken place during the year since my first visit. By the ninth tee there was a huge sign announcing "Grand Opening – Hacienda Del Mar – World Class Vacation Ownership," and five-story buildings were partially blocking the ocean views from the course. Even with our early starting time there were two slow foursomes in front, and we had to wait on many shots. We did not have any breakfast, so a granola bar was a welcome addition at the tenth tee as was a sandwich on the sixteenth tee.
After golf we drove back to the airport, where I told my traveling companion that I thought it would be best if he went home. Earlier in the trip we had reviewed his responsibilities, but little progress had been made, so it became obvious to both of us that we should call it a day for him. I had paid all his expenses, and he had played 20 of the best courses in the world. The parting in the LA airport was amicable and convenient for both of us.
At the Mexican airport passport control the same government official from the previous night was present. He was friendly but suspicious. Why was I in and out of this remote part of Mexico within 15 hours? Fortunately he believed my explanation. The 910-mile 2:30 pm Alaskan Airlines flight arrived in Los Angeles at 4 pm (watch set back one hour).
I was met at the airport by Tim (the Cheech) Clark (1963), and he was the perfect tour guide for the next 24 hours — chauffeur, meals, bed, playing companion, tension relief. I did not have to worry about directions in this crowded and complex town. At Tim's new "dream house" in Pasadena we were greeted by wife Diana, an ice- cold Foster's, and shrimp on the barbie.
Day 22  Play Riviera              Play Los Angeles (North)                           Fly LA/Las Vegas, NV
At 6:15 am we were on the road in Tim's Lincoln Continental. The destination was Riviera, where we found host Norman Klaparda (1990) and club historian Geoff Shackelford. As noted previously, Norman was the second person to play both the World 100 and the U.S. 100 and is also an active member of the panel to choose the World 100. Usually club historians are ancient club members, so I was surprised to meet a young man. Geoff is the ideal golf club historian because he is an excellent golfer and is knowledgeable about the history of both the club and the architect; he has already put his knowledge into two books — The Riviera Country Club: A Definitive History and The Captain (George C. Thomas Jr.) and his Golf Architecture.
Riviera (rated 27, designed by Thomas and Bell 1926) (first played May 1981 and last played May 1991/total 3 rounds) is a busy full-facility country club with Japanese ownership. At 7:15 am on the first tee the weather was typical gloomy May/June Los Angeles — mid- 60s with low gray haze suggesting the real possibility of rain. The temperature quickly rose to 75/80 degrees and the sun eventually came out in the early afternoon.
The greens at Riviera have been a point of major contention within the club and have received national and international scrutiny. The total rebuilding was done with sod instead of seed and since then the grass has never been healthy. Today a new problem was evident, huge patches of Poa annua that made putting unpredictable.
Following golf it was back into Tim's car and on to the Los Angeles Country Club (LACC), where we had lunch with co-hosts Mitch Milias (1973) and Carl Murray. We were very lucky to be able to play LACC at this particular time because the North Course had just reopened in late February after a one-year program to completely rebuild and regrass the greens. On this day there were guest play restrictions on the North Course because a similar program had begun on the South Course.
In developing the restoration program the LACC was able to observe the just described difficulties experienced by Riviera. A new bent grass called A-4, developed by Dr. Joseph Duich at Penn State, was seeded. The entire project was carried out by the golf course architect John Harbottle of Tacoma, WA. From my observation the initial aspects of the finished product are a total success; we putted on immaculate surfaces that looked and felt like velvet. Only time will tell how A-4 will hold up under the very hot and humid summer conditions experienced in the LA area.
At 1:20 pm we were on the first tee (North course rated 53, designed by Thomas 1921) (first played July 1979 and last played April 1988/total 5 rounds) with caddies. There are no tee times at LACC even though the club has a large and active membership (no movie stars allowed). The weather was still overcast  but much warmer than in the morning. On the second hole the sun came out, and it became very humid. LACC is a fairly hilly course, so the second 18 of the day proved to be a workout. In addition to the greens rebuilding and regrassing, many trees were removed to improve air circulation and open vistas. The removal is not noticeable to an outsider because there are still 40,000 trees and shrubs at LACC.
After  refreshments, Tim took me to the LA airport for an 8:45 pm 236-mile United flight to Las Vegas. Arriving at 10 pm, I retrieved my luggage and went out for a taxi. Even at what I would consider to be a fairly late hour there was a huge line with  a long wait for a cab. I was finally in my room at the Mirage Hotel a little past 11 pm.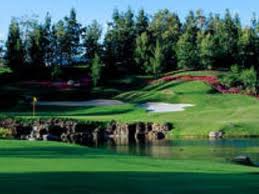 Day 23  Play Shadow Creek         Fly Las Vegas/San Jose, CA             Drive San Jose/Carmel
At 7:30 am a cab took me out of  town along a desolate, flat, ugly, brown, scruffy, desert landscape. I have made this drive before, but I was still amazed that a world-class golf course among hills and trees was just down the road. Shadow Creek (rated 49, designed by Fazio and Wynn 1990) (played May 1991) is the eighth wonder of the world from a golf-construction standpoint. Some people think they have been transported to the sand hills of North Carolina, but I am reminded of the foothills of the Colorado Rocky Mountains because of the mountain backgrounds at Shadow Creek.
After hitting six balls on the best practice range in the world  I was on the first tee as a single with caddie at 8:30 am. I had the course to myself except for a twosome that was playing a hole or two behind. This provided an opportunity for a leisurely stroll and absorb all the ambience, which includes a plethora of wild life. The weather was bright sun with a temperature of 73 degrees (eventually rose to 92).
The caddie's name was Chris Berry; he is on the University of Nevada at Las Vegas golf team and was a contemporary of Tiger Woods. Chris was the sixth ranked junior golfer in the country coming out of high school. He had grown up in the next town to Tiger and said that all the boys liked Tiger because he was not a braggart and let his clubs do the talking. He also said that even though Tiger was the best player at each level during his early career there was some skepticism among his peers as to whether he would be so dominant at the next levels.
On the 145-yard eighth hole I came within an inch of a hole-in-one (the closest I would come on any of the top 100 played on the trip). When I played the course in 1991 the tenth hole was under reconstruction. The finished product is quite attractive. With a mountain range as background, it is a sharp dogleg right totally encased by a wall of trees fairly close to the entire fairway and surrounding the green. The somewhat small, semi-angled two-tier green is in a bowl with a bunker on the right side.
The look and playability of eleventh hole has been substantially changed from 1991. Originally there were two separate greens on this short par-4. I had thought one of the greens was a weak sister and could not understand why Fazio even bothered with it. By 1997 the feeble alternative green was gone and the complete hole had been tightened up to reflect the shortness of the hole. The other major difference between 1991 and 1997 was the growth of the 21,000 imported trees, in both height and density. The original course was a challenge, but the changes made by 1997 made the course play more difficult.
Immediately after golf a Mirage Hotel stretch limousine was taking two players back to the hotel, so I hitched a ride, and then the friendly driver took me to the airport. There I discovered that my 4:15 pm Reno Air flight to San Jose was indefinitely delayed. (Luckily, this was the only plane delay of the entire trip!) The alternative was Southwest Air, but the madhouse atmosphere along with unfriendly and inefficient agent service caused me to return to Reno Air. Fortunately the 386-mile flight was only two hours late. At 8 pm Dan Turner met me at the San Jose airport, and we drove 73 miles to Carmel and the La Playa Hotel.
Day 24  Play Pebble Beach                                                                    Play Cypress Point
Dan and I were up at 5 am, but nothing was open for breakfast. We drove to a shopping center and found a grocery store with 24-hour service. There we purchased orange juice and some granola bars. Luckily, I was able to obtain the first starting time of the day (6:30 am) at Pebble Peach (rated 3, designed by Neville and Grant 1919)(first played May 1975 and last played June 1992/total 4 rounds). At 6 am the pro shop and first tee area were a beehive of activity. There must have been 60 bags lined up on the rail. With Dan driving a cart (on cart paths only), I was paired with three hotel guests who were medium-handicap players.
Although Pebble is officially a public golf course, 80 percent of the starting times are allocated to guests staying at The Lodge or The Inn at Spanish Bay. The room cost is about $400 a night. The Pebble greens fee for hotel guests is $245. Although this includes a cart, the best way to play Pebble is with a caddie, which adds about $70. Thus a guaranteed round of golf at Pebble is $665 not including tax and service charges. But it is worth every penny! Not only is the course an exalting experience, but also The Lodge is a great place to stay with a commanding view of the golf course, Carmel Bay, and the blue Pacific. Evenings are usually cool, and so the dry wood in the fireplace is easily lighted into a comfortable blaze. Rooms and tee times are booked 18 months in advance, by groups up to five years in advance.
The only other way to arrange to play Pebble is to call 24 hours in advance or just show up at the first tee and hope for a cancellation. The cost for non-hotel guests is $295 plus $25 for a cart. Thanks to Paul Spengler, VP of golf, and R.J. Harper, director of golf, I was granted the courtesy of the course.
It was mostly cloudy and 55 degrees when I teed off as a happy dew-sweeper. As if on cue, on the beautifully situated par-3 seventh tee the sun came out for the rest of the day. There are so many panoramic views at Pebble, and they begin there as you look across the bay to the seventeenth and eighteenth holes, the Lodge, and beyond down the shoreline. You could end your round right there and just soak up this ambience.
Pebble has the smallest greens of any course in the Top 100, so even a good player is going to miss a few of them. A new and more difficult element has been introduced at Pebble. Long, thick rough is growing just off the putting surface, which makes chipping a guessing game. Compounding the challenge is the fact that most bunkers are set back from greens so that the long rough grass is between the bunker and the green. Thus your bunker shot must carry all the way to the green or your ball will come to a quick halt in the long grass. I have no quarrel with this added difficulty, but it must exasperate the already excruciating slow pace of play. Mercifully,  in first position we played in 4 hours and 15 minutes.
Walking to the fifth tee I was able to inspect the property that Pebble had just purchased to build what could be a spectacular new par-3 fifth hole. On the property there was a dilapidated Daniel-Boone-looking cabin. For $5 million this had to be the ultimate "knockdown" structure.
One of my all-time golf heroes was a hacker when it came to playing the game. However, Samuel Morse was personally responsible for creating Pebble, Cypress Point, the Monterey Peninsula Country Club, and Spyglass Hill. I was told on this trip that a video tape of this work had been made, and I purchased it in the Pebble pro shop.
Following lunch at Pebble, Dan and I went less than two miles along the rugged coastline of the 17 Mile Drive to Cypress Point (rated 2, designed by Mackenzie 1928)(first played November 1977 and last played June 1992/total 4 rounds) where we met host Ken Schley (1988). In the blink of an eye we had gone from the hurly-burly of Pebble to an ultra-private and almost deserted club. It was as if you had been transported to a different planet — no tourists, no concrete cart paths, almost no real estate development, and almost no golfers. The small parking lot, the modest clubhouse, and the lack of activity encourage total relaxation because of the calm and understated atmosphere at Cypress. Amazingly, there is no guard nor even a gate at the entrance. Actually there is no visible entrance, just a simple short turn from 17 Mile Drive into the parking lot. The general public could easily do the same, but this does not happen; the "Private Property – No Trespassing" sign is enough to keep tourists at bay.
On this early afternoon Ken, Dan, and I were on the first tee with caddies in gorgeous weather — sunny, 65 degrees, light breeze. Cypress is one of the most beautiful courses in the world, and we had it all to ourselves. After one of the most relaxing rounds of the trip Ken treated us to one last thrill. We changed into coats and ties, entered the main part of the clubhouse, and wandered out to the patio. There we could not believe what we were experiencing — high above the sixteenth through eighteenth holes with a panoramic view out to the blue Pacific. In the late-afternoon setting sun, the ambience was overpowering — on three sides were gnarled Monterey cypress trees, green golf holes, wild grasses, rocky cliffs, a sparkling ocean, a member walking his dog, deer grazing near the fairways, hawks soaring and swooping — and we tried to absorb it all. This is one of the most glorious golf settings in the entire world and is the perfect way to cap a wonderful day. How lucky can a guy be? That day, in beautiful weather, I had the good fortune to play Pebble early in the morning and then stroll around Cypress in the afternoon. Doubleheaders do not come any better than that, although later in the trip came  a close second!
Dan and I had a productive dinner at La Playa. We discussed the two courses seen during the day and made revisions in the rough drafts. We also went through the itinerary to determine which part of my companion's reservations would be canceled by Dan and which would be handled by PerryGolf. The bad news was that 75 days of hotel and golf course reservations had to be terminated or modified in an efficient and thorough manner. The good news was that Dan could now play some of the courses if his schedule permitted. We then discussed Dan's meeting me in Ireland. Finally, I was able to give Dan all the course material I had accumulated since leaving Atlanta. This lightened the suitcase load somewhat.
Day 25  Play Spyglass Hill                                        Drive Monterey Peninsula/San Francisco
We were up at 5 am, but Dan had to leave for Portland. Again I had the first tee time of the day, 6:30 am. Spyglass (rated 93, designed by R.T. Jones 1966)(first played May 1975 and last played June 1992/total 4 rounds) is part of the Pebble Beach Company and thus a course for its resort guests as well as a high-end daily-fee course. I was paired with two young bucks (probably in their late 20's). They wanted to play from the back tees, so, to be sociable, I did likewise. As it turned out none of us had any business playing from the tips on this extremely difficult course. The only difference between us was that I knew I was not able to handle the challenge, and they did not have a clue that their games were totally inadequate for anything over 6,500 yards.
They took the only available caddie (Donnie), so I slung my bag on my shoulder, and we were off in 50 degrees, shrouded in fog, with a strong breeze. We were real dew-sweepers. The fog was gone and the sun  appeared by the time we reached the tenth tee.
On the second fairway the caddie said he would club me and read my putts for a $30 fee. I thanked him by saying that my score was not important and I would manage by myself. For the next few holes I had a pleasant conversation with the two players and the caddie. Then on the seventh hole my tee shot just dribbled into the thick wet rough where the caddie happened to be standing. His players hit their shots to the other side of the fairway, so the caddie and players went to their balls. I could not find my ball and after a few minutes dropped a substitute. During this whole time no one made the slightest effort to help locate my ball.
On the next tee the caddie started a conversation with me as if nothing had happened. Then on the thirteenth hole the same thing occurred. After they made absolutely no effort to help locate my ball just off the fairway, I waved them on and enjoyably played the rest of the round by myself.
After golf I drove 125 miles north to San Francisco and the residence of June and Jim McCarthy (1993) in the Pacific Heights section near downtown. Their condominium was sumptuous, and I felt as if I were at the Ritz. I was able to do laundry, and then we had dinner.
A few months before Jim had asked if there was anyone I would like him to invite for dinner. This gave me the opportunity finally to meet Gerry Heffernan. In 1991 I had run into Gerry's name in England. He had played several hundred courses in the British Isles, so I wrote him and we struck up a friendship through the mail and over the phone. Gerry is a Canadian and played on the Stanley Cup championship Montreal teams in the 1940's. He is a lovely man, and the four of us had a marvelous evening at the McCarthys.
Day 26  Play Olympic (Lake Course)                                                      Play San Francisco GC
At 6:30 am I drove over to the Olympic Club (rated 30, designed by Whiting 1927)(first played May 1975 and again June 1993/total 2 rounds) where, at 7:15 am, I was met by host Steve Katz (1992), Roeg Cushing (1994), and the club historian Jim Innis (1992). About 10 balls were hit on the large range. These would be the last practice balls struck until Day 72. The routine after Day 26 was hopping out of a car, stretching for no more than one minute, taking a couple of  practice swings, and then praying. All my hosts thought they were doing me a favor by awarding me the honor of hitting first. So I prayed just to just make any sort of decent contact in front of an expectant audience of anywhere from one to seven players.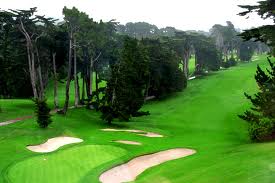 Day 26's scheduling took some maneuvering. I wanted to play a doubleheader to leave the next day open. The two courses are so close together that playing both in one day is easy. However, it was ladies' day in the morning at San Francisco, and Olympic had no guest play on the Lake Course for the whole day because of an afternoon Senior Tournament. Olympic has a very large membership with tee times in demand. Thus it took an "act of God" for me to play the Lake Course that day. The head professional Jim Lucius and the general manager Paul Kennedy were involved in this special dispensation.
On the first tee with caddies it was in the mid 60's, cloudy, slightly overcast, and no wind. We  finished with the sun out and a temperature of 70 degrees. While we were on the front nine Gerry Heffernan came out to walk a few holes with us and to give me a tie. Gerry is the epitome of the type of person I have met through writing the "O." He has had a substantial professional career, knows and loves golf, is articulate about his views on golf, and, most important, is kind, considerate, and a great guy.
Following lunch in the newly reconstructed and redecorated massive Olympic clubhouse, Roeg led me out the Olympic back gate, and within five minutes I was at the nearby San Francisco Golf Club (SFGC)(rated 24, designed by Tillinghast 1918)(first played May 1976 and again June 1992/total 2 rounds). There I found playing partners Jim McCarthy and Sandy Tatum. We were on the first tee with caddies in glorious sun, light breeze, and 70 degrees. This high-prestige, low-key club has no starting times and few players, so we had the course to ourselves.
When Jim told me the night before that our playing companion was going to be Sandy I could hardly sleep. Representing Stanford in 1942, Sandy won the NCAA golf title. After becoming a successful San Francisco lawyer, he was president of the U.S. Golf Association (USGA) in 1978 and 1979. Sandy is still heavily involved with many important aspects of golf and is acknowledged to be one of the most respected, knowledgeable, and articulate men in the entire world of golf. (Later in the trip someone appropriately categorized Sandy as a Victorian gentleman). During the round I asked him so many questions I got a headache! Sandy is a serious golfer, and I am sure he was distracted by my machine-gun burst of questions, but I was not going to let this priceless opportunity slip by.
Sandy was terrific. He answered every one of my questions about SFGC, Olympic (he was a member there for many years), Cypress Point (member for many years), Pebble, and Samuel Morse. Sandy actually had  played a round of golf with Morse. I had a hard time keeping up with asking questions, scribbling notes like mad, hitting shots, and absorbing the course.
What amazes me about Tillinghast is that San Francisco was really his first course of note, and it is the course where he did his best bunker design. On this part of the U.S. trip the best bunkering I saw was here along with Riviera and Los Angeles CC.
Following refreshments in the aged and comfortable clubhouse, Jim and I returned to his residence, and then Jim and June went out to a party. I went down the street for dinner but had such a bad sinus headache that I could barely finish the soup. (I felt as if I were going to be like the guy who collapsed face down in his soup.)  I wobbled back to the condominium and collapsed into the cozy bed for a long night's sleep. This was the most exhausted I would be on the entire trip, and it might have been partly due to the fact that my body knew no golf was planned for the next two days.
Day 27              Fly San Francisco/Tokyo
Day 27 had been scheduled as an open day in case something should go wrong during the early part of the trip and I would be forced to backtrack because of inability to play one of the scheduled courses. I had created a few such buffer days to handle emergencies. However, the next day's travel to reach the desired destination was quite hectic. Being able to use the buffer day for such travel was a great luxury.
Because the trip had gone so smoothly through San Francisco, I was able to call PerryGolf and have them rebook me to Tokyo a day early. In our correspondence Jim had confidently stated that "…it almost never rains on the West Coast in late May." Well we woke up to heavy rain the morning of Day 27. The good news was that no golf was scheduled that day. After re-packing I said goodbye to the McCarthys and their comfortable residence. At 11:20 am I was in the business class section of United Airlines on my way over the Pacific Ocean to Japan.
Day 28              Arrive Tokyo
After 10 hours and 30 minutes of flying time covering 5,159 miles and crossing the international dateline the plane touched down at Narita Airport (2:40 pm local time; watches had to be set ahead eleven hours). The weather was 70 degrees, with very dark skies, heavy rain, and winds of 30 mph. After passport control, luggage retrieval, and customs I maneuvered the fully loaded luggage cart down one level on an elevator to the Japan Railroad terminal entrance. A barrier kept the cart from going any further. I did not realize it at the time, but I would have desperate need for this type of cart several times over the next 15 hours and none would be available. The alternative was to take a cab to downtown Tokyo, but the cost of $150 to $200 seemed prohibitive.  However, what followed has convinced me I definitely would take a cab the next time.
The one-hour 64-mile Narita Express train brought me to the lowest level of the large and complicated Tokyo Central Station. The only way to move my luggage was on two long, steep escalators up to the ground-floor exit. Once away from airports the Japanese have no system for moving luggage. No porters or carts were available anywhere, and I was  forced to wrestle with three heavy pieces of bulky luggage, plus a light hanging bag, on an escalator. The only saving grace was that the station was almost empty because it was late Saturday afternoon. Although the Yaesu Fujiya Hotel was only three blocks away I had to take a taxi because of exhaustion and the steady rain. My single room was about one-third the size of the Ritz-type accommodations at the McCarthys'.
A mediocre dinner at the hotel was followed by a phone call from Mr. Tatsuo Kato (1988), reception manager of the Kawana Hotel, saying he had received a fax from PerryGolf announcing my earlier arrival. Happily, Mr. Kato said he would meet me at the Atami station the next day. My last remark to him was a request to please turn off the precipitation; at that moment showers were so heavy that I could barely see out the window. The rain was so strong that there was a warning of possible flash flooding and even landslides.
Day 29            Train Tokyo/Atami/Ito       Driver to Kawana Hotel             Play Kawana Hotel (Fuji)
The ideal schedule for Japan would have been to play in Tokyo (Kasumigaseki) first, go to Kawana, and then to Kobe. However, as previously stated, I had felt that for safety's sake, an open day should be placed at the end of the first leg of the U.S. schedule.
Thus the original schedule called for the first day of golf in Japan to be on a Monday. My number one contact in Japan, Miki Fujioka (1993), informed me early in the planning process that all courses in Japan are closed on Mondays except at the Kawana Hotel. Thus, a less- than-ideal travel schedule was constructed through Miki's friend, Mr. Yoshinobu Ikeda of Universal Express. Mr. Ikeda did a lot of work on train tickets (for a reserved seat you buy a basic ticket and also an "express supplement"), hotel reservations, and communications that made the first part of the trip in Japan go smoothly. Thus I recommend that anyone who has travel needs in Japan contact Mr. Ikeda at  011-81-3-5644-3600 (fax-3611) for efficient and courteous service.
From the hotel I took a taxi three blocks to the Tokyo Central Station and then hauled my luggage through the building and up two levels of stairs. (Why the escalator went down and not up in this area was a mystery.) At 9:10 am the Kodama Super Express train took one hour to get to Atami, where I was so grateful to be greeted again by the ever faithful Mr. Kato and one of his young assistants. We hauled the luggage down and then up several stairs leading to the local Ito train. I could only imagine how much effort it would have taken if Mr. Kato had not been there and I had to perform this maneuver on my own. At Ito a Kawana car took us to the hotel with its lovely and peaceful surroundings. Like magic my hectic world was transformed into paradise.
Kawana is a stately luxury hotel located on the east coast of the Izu Peninsula and in terms of beauty is on a par with Pebble Beach and The Lodge. The hotel and two golf courses (Fuji course rated 50, designed by Alison 1936)(first played October 1988 and again July 1993/total 3 rounds) are perched on the side of a mountain with sharp cliffs right at the edge of the blue Pacific Ocean. In another direction Mt. Fuji can be seen in the distance. From the hotel there are striking views of magnificent old trees and then the sea. The hotel caters primarily to a Japanese clientele but is fully able to provide all Western-style amenities.
After lunch with Mr. Kato I was a single player at 1:15 pm on the first tee with the traditional Japanese lady caddie. It hardly needs saying that the weather was perfect — bright sun, no clouds, light breeze, 70 degrees. I told Mr. Kato he could take full credit for this glorious situation, but he insisted that I had brought the weather with me. The round started off well; I made a birdie on the first hole, which greatly impressed the non-English-speaking caddie. I finished in splendid early-evening shadows and enjoyed a delightful dinner  in the main dining room with Mr.Kato.
Day 30  Play Kawana (Fuji Course)                               Train Ito/Tokyo(Kawagoe)
Partly because farmers are so strong politically in Japan but also because the Japanese like to rise early, day-light saving time is not practiced there and so the sun rises at 4:30 am and sets at 6:45 pm during the summer. (After WW II the U.S. Army tried daylight saving time, but it did not work.) Having been in Japan for less than three days, I was not fully over jet lag and thus got up at 4 am. As I typed up my notes and thoughts from the previous day I was looking out of my window down to the extraordinary landscaped grounds and out to the ocean with the glistening sun causing almost a blinding reflection off the water and making the computer screen difficult to read. There was no noise except birds chirping, and the feeling was of total serenity. Other similar experiences that come to mind are the clubhouse patio at Cypress Point and the second-floor clubhouse balcony at Augusta National.
At 7:30 am I was again on the first tee as a single player. There was a small crowd gathered around the tee, and when I fortunately struck one down the middle I received a round of polite applause. This morning was a good example of why I enjoy playing by myself. The course and its surroundings are so beautiful that it is hard to concentrate on the golf. It is one of the loveliest settings in golf. The course blends so agreeably that a soft feeling is produced in a quiet atmosphere. Some of the holes border cliff tops 100 feet or more above crashing surf. Mt. Fuji is visible 80 miles in the distance along with Ito Bay and the ocean island called Oshima with its active volcano. I could reflect on having been on one side of the Pacific Ocean less than one week before and now being on the other side in another magnificent spot.
After lunch with Mr. Kato I said goodbye to him and the managing director Takashi Asaka. I certainly did not want to leave and definitely wish to return. In the early afternoon I retraced my steps from the previous day except for ending up in a suburb of Tokyo and the Kawagoe Prince Hotel, which was back to reality with a miniature single room. As forecasted, light rain began to fall in the late afternoon. Then heavy thundershowers and lightning caused an almost total electricity failure in the hotel and the surrounding area.  Dinner at the hotel was passable.
Sleep that night was a story out of hell. Walls in many Japanese hotels are paper thin, and I am a light sleeper with rabbit ears. About one in the morning I was shot awake by a brief ear-piercing scream. For the next two hours this scream was repeated about every five minutes. After the first 15 minutes I decided to call the front desk but first had to determine which side of my room the noise was coming from. After each scream there would be brief audible sounds from a gruff male voice and then momentary whining from a female voice. Finally I was fairly confident about where the disturbance was originating and called the front desk. About 10 minutes later I heard the phone ring in the next room and a short, angry conversation take place. My complaint went unheeded;  the same sounds were repeated over and over again. I contemplated taking the matter into my own hands but was too timid to find out what type of reaction might greet me if I knocked on the door. Eventually quiet was restored, and I did  get some sleep.
TO BE CONTINUED
About the Author: Gordon Dalgleish is the Co-Founding Director of PerryGolf, the leading provider of international golf vacations. You can find him on Google+