For some time Scotland has been slowly developing and positioning itself as a leader in the development of wind as a sustainable energy solution. By some estimate Scotland may eventually account for fully 25% of the harvestable wind in Europe. If you have travelled there in recent years you will have noticed tall windmill turbines at various locations around the countryside
Hitherto the debate has been more focused on the potential benefits versus environmental considerations. I think it is fair to say that the economic benefits may be further down the road than some proponents may claim, but this is a function of any developing technology. Undoubtedly there is a legitimate argument to be made in support of green energy options.
While the debate has continued in Scotland for some years, it has mostly been contested by the green energy backers in one corner with environmentalists squarely in the other camp. One could reasonably argue that due to political expediency elected officials have taken up with the green energy camp, not because they truly believe in the solution and could argue for its need…but rather they cannot argue against it politically.
Enter Donald Trump onto the scene who has grand plans for the Aberdeenshire coastline. Even with just his golf course, before hotels and houses are built, he has made a significant investment in northeast Scotland. His golf course opens this summer but he has put additional development plans on hold until after any decision on a proposed wind farm just offshore from his development.
While Mr. Trump can have a polarizing impact on discussions he has served to raise the profile of the impact to Scottish tourism, and more specifically Scottish golf tourism should wind farms be developed with little regard for the tourist implications.
As the leading golf tour operator from the United States to Scotland, delivering consistently more American golfers to Scotland than any other company for almost three decades, we have serious concerns if wind farms are developed that widely impact the Scottish golf experience. The recent addition of a single turbine very close to Royal Aberdeen Golf Club is something of a wake up call for Scottish tourism. To be clear, one turbine does not change a purchase decision by an overseas visitors to the "Home of Golf". It is reasonable to conclude that the purchase decision to visit Scotland is the cumulative effect of many smaller considerations; air schedule, hotel options, transportation choices and for golfers, the most important issue…quality of the golf experience.
Quality of golf experience means different things to different people. It can be the condition of the course, knowledge of caddies, friendliness of welcome in the clubhouse, speed of the greens…most likely it will be a combination of various factors…or anticipated  experience based on various information sources.  One of the considerations will be the ambience of the golf course. We often hear that some travelers consider the links course of Ireland to have more spectacular scenery than Scottish courses and that is just one reason why they travel there to play golf.
Returning to the single turbine at Royal Aberdeen Golf Club, which is the first of Scotland's renowned links courses to have a turbine placed right on it doorstep causing both sight and noise pollution; were a second or third course in Scotland to have turbines placed right alongside on land or even nearby offshore, it may not make a difference but do twenty courses with compromised vistas from turbine development impact a golfers decision to visit Scotland? Within the purchase decision process of a prospective golfer, feedback from friends who recently visited usually weighs heavily; it is not unreasonable to think some golfers may conclude another "less cluttered" destination, on balance to be more enjoyable.
We should not underestimate the importance of visiting golfers to the Scottish economy. Government statisticians generally count one foreign visitor as one foreign visitor, despite what they may contribute to the local economy. As evidence of this mindset, the recent study presented by the Scottish government as evidence of the minimal impact on tourism by the placement of turbines speaks in generalities. It would appear that the questions were directed to tourism in general. For a golfer, 4 hours on a golf course with turbines damaging the visual experience is impactful….would a sightseeing tourist be unaffected by a turbine between Edinburgh Castle and Princes Street which is what the placement of the turbine at Royal Aberdeen amounts to for visitors to the course. Golfers spend substantially more than backpackers or most tourist segments and thus have a far greater financial impact on the economy than other visitors. The premium hotels in Scotland target golfers; Gleneagles, Turnberry, Old Course Hotel, Fairmont St. Andrews to name but a few. In addition to premium hotel rooms, caddies, more expensive restaurants, chauffeurs, etc…the list of utilized service providers is extensive…all because of golf, which is the driving force. Scotland has been blessed to be regarded as the "Home of Golf" the world over. It is a significant part of our heritage and we should not lose sight of the fact that there are many other destinations who will gladly take our golfers if they ever feel that Scotland does not deliver what visiting golfers anticipate.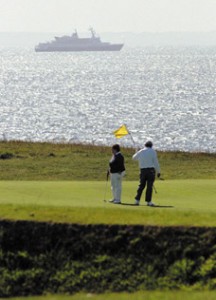 There may well be a strong argument for wind power. It may well be a great energy source when the technology evolves but Mr. Trump has done a great service to the country by raising the profile of tourism within the context of the debate on green energy.
Mr Trump has raised a bona fide concern in his own style which some people may view as singularly selfish. The simple reality is that the larger message which he has also raised is the more important one for the country as a whole, as it will, if not prudently managed will cause a negative impact on the golf tourism segment.
I hope that decisions can be made which respect the many constituent groups involved and respect their wishes, and also provide suitable recognition for the potentially damaging impact one sided decisions will have on the many people and families who rely tourism and specifically golfers for their livelihood.
Gordon Dalgleish
President
PerryGolf

About the Author: Gordon Dalgleish is the Co-Founding Director of PerryGolf, the leading provider of international golf vacations. You can find him on Google+