What stocking stuffer could be better than a PerryGolf trip to Scotland or Ireland or New Zealand or Spain, or any of our twelve destinations?  Our Gift Certificates may be purchased in any domination you wish for travel to any destination you wish including special events like the 2014 Ryder Cup at Gleneagles and the 2015 British Open at St Andrews.
If you want to give the experience of bucket list golf travel, contact us at 800.244.5257 or Information@PerryGolf.com for details.
Golf Course Prints
If you want to give the beauty of golf, have a look at the work of three of the game's most accomplished photographers who we are pleased to partner with for the exceptional images you see in our messaging. It's easily one of the best shopping experiences there is. You'll find a global selection of courses each with a gallery for at least half the holes.
You'll also find nice savings;
Any purchase of two (2) prints from Russell Kirk or Aidan Bradley by January  31st will receive a third of equal or less value at no charge.
Our partner down under is Gary Lisbon who offers a 15% discount on his panorama images purchased by January 31, 2014.  The coupon code is PERRYGOLFVIP.
Emerald Gems: The Links of Ireland by LC Lambrecht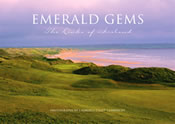 This is a spectacular color collection of Mr. Lambrecht's striking photographs in a 220-page, 11" x 16"coffee table book. Golf scribes from Ireland bring a bit of history and story to a comprehensive selection of Ireland's seaside treasures and presents a true collectible for the aficionado of links sport.
To order, click Emerald Gems: The Links of Ireland.
Please visit PerryGolf's Website to start customizing your golf vacation TODAY!
About the Author: Harrison Gould is the Social Media Marketing Manager of PerryGolf, the leading provider of international golf vacations. You can find him on Google+