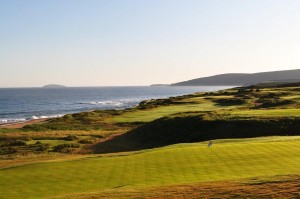 We shall begin offering programs to Cape Breton Island in Nova Scotia later this summer and a recent visit was extremely insightful on various levels.
Cape Breton has long hosted Highland Links which for a number of years has been in GOLF Magazine's Top 100 in the World list (currently #98) . It remains a fine test of golf in a spectacular setting within the Cape Breton National Park  along the internationally renowned Cabot Trail. In far more recent times Cape Breton is receiving much attention from the golf media with the pending opening of Cabot Links in Inverness, on the west coast of Cape Breton.
Cabot Links is the brainchild of Ben Cowan-Dewer with the significant involvement of Mike Keiser, the mastermind and owner of Bandon Dunes on the Oregon coast. I recall clearly playing the original Bandon Dunes course two months before it officially opened in 2000. The course was built in the middle a remote part of the coastline and Mike's belief was that if you built it…and it is great….they will come. He has proved his critics wrong time and time again with 5 courses now open, scheduled airline service to the nearby airport from San Francisco and Salt Lake and tens of thousands golfers annually converging on Bandon Dunes, and all that they bring to the local economy. Time will be the judge as to the success of Cabot Links…but having walked a good portion of the holes, I am confident in predicting it will achieve international recognition sooner rather than later. I suspect that within five years it will be recognized as the mini Bandon Dunes on the East Coast. Proximity from major East Coast gateways coupled with nonstop service to Halifax make it quite accessible.
As a result of the above two courses, Cape Breton has an extremely interesting story to tell. The quality of golf ranges from local courses to world class, as described. The accommodations range from extremely comfortable and welcoming B & B's to first class hotels and Lodges. Due to the relatively remote geography, as you will find in similar places, the welcome form the locals is particularly heartfelt and sincere.
Due to the logistics of travel and locations of the golf courses, there truly is a multitude of options for golfers in terms of how you design a trip Cape Breton. To follow in no particular order are my observations and thoughts on how best to plan a trip;
Getting there
Halifax Airport is approximately 30 minutes north of the city. Halifax is the principal business and government city in this region and as a result enjoys significant nonstop air service from all of the principal hub airports on the east coast. The airport terminal is modern, spacious and efficient. When returning to the USA you clear Immigration & Customs at check-in in Canada thus arrival into the USA is treated as a domestic flight with no formalities. Rental cars are located within the airport so just a short covered walk to rental car lot beside terminal…same for return of vehicles.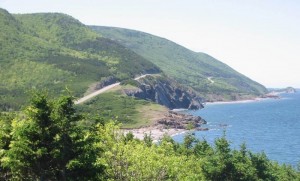 Travel Comments
Cape Breton is connected to the mainland by the Canso Causeway which is approximately a 90 minute drive north from Halifax Airport. It is an easy drive on good roads, mostly four lane, very well marked.  Depending on flight arrival and departure times there is good rationale for an overnight visit to Halifax to see and enjoy this historic Seaport.
Golf
Cabot Links – Officially opening in late June, 2012 with clubhouse and 48 rooms open at the same time. Located in the small town of Inverness it is going to be a really special links golf experience. Good background reading from Golf Digest.
Highland Links – The original Stanley Thompson design alongside the Cabot Trail in the northern part of Cape Breton. It is a classic course from Canada's finest golf course architect of his time. One of the by products of Cabot Links has been to encourage the government ownership of Highland Links to re-invest in the facility and return it to it's former glory and conditioning, which is occurring.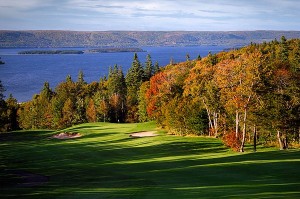 Bell Bay – Located on the western side of the magnificent Bras d'Or Lake, overlooking Alexander Graham Bell's retirement home and where the first plane flight (in the British Empire) occurred, the course is challenging, playable, forgiving and always in excellent condition. The town of Baddeck where it is located is a bit of a summer playground with a nice selection of restaurants and shops. If you are a traveler that prefers to unpack once and drive out to the various golf courses, Baddeck is a terrific option as everything is 60 – 90 minutes drive.
The Lakes – Similar in may respects to Bell Bay for quality of golf experience, except this course is on the eastern shore of Bras d'Or, it uniquely is coupled with a skiing area. in the winter months the skiiers use the same clubhouse that golfers use in the summer months….that is efficient!
Le Portage – If you are a traveler who enjoys the many aspects of new cultures and experiences, Le Portage in the town of Cheticamp is just one of these finds. While the golf course may be more basic than some of the others on Cape Breton, it generally always exceeds expectations and the overall experience is very unique. Cheticamp is immersed in the Arcadian culture with a distinct accent and strong French cultural connection.
Dundee Resort – Located overlooking the southern end of Bras d'Or, the resort and golf course are especially attractive for families given the accommodation options and amenities of the resort. The course is routed up the hillside improving views of the lake.
Accommodations
As noted, there is a good range of accommodation options to suit varying expectations and budgets. I would not describe any of the accommodations as lavish deluxe but that is in keeping with the destination. Keltic Lodge is in the midst of a refurbishment and enjoys a spectacular setting beside Highland Links. The vista in both directions from the Lodge is truly memorable. Cabot Links will have 48 rooms this summer and all shall be very well appointed with ocean and golf course views. The Inverary Resort in Baddeck provides good accommodations and excellent dining in a convenient, attractive location overlooking Bras d'Or.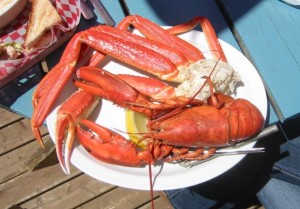 For travelers who enjoy the more intimate experience of bed & breakfast type accommodations Cape Breton provides some outstanding options. Adjacent to the Lakes is the delightful Birches, in Cheticamp you will find Maison Fiset House and near Highland Links the Castle Rock Country Inn.
Other options
While not on Cape Breton Island, you may want to consider a visit to Fox Harb'r which opened in 2001 and is located on the  north coast of Nova Scotia, looking across the Northumberland Strait at Prince Edward Island (PEI). It is a self contained luxury lifestyle experience with golf course, spa and a host of other amenities. Importantly, it is located a short 90 minute drive from Halifax Airport so would serve well for arrival or departure scheduling. Uniquely this resort has it's own 5,000 foot runway onsite lest you want to fly privately.
Summary
Cape Breton offers a wide array of choices and options…plus with the addition of Cabot Links it makes a previously good golf destination now a truly memorable one. Importantly, although the golf, accommodations and welcome are all first class, you will find the cost to enjoy this part of the Canadian Maritime s to be unexpectedly reasonable. We shall have a host of ideas in the near future when we launch this program.
UPDATE April 2, 2012 – Great article on economic impact of Cabot Links from Toronto's leading newspaper.

About the Author: Gordon Dalgleish is the Co-Founding Director of PerryGolf, the leading provider of international golf vacations. You can find him on Google+